"Reel McCoy" | OIFC World Cat / Carolina Cat | 03/18/12
Yesterday, Daniel Simmons, Brian Freeman and "Big Kevin" went to the blue water aboard Daniel's Contender the "Reel McCoy". Actually they went to the 100/400, the same place the "Dirty Martini" had been a couple of days prior.
The guys came to the OIFC with the wahoo in the picture. They said they released some other blue water fish. Daniel weighed a 41.1 lb wahoo for the rodeo which puts him in 1st. Brian reported a warm eddy at the 100/400 which was @76 degrees.
Note: Jeff and Daniel both said I could disclose the location in an effort to save everybody from burning a lot of fuel hunting for the fish.
Also my apologies to Kevin..man I've got a mental block on your last name!
BRAIN LOCK CORRECTED!!!! Kevin isn't Kevin...He's really Brian Robbins!!! Also Brian Freeman is actually Bryan Freeman. I am going to start wearing a name tag so I can remember who I am. Getting old isn't for sissies!!!!
- Capt. Rickey Beck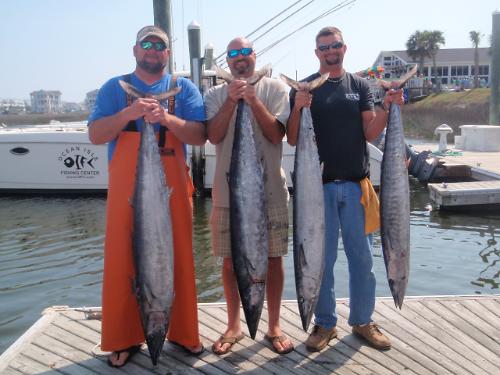 ---