"Lesson Learned" | Get Busy | 04/21/12
Eddie Julian and his Dad, Ed came in the Fishing Center in need of a good landing net. They had an even better fish story. Seems they were fishing in Tubbs Inlet when Ed hooked up with a slab of a flounder. They both said it looked to be 2 ft. long. Eddie grabbed his WalMart landing net, scooped the fat flat fish up and guess what happened.....You got it! The net snapped right at the handle. Mr. Julian was able to hang on to the flounder, but it shook the hook loose before they could try to net him again.
Lesson learned..Sorta like, you don't go to a gun fight with a knife. But they did have 2 keepers I was able to get pictures of. And a new landing net too!
That was a story worth telling and I'm sure they will both be tellling it for a good while.
- Capt. Rickey Beck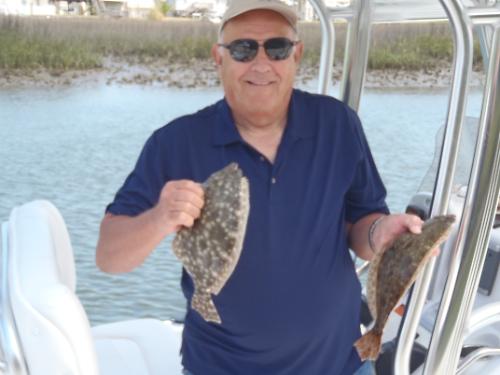 ---