"A Tuff Gig" | OIFC World Cat / Carolina Cat | 12/02/12
Working at the OIFC can be a tough gig. Especially if we can find something to pick on each other about...all in good sport mind you. Recently we've be riding Captain about his "bill fish cut offs". Just the other day I was picking at him and told him seeing was believing.
DUH..In my face!!!! Check out Steele's white marlin he caught today at the Knuckle today.
But not to be out done....Steele you spell Knuckle with a K..not Nuckle. Haha
Like I say, all in fun. It makes the Fishing Center a great place to work. Congratulations Steele!
- Capt. Rickey Beck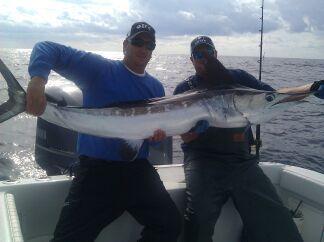 ---