"Fat Albert" | Do Work / OIFC | 04/27/13
Capt, Jim Bowen sent us this report and picture. Jim is layed up following a surgery and we all wish him a speedy recovery!
I am laid up at the house after surgery yesterday but my buddy John Sossamon on his 27 Sea Hunt, The Pole Dancer" out of Little River sent me this picture of a False he caught in 22' of water around the Cherry Grove Pier. That is John' buddy Bobby with the fish. He said bait is around and some birds are diving on the West side of the jetties.. spring time is coming!!
Thanks Jim!!!!
Remember, If you have a report with pictures you'd like to share send them to me at sunset69@atmc.net. This email is at my top secrete bunker located hundreds of feet below the OIFC.
- Capt. Rickey Beck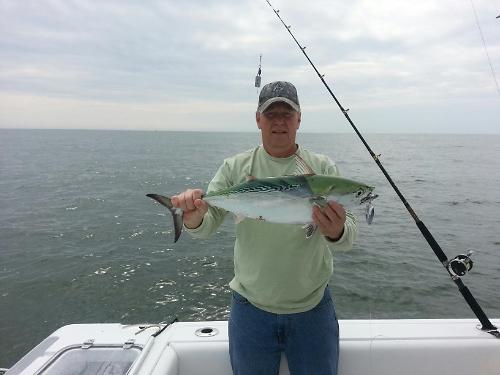 ---