"Grocery Shopping" | OIFC | 01/15/14
Looks like senior OIFC reporter, Rickey, beat me to it, but I'll elaborate on our recent fishing expedition to the deep.
A combination of factors went into the necessity of this particular fishing excursion. First, the OIFC's Wing & Fish Company restaurant has enjoyed a very busy holiday seaon and thus the cupboard was looking bare of most all local caught fish. Second, I am leaving town at the end of the week for vacation and if we didn't go now the Wing & Fish Company was going to be just the Wing Company until I got back. Lastly, the restaurants GM, Chris Burrows, yes the same Chris Burrows who was the OIFC GM for several years was looking pretty grim and he confessed he hadn't been on the water since April. One excuse is usually enough to get me to go fishing but with three big ticket items coming to the surface, it was an all out crisis, call to arms, we're outta here.
I loaded up the boat and OIFC Capt. OC and Chris Burrows joined me for an offshore trip. The weather would determine if we went way offshore looking for glory species or stayed close and worked on the black sea bass. Keeping the restaurant stocked with fish this time of year is difficult with the weather. We've been able to make it happen taking shorter trips and loading up on black sea bass which are excellent tasting fish just a pain in the rear to clean.
As luck would have it, the weather was perfect. From the time we got on plane in the waterway until we got home, we never saw less than 40knots when running. With weather and crew lined up I made the call to go for the glory species and head to the deep in search of snowy grouper and whatever else we could find. It took some hunting around but once we got dialed in we began putting meat on the boat.
First in the boat was grey tilefish. These fish range from 4 to 9lbs and are incredible tablefare. If a sea bass is a 9 and a grouper a 10, the grey tile is an 11. Next in the boat was snowy grouper. We found a covey of snowies and got our limit of 15 to 30lbers in no time. Snowies are highly regulated by marine fisheries even for commercial fishermen. Saving the best for last, we dropped down again and this time the rod bent like it hadn't bent all day. Up from the depths came a 25lb golden tilefish! This was my first and we added a couple more for good measure. Let me tell you, if a sea bass is a 9, a grouper a 10 and a grey tile an 11 on the tablefare scale, a golden tile is a 20. It is the most unique fish meat I've seen.
For the last hour of the day we trolled along the break and captured one nice blackfin tuna. Overall the day was a major success on all fronts. We procured fresh fish for the restaurant and Chris Burrows got breathe some gulf stream air. The only problem with catching all those fish is cleaning all those fish which myself and OC did all day yesterday.
Starting tonight we'll be featuring local fresh snowy grouper at the Wing & Fish Company. By the weekend we'll have the tilefish ready. I will confess with this much fish we could never serve it all before needing to store it. You can keep fresh off our boat fish for 12-14 days, if cared for properly, before needing to store it. However we stick to 7 days. So we'll keep out 7 days worth of fish and go ahead and vaccum seal and flash freeze the rest. We call this process fresh frozen. We've found that using this process the quality does not suffer at all and in fact when compared to never frozen product, you really can't see or taste the difference.
Come by and see us for the tastiest fish that swim in our oceans at the Wing & Fish Company on Main Street in Shallotte. Also, please vote for us in the Best of Brunswick Competition online at this link.
www.surveymonkey.com/s/bestofbrunswick2014
- Capt. Barrett McMullan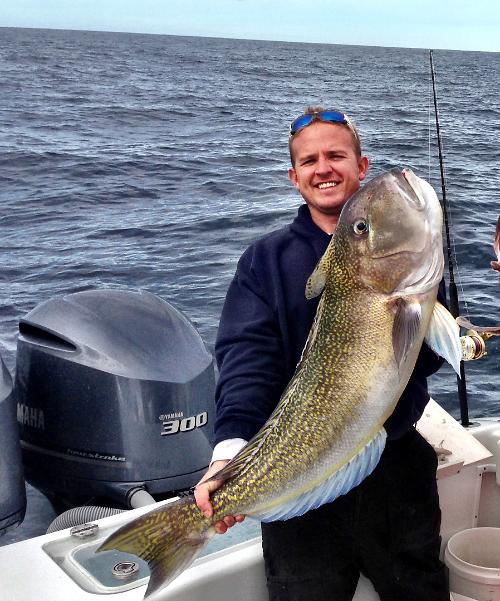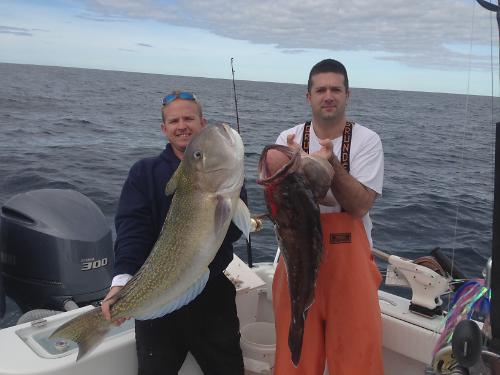 ---