"Buck Tails" | Do Work / OIFC | 04/22/14
This red trum hit on a top water plug for Shane Britt. That would have been a sight to see. We've got these at the OIFC. I am going to do some preventive maintainance on the "Tale Chaser" today and hit the back waters this week.
Shane most always fishes with buck tails. He makes his own which can be seen at Britts Bucktails on Facebook. But we have bucktails at the OIFC. I've been out fished many a day by someone using bucktails tiped with shrimp, mud minnows and Fish Bites. The weight of the buck tail is dependent on how hard the tide is pulling.
As Capt. Jacob says "see you on the water". Be sure to ask him why he needs to change it to "see you in the water". He tells it a whole lot better than I do. ;)
- Capt. Rickey Beck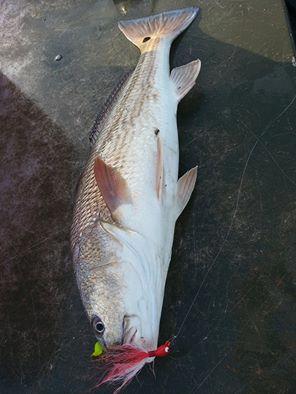 ---