"Far Out Shoot Out- Boats Fishing Monday" | OIFC | 05/07/17
So far we have 8 boats registered to fish the Shoot Out. Entry remains open for another week and half as fish days go all the way until May 20th. But, as the weather windows show themselves, teams are steadily joining the Shoot Out. Monday, 5/7, we thus far have three boats declared:
Brad Wood - Rats Azz
Chip Smith- Blue Eyed Lady
Julian Lennon- Max'd Out
One intesting note is that many boats are choosing to go ALL IN for the full $1200 buy in -- "if you ain't in it, you can't win it"
Stay tuned to www.OIFC.com/FOSO as we fill the leaderboard and keep you posted on whose in, whose in what, what days they are fishing and what they are catching. You need to enter! The numbers are going to continue to climb as teams enter and then fish.
Go to www.OIFC.com/FOSO to enter-online or visit the OIFC and enter in person.
- Capt. Brant McMullan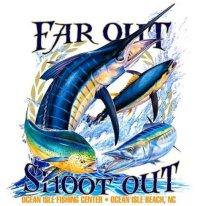 ---