"If it ain't broke, don't fix it" | | 05/06/14
My sincere apologies for the late report guys – it's difficult to report when you have 6 final exams and two Gulf Stream trips all in a weeks' time. Anyways, what a great weekend to be out on the water. The weather cooperated and the fish have finally started biting. Captain Chris Dew and I had the luxury of fishing in the Gulf Stream both Saturday and Sunday with two awesome groups of people. We broke Shalotte inlet Saturday around 6:30 with the MacMarlen Ledge as our first stop. After rigging baits, getting to know the customers, and eating a little breakfast we finally pulled the throttles back at our destination. Capt. Brant arrived in the same spot with his crew about 30 minutes prior to us, reporting the mahi were around and hungry. Like clockwork, the port side outrigger clip popped and we were on to our first mahi. The vigorous fight between Kirby Bridwell and the fish lasted about 10 minutes before the 12lb mahi was boated. With the monkey off our back, we reset the spread and continued fishing. We continued to pick at a few more mahi before seeing the one of a kind black fin blitz on the surface. However these tunas were being picky for some reason that day. They bit a variety of lures yet they would only bite one at time. Captain Chris and I changed up our lure placement in the spread, color, and even line diameter - still catching only one fish when passing through the school. After scratching our heads, changing skirts and lure sizes, we made the executive decision to live by the saying "if it ain't broke don't fix it." We were consistently getting bites, therefore the lures were there to stay. Who knows? We called it a wrap on the troll and headed in about 20 miles to an area I heard that was producing cobia and BIG sea bass. The report I got was correct. At one point we had all 6 rods bent with 18" sea bass on the other end – they were rather large. After the backs of customers started to ache and the sea breeze picked up we decided to make the run back to OIB. We caught the majority of our black fin on a green machine equipped with a bird pulled about 25ft in front of the lure. It was fished way back on the shot gun rod. Hint- if your crew isn't asking "hey what is that way back there splashing?" you're not fishing it back far enough. On the near shore side of things, the fishing has picked up dramatically. King Mackerel were reported around the Yaupon Reef area, Shark hole and Ocean Crest Pier. These are the typical spots they show up at first before a larger body of fish will move in behind them. Pogies can be scarce this time of year. Thus, make sure you stop by the fishing center and pick up a box of cigar minnows to troll with. They will work equally as well this time of year for the smaller kings and Spanish. Speaking of the Ocean Isle Fishing Center, for any of you Gulf Stream fisherman out there, here is the chance to show off your skills. We have our annual "Far Out Shootout" tournament starting this Friday 5/9 and lasting through Saturday 5/17. Don't miss out on this. If the forecast holds, it looks like the fishing may be above average. The fish have finally showed up. Let's go find them!
- "Treffinger, Derek James"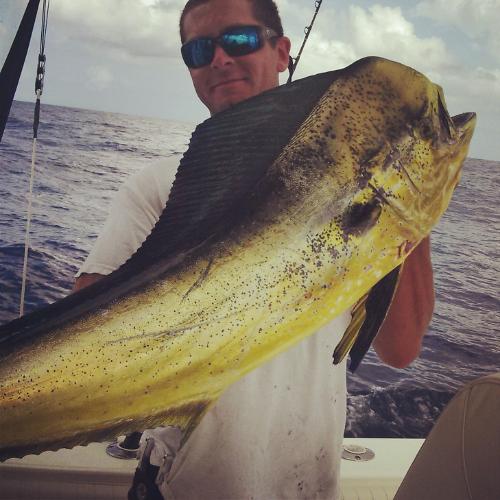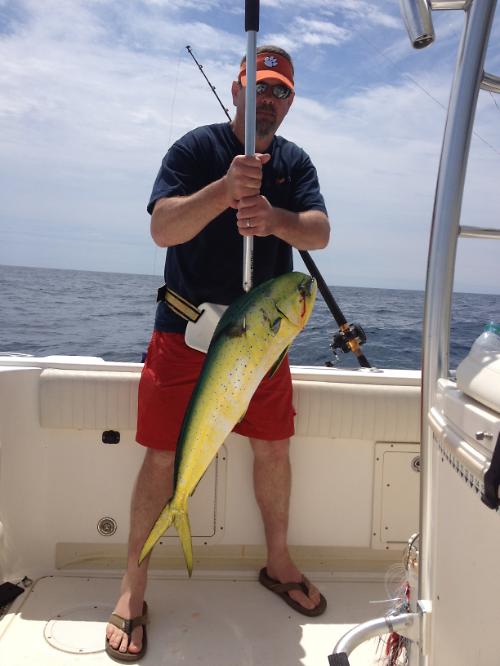 ---