"Saturday's Wahoo Trip" | Do Work / OIFC | 04/17/14
Sorry for the delayed report, but its took me several days to get caught up from our offshore adventure. Well here it goes, no information held back. Don't you just love it when a plan comes together. My crew consisted of Capt. Rickey aka Papa D, Eddy Jones of Team Choice of Two/OIFC, Jon Hayes, Jeremy Phillips and Camdyn who is now claiming to be the Captain of Team Do Work. We planned this trip over a month out from the fishing date and were lucky enough to get perfect conditions.
We head out Shalotte Inlet and had our course set of the 100/400 area. We arrived and found good water, but just wasn't marking bait or finding anything that was making us to excited, so we decided to troll towards the Blackjack. We began trolling and found our first fish just inshore of the Blackjack. This fish hit a deep trolled bait that was on an inline weight. Jermery was first up on the rod. This fish hit and burned the TLD 30 down. Eddy and myself knew we had a good fish on! Jermey put it to this fish and got her along side of the Do Work and we were able to land it. It was a 49 pound fish. High five were passed around the boat and we reset our lines and got back to work. Papa D stayed on the wheel and said that he was making good bait and was seeing a temperture chnge that was ranging from 73 to 75. Then Capt.Papa D said "get ready boys, I just marked bait from 50 feet to 150 feet." Then just like that three rods went off like a bomb! Triple header of wahoo. Eddy, Jon and Jeremy all grabbed rods and went to work. Camdyn and I began clearing lines and began helping anyway we could. Jeremy was first to bring his fish in and the fish was gaffed and put in the box, Eddy then got his in and it was landed. Jon was still fighting and we were not making any ground on this monster. Jon was able to get his fish with in sight and once this fish saw the boat it took off and made another huge run. Jon continued to fight and got the fish about two feet from gaff range and the line just snapped and the monster swam away in slow motion. Not bad getting two out of three, with the biggest being land was Eddy's weighing 44 pounds. We continued to work the same area and eneded up catching one more. We ended to day with 4 wahoo out of 7 strikes. We loaded up and Papa D took us in at about 35 mph running little to no tab, the ocean was smooth as glass.
Now for the information everyone wants. We caught all our fish down deep. All fish hit on the weighed lines or the planner. The fish seemed to prefer the baits on the inline weights. The lure of choice was the Red and Black or Orange and Black that are made by Fish Finder Tackle, which are available at the OIFC. The area we fished was just inshore of the Blackjack with depths ranging from 175 to 190. The trolling speed that produced most the strikes was 7.0 mph to 7.5 mph. I credit landing all of these fish to the outstanding crew that we had on board. Everyone stayed busy and worked hard to have a productive day. Capt. Papa D had the wheel all day and kept us in the prime area. Eddy stayed busy working the baits and keeping them in the zone. Now I see why Choice of Two/ OIFC is such a strong team. With all that being said it looks like early next week maybe fishable once again. So everyone has plenty of time to get some Fish Finder Tackle and get them rigged up and ready to go. Stop by the OIFC and get all your gear and get ready to roll. Capt. Rickey has tons of pictures,I will get him to post more from the trip.
- Capt. Jeff Beck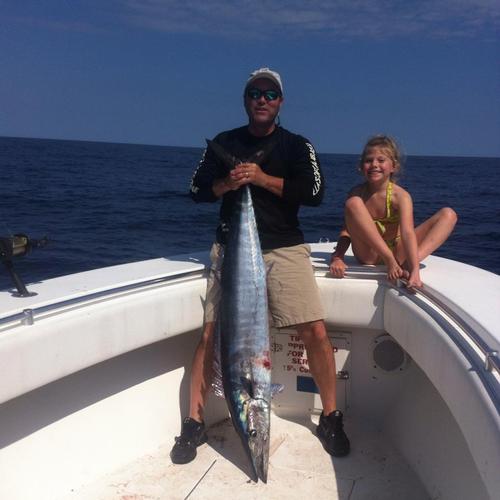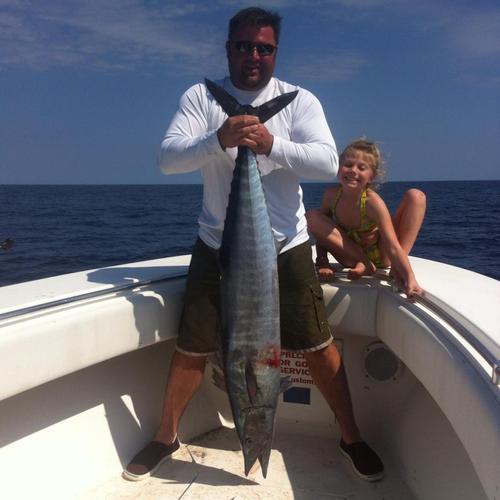 ---