"Throw Back Thursday/FOSO" | OIFC | 05/08/14
I was looking through some old pictures and found one of a past Far Out Shootout Victory aboard the MacMarlen. Thought it was appropriate to post on this throw back Thursday Far Out Shoot Out EVE. Not sure what I miss more, my weight or the yellowfin!
This picture got me thinking about the "old days"- 90's and early 2000's and the gulf stream fishing out of Ocean Isle. In those days on any given good weather morning from April through July and then again from September through November you'd see a minimum of 20 boats heading out to the break. I can remember the excitement surrounding the new "Gulf Stream" fishery back then as we all felt like explorers traveling to the edge of the world. The anticipation and passion for fishing offshore on the break back then was justified by the catches of yellowfin tuna, wahoo, monster mahi and occassional blue marlin. I can remember being so fired up about gulf stream fishing we'd do back to back to back trips, which now seems crazy.
Granted, things have changed since then. In particular fuel prices make the trip more expensive. Nevertheless, the bluewater off Ocean Isle can still be a magical place especially this time of year. This year in particular has gotten off to a great start with awesome wahoo fishing in the early spring and now mahi catches rivaling those of the old days.
For those who were around back then, you can remember the excitement of the fishery and even moreso the excitement surrounding the Far Out Shoot Out tournament. It was the only and premiere offshore tournament in our area. At the peak of the fishery, the tournament would have 50+ boats competing for big $ and bragging rights all headed 60 miles offshore together. The rigging preparation, Captain's meeting, dock talk, radio chatter, fishing, weigh in and awards were intoxicating venues injected with a feeling of camraderie that was truly unique to the time and place. I miss those days. With the Far Out Shoot Out beginning again this weekend, and with the great offshore catches of late, I hope a spark of that old excitement still exists and we can re-energize this tournament. It was a special event for our area and can be again.
The Captain's meeting is Friday evening at the Fishing Center and I look forward to seeing everyone there. To further enhance the camraderie and atmosphere of the event, I along with several other Captains will be at the Wing & Fish Company Saturday evening from 7:30 until either talking about the fishing we did or will be doing. There might even be an old FOSO story or two told. Come join us for the tournament and at the Wing & Fish and let's get this event back to where it used be.
- Capt. Barrett McMullan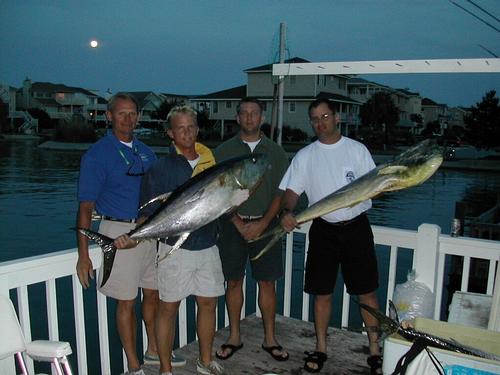 ---