"report" | OIFC | 07/24/14
GUY HARVEY APPAREL- SALES PROMOTION
STARTS FRIDAY, JULY 25th- BUY 1, GET 2nd AT 50% OFF
LIMITED TIME OFFER
Ocean Isle Fishing Center
JOB OPPORTUNITIES AVAILABLE
Job Description:
Full or part-time staff to work year-round, not seasonal. Jobs include store clerk, ringing up customers, answering and directing phones, straightening and maintaining product on display and keeping general appearance of the store. Job may also include product check-in and restocking if interest and aptitude is displayed.
Retail experience and saltwater fishing and boating experience is required.
EMAIL
or Call Capt. Brant McMullan at 910-367-2945 if you have interest in discussing opportunities working at the Ocean Isle Fishing Center
http://update.oifc.com/q/aGh9p602SLSpfhmcNEX3HcdTOJ2QhaB2Ijhhs0D6JpU_foQG_a5x-JhcG
Season 2 is underway and new episodes are being posted every 2 weeks- Check it out and watch as Capts Brant and Barrett and family go on fishing adventures.
OFFSHORE FISHING REPORT- Capt. Brant McMullan
The Spanish Mackerel fishing is finally coming back along our coast. The water is finally cleared up pretty decent and schools of Spanish are balling up Glass Minnows in the 25-35' depth range along the beach. We have also seen some larger Kings in the past few days feeding on and around the Spanish schools. OIFC Capt. Chris Dew guided a group to a 29.8 pound King, caught on Tuesday, while drifting for sharks outside of Shallotte inlet.
Just today I put in a strong effort to see if the Kings might have moved back into the 65-70' depth range and I totally struck out. I fished the Jungle and Hammer area and saw no Kings. However, at the Hammer I ran across a rogue school of Bull Redfish which were being blanketed by herds of 5-8' Blacktip Sharks. It was pretty crazy as the Redfish would take the downrigger baits and then you'd look down and see Sharks all over the place, which would then of course take any baits still left out. I'm not sure if the Sharks were feeding on or with the Redfish? We did not have any of the Reds we caught get eaten, so I'm thinking they must have been working together in some fashion?
This past weekend Brant, Barrett, Amy, Caroline and Brayden-
Team OIFC
- (minus Rube) fished the SHARE King Mackerel tournament out of Wrightsville Beach. We chose to fish off of Ocean Isle in the100' depth range. It was one of those "meant to be" days as the seas were dead flat and success was just too easy. We pulled up at 8:00am and began setting lines. Barrett had just set a third line out and turned around to say something to me when the rod he just set down doubled and peeled off 50 yards. The fish then ran straight back to the boat before making another 50 yard dash and then repeated. It circled across the back of the boat and then made a strong run. I did not give it much attention as this is a very common Wahoo performance- a cool catch but not what we were looking for. Barrett was up front minding his own and doing battle while Amy and I worked and continued to fish. Then the cry "GET THE GAFF" comes from Barrett as the fish presents itself and low and behold, Kingfish. It was slick calm, the water was clear and you could see the fish so perfectly. When I looked down there are seconds of thinking how big this fish is. At 40' down it may well be 50 pounds. It looks like it and I sure as heck am hoping for it. As it nears the surface, perspective narrows and reality kicks in. However, we know its a good fish, and for us, our goal is to catch a 30 pounder when we leave the dock for a tournament. We consider that a very respectable fish, and this would clearly accomplish that objective. The fish layed out nicely and I placed the gaff in the rear quarter. It was 8:30am, we had the fish we wanted in the bag-- now what? This is a situation most all tournament anglers dream of, but I can say for one that I have not experienced it but on just a very few occasions. We decided to do some looking around for the future and through this, Brayden landed his first billfish; a nice Sailfish. He was fired up for sure. We then caught a few Snapper and a Grouper to boot to make for a fresh dinner and made our way to Wrightsville Beach for the weigh-in. We were excited to finish second with our 37.14 pound King, finishing just .26 pounds behind the
Intercoastal Angler
team which weighed the winning 37.40 pound King. Congratulations to all winners including OIFC Team
Mr. Good Hands
, Toby Russ for a 32 pound, 7th place King as well. It was quite a day and one which helps build the motivation to endure days on end of no fish and foul weather in search of that highest high; just one more time.
Brant and Amy McMullan with 2nd place, 37.14 pound King. Not pictured: Barrett, Caroline and Brayden McMullan
4 year old Brayden poses with his very first Sailfish caught and released this past weekend. Not pictured: Barrett
- Capt. Brant McMullan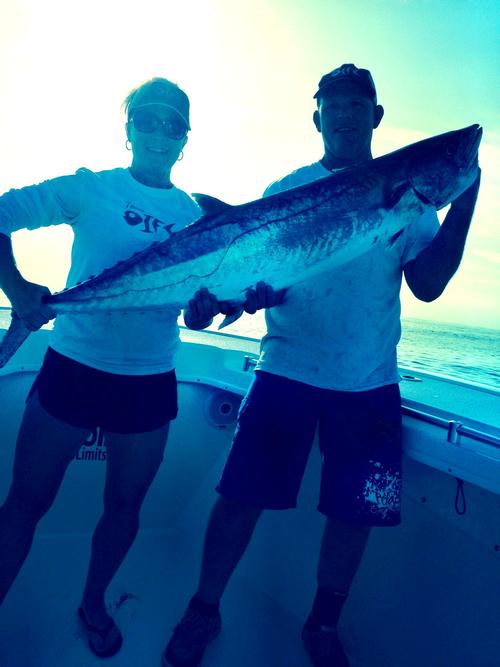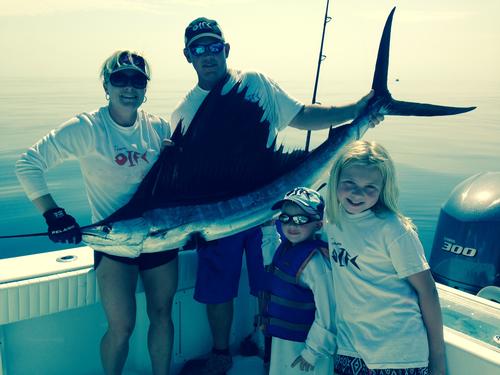 ---