"Jolly Mon VIP" | OIFC | 04/06/15
REMINDER that entries have gone out to the 50 teams who have qualified for the NEW 2015 Jolly Mon VIP event. (CLICK HERE TO VIEW INVITEES) The top 25 from the 2014 Jolly Mon and top 25 from the 2014 Fall Brawl make up the initial invitees to compete in the $10,000 winner-take-all event.
Invites to these 50 captains went out on April 1st. These teams have until May 1 to pay their entry. We have made contact with all qualifying captains and will send multiple reminders that the deadline is May 1.
Once the deadline passes, we will move to the waiting list which has been open to sign up for over a month (CLICK HERE TO JOIN WAIT LIST- ENTER NAME AND BOAT NAME AND SEND) -- (CLICK HERE TO VIEW WAIT LIST)
This is a new and unique event that features a limited field and some special rules designed to take the thinking and secrecy out of the event and just make it good old fashioned head-to-head fishing. CLICK HERE TO VIEW FORMAT AND RULES
- Capt. Brant McMullan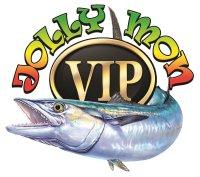 ---