"State Record White Marlin" | Do Work / OIFC | 01/28/16
~~North Carolina officials have certified that a Virginia man has set the state record for a white marlin.
Officials with the North Carolina Division of Marine Fisheries said in a news release Wednesday that Neil Manning of Ashburn, Virginia, reeled in the 138-pound fish Nov. 16 while fishing off Hatteras.
The fish measured 85 inches from the tip of the lower jaw to the fork in the tail. The girth of the fish measured 37 inches.
The previous state record for white marlin was 118 pounds, 8 ounces, caught off the coast of North Carolina's Oregon Inlet in 1976. The world record for white marlin is 181 pounds, 14 ounces, caught off the coast of Brazil.
Manning used live menhaden on a 30-pound test line.
Copyright 2016 by The Associated Press. All Rights Reserved.
This article was published by WITN News and came from their page.
- Capt. Rickey Beck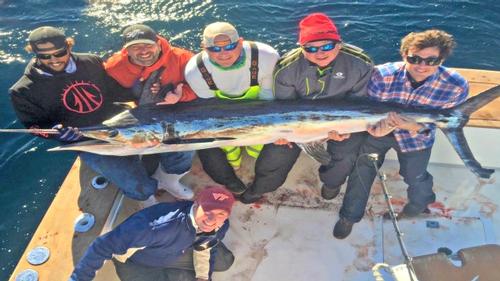 ---