"SPRING KICKOFF THIS SATURDAY" | OIFC 1- 36' | 03/08/09
Our Spring Kickoff is this SATURDAY! Come on down to the beach and join us for a day of FREE seminars, line spooling at $.02/yard, in-store sales of 10-50% off and a used tackle sales forum-- bring your own "experienced" gear and sell it-- I plan on selling some of my Gulf Stream fishing equipment to freshen up for the new year- great deals!
Check out this Gulf Stream shot I pulled off the computer this AM. The Stream pushed in fast over top of the Black Jack and Steeples and man does it look good. This is exactly what we look for this time of year. Unfortunately I was asleep at the wheel and it looks like the wind is going to blow for a few days, so I don't see an immediate window to get out there. Anyway, these types of Stream eddy's will become more frequent this month and particularly in April. Keep your eyes to them for hot Wahoo and Yellowfin action!
- Capt. Brant McMullan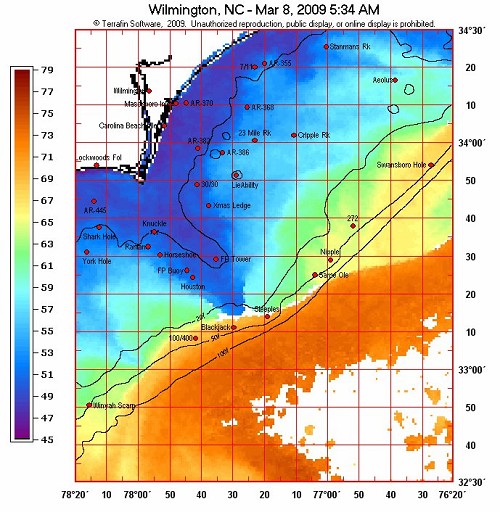 ---