"Dog Days of Summer" | OIFC World Cat / Carolina Cat | 08/17/09
Some people say you just can't catch fish during the hot, dog days of summer. Don't tell that to the charter captains at the OIFC. Early this morning Captains Chris Dew (OIFC 2), Jeff Williamson and Turtle Patterson (Carolina Cat) were laying out a plan of action for today's charters. They elected to go about 15-20 miles out, try some spots and see what kind of success they'd have.
Aboard the Cat were the Juday's, Doug, Joel, Reid and Jeff, also fishing was Jason and Darrell McCutcheon. The guys have the U.S. covered as far as residences go....Sacramento, Columbus, Phoenix, Dallas and Atlanta.
After finding bait just off Holden Beach the guys headed out. They got in the area of the Horseshoe where they found a weed line and it was game on! The result was a big ole' bull dolphin, kings and AJ's. Their catch looked like walking down an aisle at a seafood market. Check out the pictures. Thanks guys for fishing with us and letting us do this report.
- Capt. Rickey Beck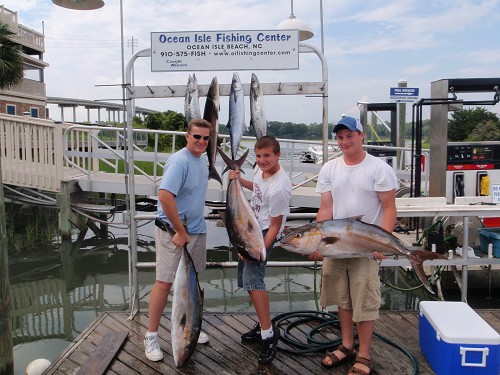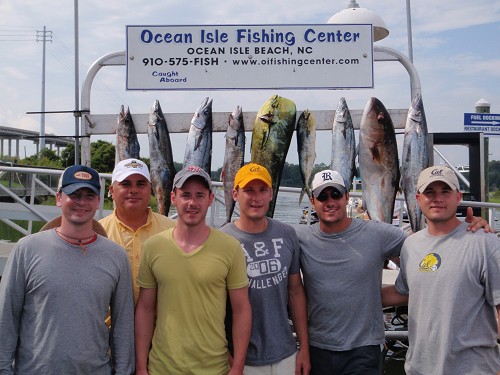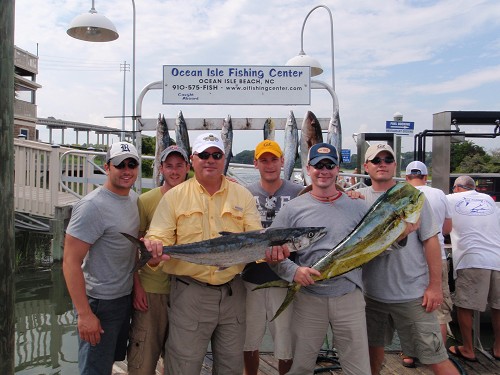 ---