"Local Scene" | OIFC 1- 36' | 11/08/09
What a king Rube and Barrett have in their report. Meanwhile, back at the ranch, inshore Bo Tucker and Glenn Hess had a great morning on the ICW behind OIB. They were fishing with live shrimp on a rising tide. Bo caught the shrimp in a creek yesterday. If you've got live shrimp then "you da man!"
Offshore...The pogies were around the mouth of the Shallotte Inlet though most everyone skipped looking for them and used frozen cigar minnows. Seemed the Horse Shoe and the Shark Hole were the best places to be for king action.
Jamie Blue has just reported that he fished aboard a friends Grady yesterday. He said they caught blackfins, 3 of which they kept, they kept a 25 # king and several false albacore which were released at the Steeples. He also lost what he thinks was a big wahoo when a line broke. The bite didn't start until about 1:30. The fish were hitting dark colors..blue/black, red/black and a blue bling head. Jamie's day was completed when his Clemson Tigers beat FSU at Clemson in what was a great game to watch.
Matt Holt of Sunset Beach, aboard his black Contender "GutSea" bottom fished.most of the day today at the Atlantic Ledge. Using dead cigar minnows he caught several keeper sea bass, bee liners and a gag grouper. He reported that they were catching sea bass two at a time on squid. They had two grouper get off.
This weekend has probably been the prettiest here this year and a lot of boats took advantage. Hope everyone had a great weekend!
Thank's to everyone who provide reports to the OIFC so we can share them!
- Capt. Rickey Beck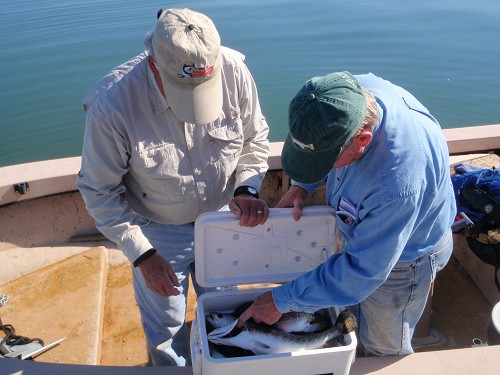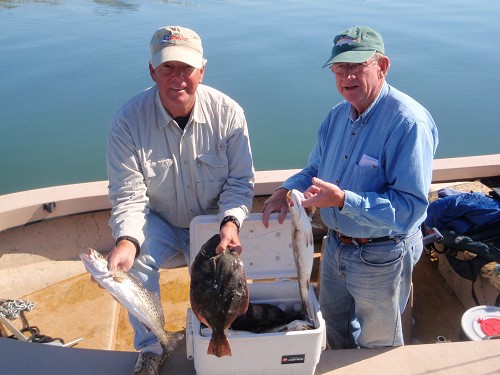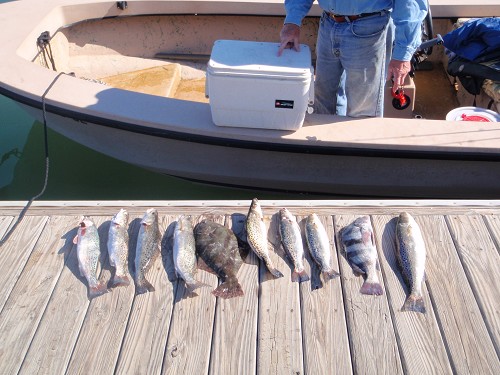 ---