"Redemption" | OIFC 1- 36' | 04/25/09
A couple of weeks ago Robbie Dial sent a picture which I posted of a puny red fish. In an effort to redeem himself he went to the Jetties and someone caught this beautiful red that Robbie's holding in the photo. He claims he caught it...we'll take his word as he is an honest man. Check out the before and after pictures below. You'll also be glad to know he caught it using pogies, which is a great sign that the pogies are here. I've heard reports of them ranging from the Cape Fear, from Brant, near the Oak Island Coast Guard Station from Jeff and now from Robbie. A word of caution..be careful where you poke your nose around the Coast Guard Station they're serious about their security.
On the same fishing trip Robbie caught a 15 inch Flounder in the ICW. They had several blues and some short strikes. He said they were only out for 3-4 hrs.
- First Mate- Rickey Beck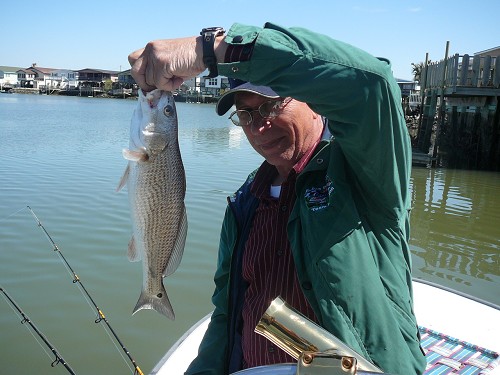 ---