"Rainy Day Story" | OIFC 1- 36' | 09/26/09
This morning we had a fairly stiff north wind, but the ocean was flat as a lake as far as the eye could see from the vantage point of the OIB Bridge. Several anglers were going to try their hand at some spanish or some of the kings that have been hanging close to shore and some were going to fish a benefit flounder tournament out of Southport..
About 1 pm it started raining buckets and ruined their day. The radar and 1st hand reports said it was raining from Southport to Sunset Beach. Another report was that it was sunny in Myrtle Beach. But their tourism reports always say it's sunny in Myrtle Beach. So,with the weather not being conducive for fishing, which has an adverse effect on the report, I'm forced to go to some reports I've been saving for a rainy day.
Captain Chris Dawson (Miss Jannille/OIFC) sent in this report. He said he and Danny Cokely, Jessie and Steve Henry fished about 3 miles out and got into the kings on the 23rd. I don't have any further info because Chris is kinda tight lipped. He did say that it was one of the most fun days he has on a charter.
In the pictures below Danny is in the orange holding a king. Steve is the older guy, Capt. Chris' words not mine, and Jessie is the younger of the group. Thanks Captain Dawson for your report.
- Capt. Rickey Beck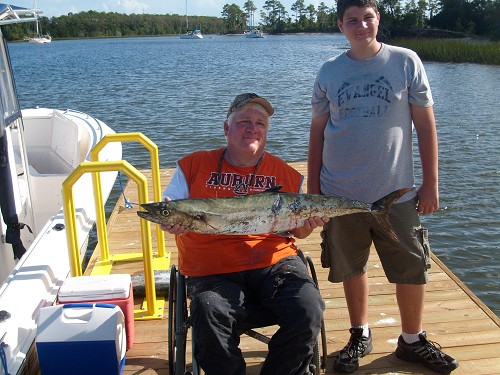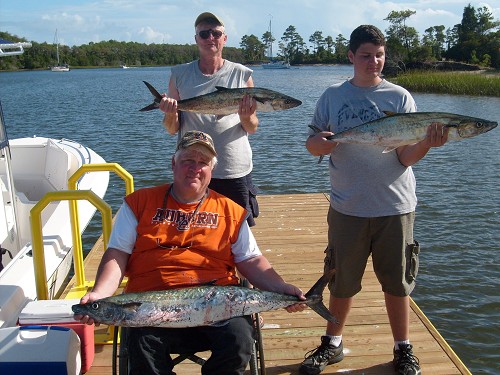 ---