"Weather/Health Care" | OIFC World Cat / Carolina Cat | 02/11/10
The 2 hottest topics in the news are the weather and health care. Well, we here at the OIFC aren't suffering the effects of global warming's massive snowfalls like some of our friends elsewhere are. But we are going to have a stroke and need health care if the weather here doesn't improve.
Wind, cold and rain, or all 3 combined have kept everyone landlocked and going nuts! Looking at the picture below one would never know it was taken during 30 mph gusting to 40 and 50 winds. You can't really see the horizon which looked about as flat as the Rocky Mountains. It was blowing 30 to 35 out of the WNW at the Tower.
This picture was taken on the beach in Garden City, S.C. yesterday around 1:30 pm. The wind was out of the north. It shows what most of us know, that winds out of the north in the Long Bay region (our fishing grounds) generally mean flat seas for a few miles out as we are protected by land. However go further out and it gets a little sporty, and the same is true if the direction changes.
Enough of my Weather Channel audition. Let's hope things improve and quickly. In the meantime we can all sharpen our hooks and check our equipment. Some of us will be boarding a bus to D.C. to let our concerns he heard on the fishing scene.
- Capt. Rickey Beck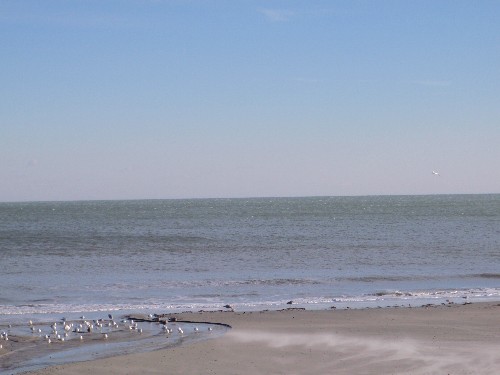 ---