"Hot King Bite" | OIFC 1- 36' | 10/01/09
The weatherman missed it this morning. A lot of boats fished today, and from our 1st hand experience and the radio traffic it was obvious that we were all taken by surprise. We had to return to port early for work reasons, but it seemed that there was improvement in conditions as the day went on.
The bait was unreal!!! We ran up on a pod of pogies in 23 ft of water just off of Shalotte Inlet that were at least 2 acres across. Pogies were being caught all along Holden Beach.One throw did it for most everybody. But we did see one poor sole trying to get bait was a standard 8 ft. cast net. I'm not making from of him, but it is obvious that one of Captain Brant's Custom Nets is a must have.
Several kings were caught, but because of the tournament no one is talking. Below is a picture of Amber Simmons, taken by her husband Daniel (OIB Concrete) of some kings they caught at the "Cup Cake" today. See what I mean by fishermen keeping secretes. You can't blame them. Amber and Daniel are gracious enough to share pictures and reports with the OIFC on a regular basis, for which we are very grateful.
Also,Mr. William Whicker reported to the OIFC that yesterday he was fishing within sight of land and landed some blues and kings.
The OIFC has bait, rigs, sweat shirts, foul weather gear, 100% pure gasoline and will be opening early. The Store will be open and ready for business at 6 am. Good luck to everyone fishing the U.S. Open and everyone be safe.
- Capt. Rickey Beck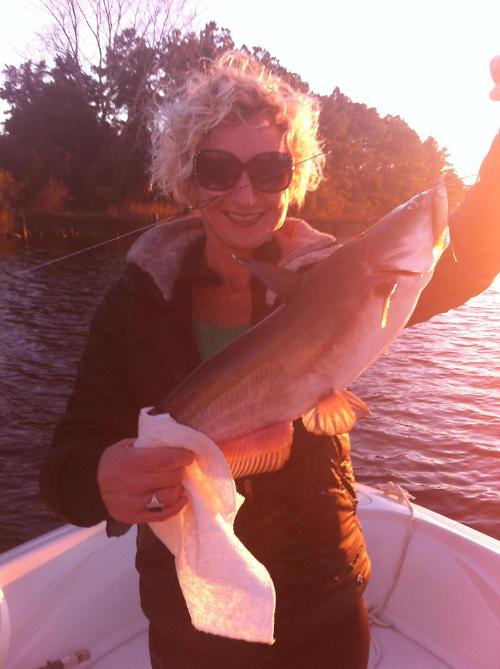 ---