"Martini and Bass" | OIFC World Cat / Carolina Cat | 03/22/10
Why yes, I think I'll have one. Ahhh..sea bass, one of the most under rated bottom fish in the ocean. But one of the best eating fish. This 4.05 lb beauty was caught aboard the Dirty Martini Saturday by Johnny Schuchman and weighed in at Eugene Platt's in Cherry Grove, SC.
A couple of notes. 1) Had Johnny been in the OIFC Rodeo, he would be in 1st place and would have been tough to beat. 2) he could have brought the sea bass to the OIFC by plane, train, boat or car the same day for our weigh in and been with in the rules.
The Dirty Martini is owned by Jeff Martini who also owns Martini's Continental Dinning on Hwy 17 just inside N. Myrtle Beach. Excellent catch Johnny and thanks Jeff for the pic.
- Capt. Rickey Beck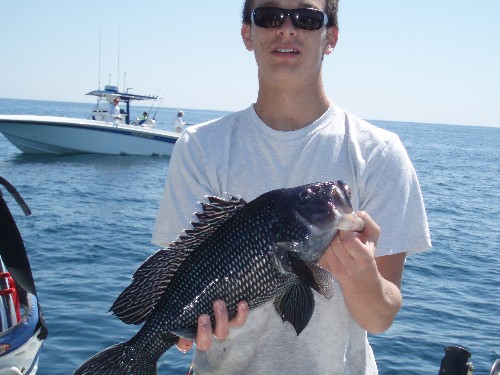 ---