"End of Day Report" | OIFC 2- 27' | 03/20/10
This beautiful morning began with the OIFC/Get Busy fishing inshore and the World Cat headed to the Gulf Stream.
Captain Jeff Williamson of the OIFC/Get Busy Kenner Boat had a half day charter with Dimitri Trlantafyllides, has 12 yr old son Nick and John Ross Porter, of Charlotte on a red fish hunt. The group had their best fortune at the Little River Jetties where Nick boated this nice red shown in the picture. Captain Jeff was using DOA C.A.L. Shad.
Meanwhile, off shore, Captains Chris Dew and Steele Park headed to the Black Jack and the Steeples with a charter consisting of Raymond Cartright, Kyle Cartright, Bill Kratz, Billy Kratz and Mike Lane. This group spent the day bottom fishing. The Cartrights told me they caught at least 75 fish. In the bonanza were 3 gag grouper, a 15 lb American red snapper, trigger fish, bonita and aj's. As you can tell by the photo they were only allowed to keep the aj's and trigger fish. They told me they caught fish until everyone was worn out so they took turns reeling and taking pictures.
Captain Steele said they fished with Rosco Jigs, Shimano Butterfly Jigs and a plethora of other atrificals in 68 degree water. The charter members took several photos and are going to forward them to the OIFC. They'll be posted as soon as they arrive. Captain Steele may do an update with further details.
- Capt. Rickey Beck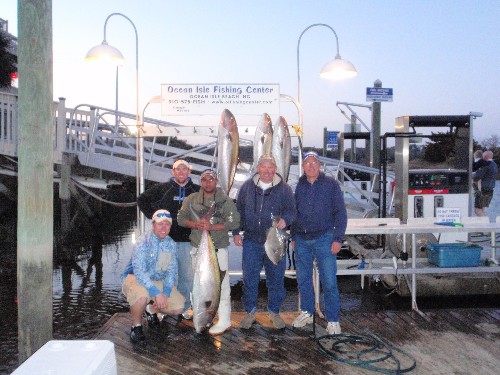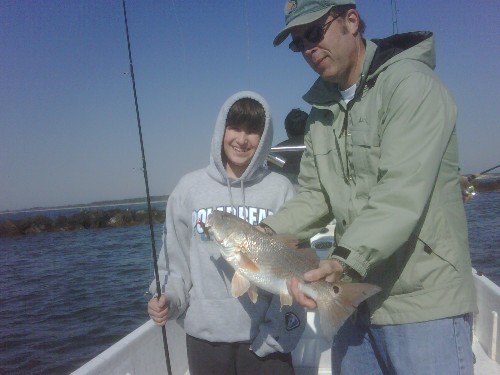 ---