"Mahi Bite" | OIFC World Cat / Carolina Cat | 06/11/10
Captain Chris Dew and 1st Mate Aaron Dew were chartered by Preston Cave (East End, NC), Marshall Stillman (Mocksville, NC), Brad & LeAnn Rogers (Advance, NC), Mike Weir (Advance, NC), and September White (Mocksville, NC). Together they fished the 100/400 and Blackjack areas. Pulling a Black Bart they caught the large mahi in the picture, which was angled by Preston. They also said they had a big one get away, and are going to provide this sceptical reporter with some pictures. Thrown in the mix was the AJ Mike landed, a small mahi and some black bass..Pretty good day!
Although I didn't make it to the docks, I'm told that Captains Brant and Zach had a respectable showing of kings and spanish on 2-one half day trips.
- Capt. Rickey Beck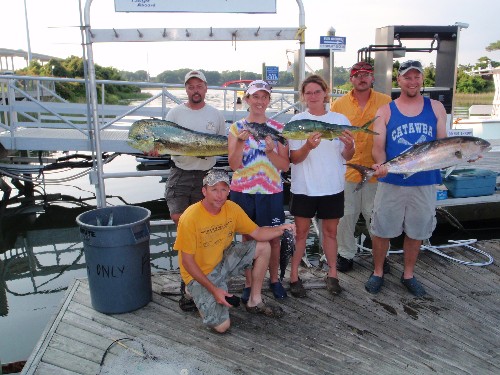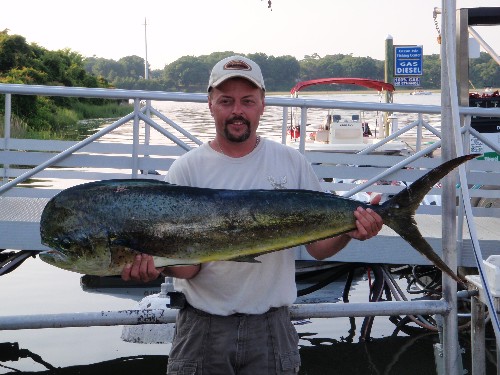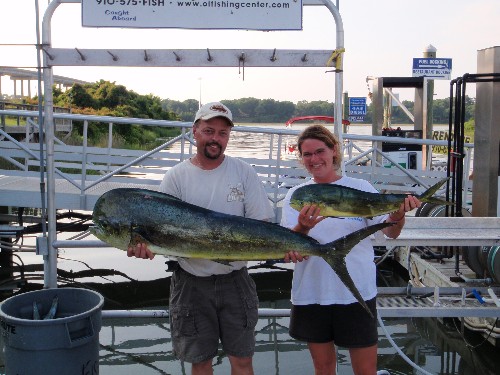 ---