"Four Mile Sail" | OIFC 1- 36' | 07/09/10
Captain Zach and Captain Steele fished aboard the 36 ft Contender, the "Get Floor'd" along with Grant Boyd and Garrett Fiddynent, both hailing from Atlanta, Ga., Eldon Peters from the home of the UNC Tar Heels, Chapel Hill, N.C. and Garry Spencer from the home of the American Idol star Kelly Pickler, Albemarle, N.C.
Garrett was fly fishing with a pogey for spanish while four miles off shore when a sail fish showed up. He kept feeding the pogey until the sail finally couldn't stand it anymore and hit it. After a short fight the sail was along side the "Get Floor'd" Garrett has some nice pictures which he will forward. One of the pictures below is of Garrett taking the customary plunge off the front of the "Get Floor'd" for catching his 1st sail.
After the excitement of the sail fish the crew headed out about 10 more miles where they caught kings and 3 cobia. The biggest cobia was 33 lbs and took 2 hrs of fighting to get aboard. They also had a 4th, but he eluded the fish box. The cobia were caught in the area of the 65 ft Hole.
This dynamic duo proved they can catch quality fish, they also showed their dedication by extending the charter 2 extra hrs. Quality fishing and dedication are only a couple of the attributes of the OIFC Charter Captains.
Congratulations guys on a great day fishing. I could tell by the excitement on the dock that everyone had a ball!
- Capt. Rickey Beck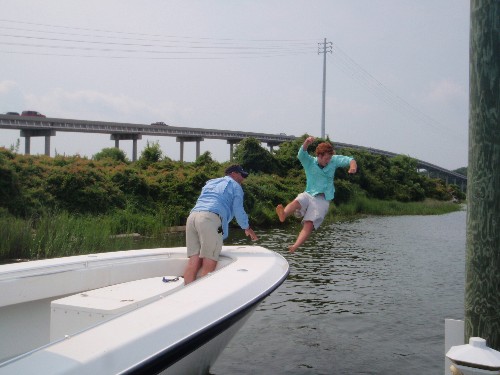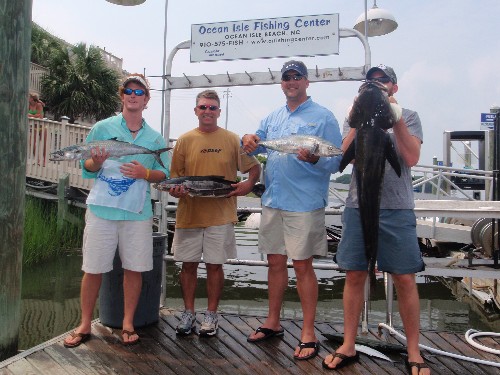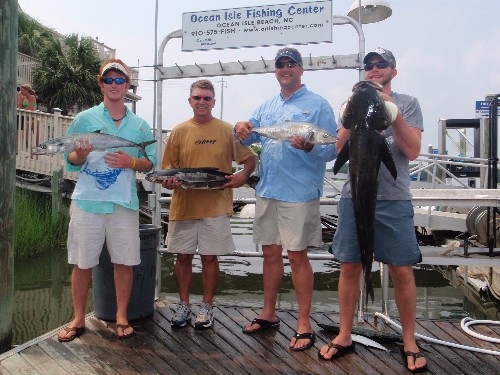 ---