"Speed Kills" | OIFC 1- 36' | 04/04/10
Congratulations to Capt. Zach Faulkner, his dad Benji and the entire crew of the "Get Floor'd"/OIFC 36 ft Contender. Zach was high speed (14 mph) when these 2 missiles hit his baits. Each fish weighted 54.1 and 36.6 respectively.
Just prior to catching the 1st wahoo, Zach smelled sunscreen. He found his dad spreading "Banana Boat" sunscreen lotion. Zach destroyed the lotion and explained to everyone that bananas on the boat bring bad luck About that time the 1st wahoo struck. Benji's wahoo puts him in 1st place in the OIFC Rodeo and moves me to 2nd.
Captain Zach has followed up with the following information. Some of it may be helpful for those going wahoo fishing: Aboard the "Get Floor'd" were Tod Isenhour, Garrett Isenhour from Winston Salem and David Faulkner from Charlotte, N.C. The crew fished the John's Rock area southwest of the Scarp. The water temp. was69 to 71 degrees.
The lures used by Captain Zach were custom blue and white and pink and white, 3 oz., an Alien and a few other Islanders. High speed lures were Black Bart San Sal Candy as well as Ace Wahoo King Lures. The trolling speed for them was 14.5 knots.
Thanks to Captain Zach Faulkner for sharing what is usually kept secret by most Captains. Sharing this information is in keeping with the philosophy of the OIFC.
- Capt. Rickey Beck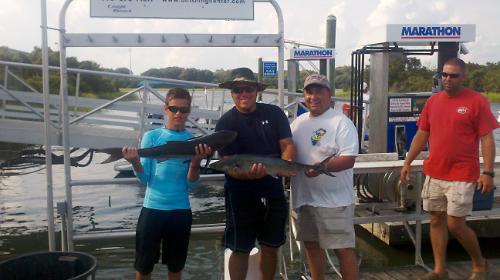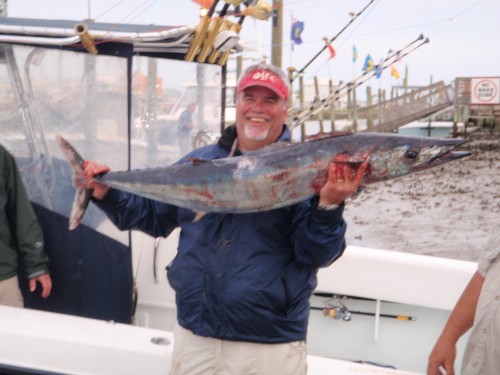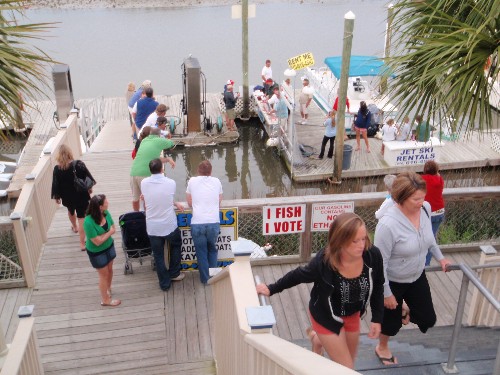 ---