"Golden Sunrise" | OIFC World Cat / Carolina Cat | 09/25/10
Also at the docks sporting nice fish was the crew of the "Golden Sunrise". They are Martin McLeod, Chris McLeod, Patrick McLeod, James Fields and Brandon Parnell. This group of anglers caught their fish in about 300 ft deep of "blue water" using ballyhoo.
Docked bow to bow, and fueling his Triton with OIFC ethanol free fuel was Art Jordan. He along with his son Art, Parker Bates and Michael Kratz had fished the Steeples today. They also brought some very fine fish to the OIFC dock.
It's is great to see the dock this festive with beautiful boats, great friends and lots of quality fish. This is a sure sign that the fall bite is taking off!
- Capt. Rickey Beck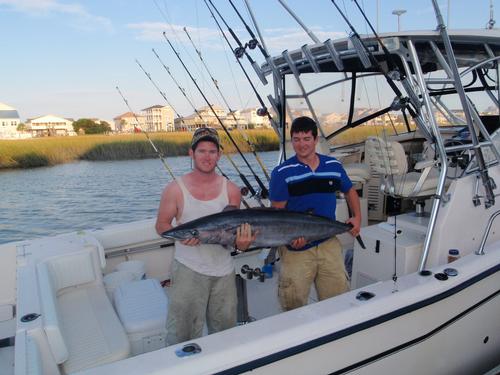 ---