"Fresh Grouper!" | OIFC 1- 36' | 09/02/10
Enough about Earl. It passed with good surfing waves and some flooding at the east end of OIB, but that was it. The wind blew out of the north here just about the whole time, so there was no chop, just some good swells so the ocean shouldn't be dirty in our area.
Mullet, spanish and the blues have hung close enough to shore for the surfers to tell me they saw them jumping so I expect in addition to some great spanish fishing, the king bite should fire off soon.
Now is the time to think about fall fishing, and bottom fishing. Speaking of which check out this picture of Cameron Sebastian of Coastal Scuba with a 29 lb grouper he shot TODAY! This fish will find it's way to the Midtown Bistro via the proper channels. and Jeff Martini said there will be fresh fish this weekend at the Midtown Bistro. We ate there last weekend and it was fantastic!
- Capt. Rickey Beck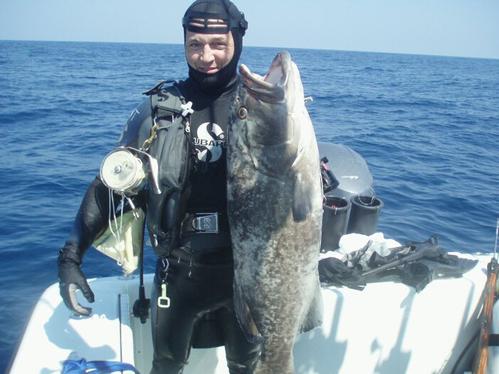 ---