"Morning Update" | OIFC World Cat / Carolina Cat | 08/18/10
Captain Chris Dew and 1st Mate Aaron Dew were joined on a half day charter by Ken White, (USMC, Camp Lejeune & Hubert, N.C.), John Park, (Pittsburgh, Pa.) and Greg Erhard, (Pittsburgh, Pa.) for a morning charter. The group fished the Youpon Reef and brought home some spanish mackerel. They said the bite was sporadic at best, but a good time on the water was had by all. Good news for the spanish fishermen is the spanish are there but you are going to have to work for them.
Ken has 21 years in The USMC and has recently returned from Iraq. The OIFC staff wishes to extend our gratitude to Ken for his service to our country, just as we appreciate all members of the armed forces.
- Capt. Rickey Beck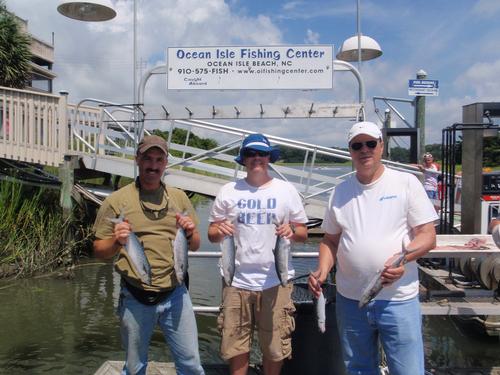 ---