""Amen Corner"" | Tiberias - 22' | 04/10/11
Doug, Tom, and Bob from Canada joined me on a half day trip this morning. The passing weather last night had me a bit worried about having successful results this morning. We headed for a place that I landed a few red drum on Friday. The large mullet were stacked up just outside this creek mouth. I think we had a couple of short strikes, but really couldn't tell from all the mullet hitting the line. We headed on around the corner into another creek. We worked a piece of bank that has been productive lately without a strike. I had just gotten the words out of my mouth, "Sure thought we would have gotten a bite right there". Bob hooked up! NICE fish! HANG on to him Bob! ROD tip high! Let him run! Keep the line tight! Put some pressure on him! Don't let him get in that crab pot! Don't let him get under the boat! Finally, Bob landed our first fish of the day. A nice 29" 8lb. redfish. What a nice way to start the day. Bob went on to land another red drum, a trout, and a flounder to complete the slam. Doug also landed a red drum, trout, and flounder. Tom was the only one not to complete the slam, only lacking the speckled trout bite. We headed toward the River where the azaleas and dogwoods were in full bloom reminding me of "Amen Corner". Again Bob topped the day off with a nice 24" red drum. We put him in the livewell and thought about making a meal of him. Instead, we took a photo of everyone and released him to be caught another day. That is the way its done! See ya on the water!
All fish were caught on artificials again today and released in good health! Deep Creek plastics and Sea Assassins in charturese colors matched with 1/8oz. jighead is still getting it done. Good Luck!
- Capt. Jacob Frick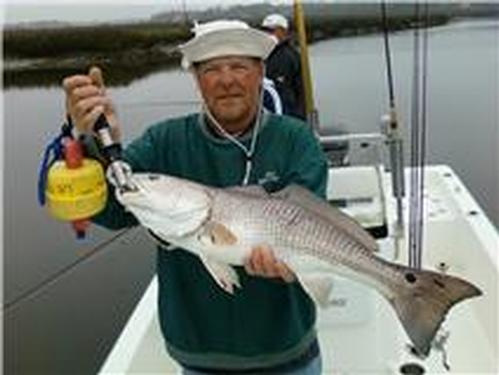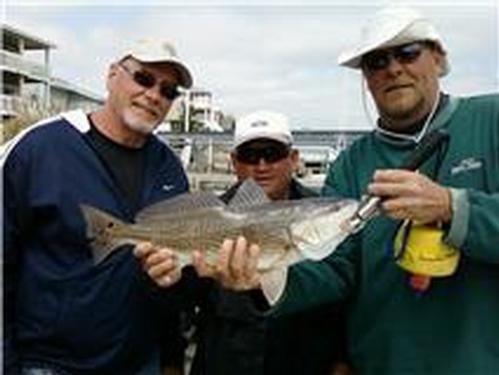 ---