""Not Bad for a Rookie!"" | Tiberias - 22' | 05/22/11
I fished Friday inshore despite being invited to fish on two different boats in the gulf stream. The bite inshore was pretty good with 9 flounder caught, 6 being over 14 inches, but only two made the new mark over 15 inches. Would have been a banner day last year. I landed every single flounder on artificials again today. I missed one trout and a flounder on topwater. I couldn't believe my eyes when I saw a flounder appear from under the boat to swipe at my topwater bait. Unbelievable! Well, I get home and get invited yet on another boat to the stream on Saturday. I decided why not?
I am a ROOKIE when it comes to the gulf stream. Mr. Norris Buff wanted to take his friend Ivey Curly, 80 years-old to the gulf stream just one more time. The conditions looked absolutely awesome for a smooth ride. So, I just couldn't stand it anymore...you guys twisted my arm! I just had to go! We were very lightly prepared on the equipment side. We only had two penn 30T reels and 4 penn 113h reels spooled with 30 pound mono line. We only had about a dozen or so ballyhoo rigs...three wire rigs and a few 60 pound fluorocarbon rigs. My plan...rig one of the penn 30T's deep on a trolling wieght with wire for the wahoo, just in case? I mixed the rest of the spread up with small and medium ballyhoo rigged naked, pink/white, and blue/white skirts. I also bought two rigged daisy chains from the store. I ran a daisy chain off the opposite corner of my deep line and ran a medium line just behind it. I put the pink/white on the outside rigger way back. Sent a blue/white king skirt way way way back down the center line with a small ballyhoo. Sent back a blue/white islander on the other outside rigger well back of my deep line. Then I put another medium above my deep line with a naked medium ballyhoo. Needless to say, it didn't take long! Lines were in the water around 8:45 and the long line was screaming at 9:00! We never saw the fish as it quickly released itself. I brought it in and rerigged. Outside rigger pops out! No hook up, but ballyhoo gone. I don't like springs! I needed rigging wire. Springs are fast though. Deep line takes off on short strike, I quickly drop it back, he takes, drops it, I drop back and he crushed it! Off to the races! At first the line was peeling off the reel fast, then it slowed to just a steady pull. Shark! I worked on him for a while thinking I could maybe get my rig back. Midway through fighting the shark I see a mahi jumping way back in the spread. No lines were sounding off, but I know he wasn't jumping for fun. We had slowed down trying to fight the shark and a nice mahi had found our long line. I quite fighting the shark and gave us a little speed to tighten up on the mahi. Fish on! We boated our first mahi of the day. I went back to the shark and got him all the way to the wire leader before he broke us off. I was tired at this point. I got all the lines rerigged, clear of grass, and reset like I wanted them. I headed for the cabin to get a snack and water. I didn't make it. Three lines went too screaming, mahi jumping all over the place. All three of us were fighting fish when a fourth hit the outside rigger! Nice bull! I had to take a break from my fish to gaff Mr, Norris's fish, but I did my usual farmer John hoeing episode and ended up losing the fish. I was a little upset with myself to say the least! We also lost the bull as he was able to cut through our light leader. We did land two nice cows. That is three nice fish in the box by 12:00pm. I got lines reset and we headed back over our newly marked spot. We had two more knocks downs, hooked up a with another nice cow and landed it for our fourth fish. Mr. Ivey and Mr. Norris were about pooped and were ready to head for the house. I tried my best to get them to hang out for one more good bite. We picked up one more little slinger dolphin and headed for the house by 1:00pm. Not bad for a bunch of rookies! See ya on the water!
- Capt. Jacob Frick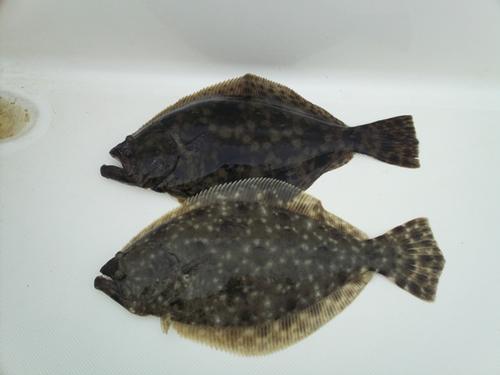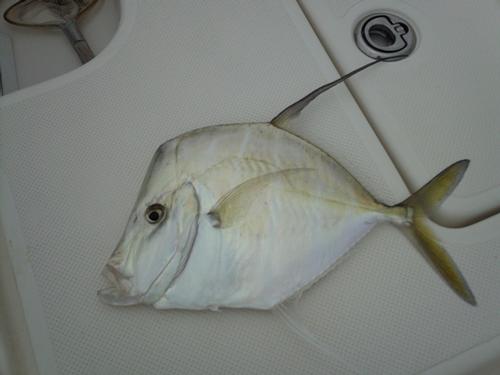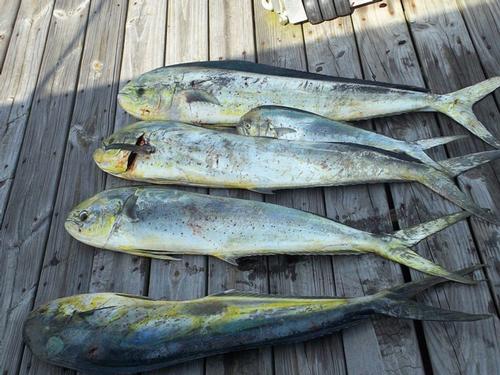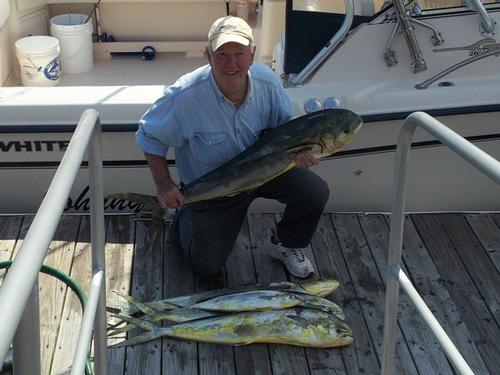 ---