"Today's Stream Report" | OIFC World Cat / Carolina Cat | 12/15/11
It was a great weather and fishing day in the Stream- light southwest winds, 2 foot seas and the fish were biting. I had local friends Brian Strickland, Ernie and son Billy Crews and Tim Gallimore with me aboard the Carolina Cat. We cleared Shallotte inlet at 6:40 and had lines in the water a mile inshore of the Black Jack just before nine. I had set three lines when the flat line went off and young Billy went to work on the screaming reel. 10 minutes later the first Wahoo was in the box- 35-40 pounds. We reset and worked the ledges in 160 feet with no action. We continued circling for about an hour with little action. I then pushed offshore a bit and we picked up a double, 1 False Albacore and 1 Blackfin. We marked the spot and circled back and picked up another Blackfin. It was roughly 10:30 and from that point forward it was game on. We had bite after bite from Wahoo all the way until the time we picked up at 3pm. The problem was we kept losing fish. I was having good success pulling small Tuna feathers on my long lines and the Wahoo seemed to like them too; bad news is they are straight mono and although I lost 4 feathers, we did catch 2 Wahoo on them, so it was a fair trade. The tough part was the many solid, reel screaming hookups that would last 30+ seconds only to have the hook pull. Brian actually battled a Wahoo for nearly 30 minutes, a big fish to straight up and down just to within sight before it shook its head and bit through the wire. I won't go so far as to say "it was one of those days", but we did miss a ton of very nice fish- BUT, if you've done much Wahoo fishing, you know that is how they are. They are hard to keep on the hook! Through all the trials and tribulations, we did manage to boat 5 more Wahoo, all in the 35-40 pound class. Toward the end of the day it was interesting to note the water which had been a blended blue-green became much greener and schools of Houndfish moved in - as this occured, the bite slowed- but luckily it was time to go home. Anyway, it was a very good bite as after 10:30 we did not go more than 15-20 minutes without a solid reel screaming run. I am anxious to get back out and do it again. Also, Wendell Barnett and Tracy Huggins were fishing beside us in Wendell's boat and they caught their 4 fish limit and headed home by noon -- Tracy reported one in the 70-80 pound class, but I have not yet recieved the verified weight. If it has my lure hanging in its mouth I want it back!
On another note, the Kingfish guys found some really BIG kings today near the Tower. I got reports of quite a few in the 40's and a couple in the 50's. It is a big ocean out there, but if you can find the fish, they are still out there.
- Capt. Brant McMullan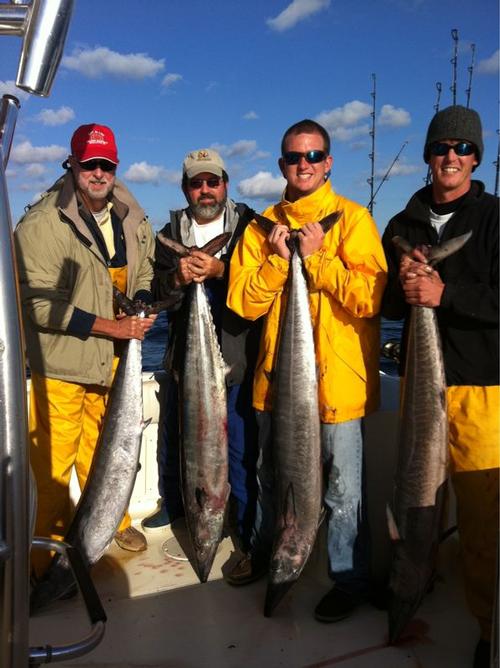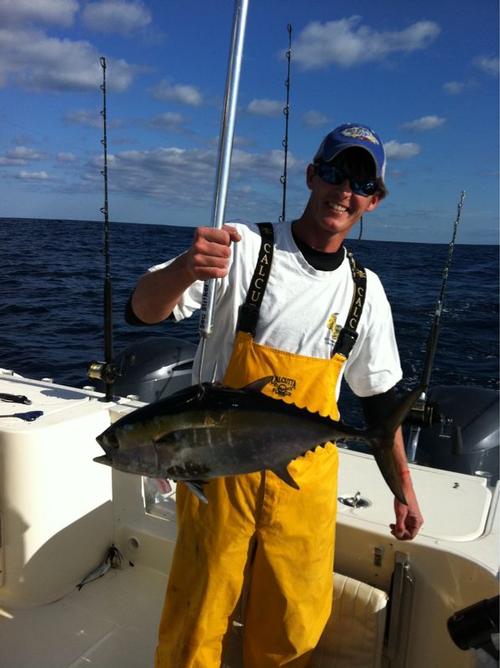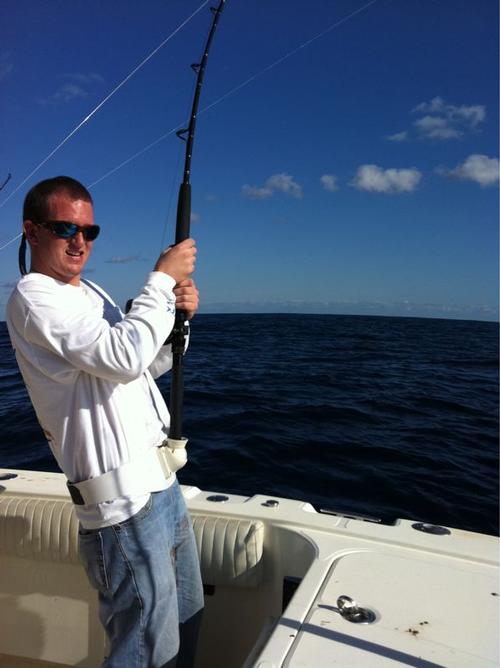 ---