"... And Now, The Rest of the Story" | OIFC World Cat / Carolina Cat | 12/20/11
Well..... after a couple of hours of sitting on solid ground and analyzing the fishing trip, I am ready to talk. Here is the one thing you can take away for sure, the middle of the ocean is no place to be in the middle of the night in 15-20 knot winds. It is just not fun. And of course, that is where we were. Here is how it all went down.
We loaded up and left the OIFC at 9:30am on Monday (Brant, Barrett, Steele). We ran 70 miles to a warm water eddy just north of the Steeples. The radio talk was of hot action as several boats were all ready working the area. The seas were near calm, but a 10kt SW wind had begun to blow. We set out and immediately missed a bite. We continued on and the long rigger went down, Steele did battle. At boatside it was a tuna, but looked awful big to be a Blackfin. The gaff was delivered and the heavens opened up and low and behold a Yellowfin Tuna was boated- yes, Yellowfin Tuna- check the pic below- NOT a Blackfin. We trolled on and caught a Wahoo and a couple Blackfin and missed a couple good bites. All the while the SW wind was creeeping up to 15kts with a light 3 foot chop. Everyone headed home except us. We looked at eachother and the decision was made to go ahead. We picked up lines at 4:30pm and ran 20 miles offshore to 1200 feet. We pretty much just set up in the blind, no specific area. We set out a spread of 4 lines ranging from 300-100 feet deep rigged with Squid and Boston Mackerel. At 6:45 the 200 foot depth bait was taken and the rod bent over. Barrett went to work, but there wasn't much fish there. However, in the darkness, the glow from our green Hydro Glo revealed a Swordfish- small, roughly 30-40 pounds, but a Swordfish; and the night was young. We were pumped for a night of red hot fishing. It was not to be. As the night wore on, the wind steady increased to 20 knots, seas a choppy 3-4 feet. It was not terrible rough, but in the pitch black darness, it is very uncomfortable. Steele (aka "Cookie") fired up the Coleman grill and cooked us Ribeye steaks for dinner, that was nice. Afterwards we were in and out of sleep. At 2am the 300 foot depth rod bent over and Barrett was again on the rod. He fought the fish for a couple of minutes before the hook pulled. Barrett said he felt like the fish was about to make a run, but its size was underterminable. At 4:30, we were all pretty much asleep when the Tiagra 30W set at 100 feet started smoking off line. Steele grabbed the rod and there was definitely something substantial on the end. Steele struggled for about a minute, losing line the whole time before again the hook pulled. We were using about 12-15 pounds of drag, but obviously we have something to learn about keeping them on the hook. Anyway, daybreak finally came at 6am and we began packing up. The wind was still a steady 20 knots and it was crappy. We ran back toward the Steeples and set out Wahoo lines. The current was strong into the wind and trolling was miserable. We missed one Wahoo and caught a few False Albacore before our fun meter was finally pegged out- it was time to come home!
There were many lessons learned through the adventure. And yes, it was an adventure, regardless of how successful. We take our experiences and mold them so that next time we can go back and do better. Not many great things are achieved without some sacrifice. We did sacrifice ourselves last night, but now I'm more determined than ever- I will be back!
Oh yes, there have been a few Bluefin Tuna landed off Morehead the last 2 days. There are a ton of jumbo Pogys on the Frying Pan Shoal and the conditions look right. Stay tuned as we hope to hear of fish in our area very soon.
- Capt. Brant McMullan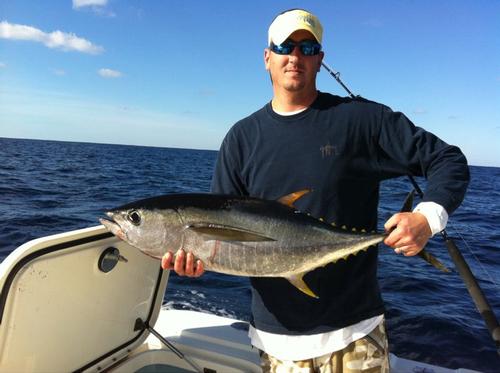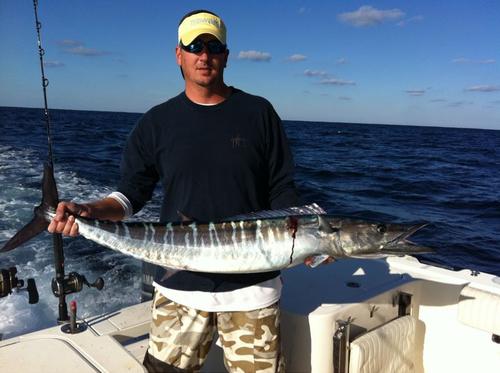 ---