"PEI Report Continued" | OIFC World Cat / Carolina Cat | 09/17/11
Back to the story...
Chris Blackwell from Ft Pierce, FL is now hooked up to a freight train after soaking a bait for approximately 10 seconds. We all decided we'd give the stand up angling a shot but are prepared to have our feelings hurt. Chris is on a 50 Wide Tiagra on a 130lb class Crowder rod with 130lb Diamond line and 130lb Spectra line. The fish did exactly what bluefin do. It ran off about 400+ yards at 40lbs of drag like it didn't even know it was hooked. Then it was a series of darting moves, followed by a big circle around the boat on the surface and lastly the up and down death spiral tactic. After more than an hour we got a glimpse of the giant tuna estimated at 700+lbs. By this time Chris has about 60lbs of drag applied. For those who haven't felt 60lbs of drag, it takes two hands to pull it off a reel. It's enough to send a 200+lb man over the side if he is off balance in the least. Having caught a glimpse of the fish we make the call to hammer down on the drag and the fish eventually breaks off. It was a heck of a battle, the fish lives to fight another day and the angler has had enough.
Next up on board with Capt Darren, Spencer and Greg was Chris's brother, Mark Blackwell. Mark had fished with Chris in Morehead City for Bluefin for several years and a total of 14 days without ever seeing a fish or even having a bite. Today was to be the day the jinx was broken. After gathering our senses from the last battle we see a couple boats just a few fee apart about a quarter mile from us. Capt. Greg informs us it's up to us when we want to hook up again because the fish are ready to go. We go over to the two boats backed up to eachother and what I see next I'll never forget. These boats were just sight seeing and had chummed the giant tunas up between the two boats so they were right on the surface feeding. We pulled in and just watched. I've seen our pictures, and videos and I already know they don't do justice to what I witnessed. To say these fish are big or giants or any other adjective to describe their size just doesn't seem like it's telling the story of the size of these fish. I stood there in amazement as tuna the size of elephants swam just feet away from our boat feeding on the chunked chum. I don't know exactly how big they were but I know these fish were well over 1000lbs. They were so big, it made you realize there was simply no way the tackle we had would have any affect on these animals. This was probably the most memorable and exhillarating moment of the trip for me.
I was satisfied just watching them feed but we were there to do to do battle so after we had gotten plenty of pictures and videos Mark stepped behind a rod equipped with his stand up harness. A hook was put in one of the dead herring we were chumming with and no sooner did it hit the water than a giant tuna immediately engulfed it. Fortunately it wasn't one of the granders we were seeing but merely an 800lber. It was the same story with this fish. An epic battle ensued with an unbelievable amount of drag pressure being applied. This one however broke off before we got a good view of it. By this time two of the four us were exhausted and I frankly wasn't too excited about the prospect of getting my butt whooped. It was about mid day so we made the short steam back into port and grabbed lunch. I'm not used to such civilized fishing. Leave the dock whenever, barely make it out of port, catch the biggest baddest fish in the ocean within minutes, come back in for lunch and if you feel like it, go do it again!
The afternoon shift was up so we headed back out and it was much the same as the morning. It did take a few more minutes to locate the fish but when we found them it was on. This time John Langel of Ft Pierce, FL and Chris's and Mark's father in law was up. We fed this fish a live bait and it acted a little different. He fought hard, don't get me wrong, but John had him beat in less than hour or so we thought. The fish came up and gave us a good view of his 700lb frame and we thought he was done but then he figured out what was going on an proceeded to empty the spool again. This fish also eventually broke off.
It was getting late in the day and I was semi hopeful maybe we'd run out of time for me to sacrifice myself and hook up to one of the beasts. This was not the case. This time another boat had chummed up the fish again to the surface so we pulled in beside them to see another massive feeding. These were the big ones again. I reluctantly strapped on the stand up harness and adjusted the drag on the 50 Wide. We tossed a bait in the water and just a couple feet away an animal that I swear was 20 ft long and 6 ft across the back rolled and ate my live mackerel. Oh boy, here we go! An hour and a half later, I had all but given out as I'd been fighting this fish with 60+lbs of drag the entire time. Capts Darren and Spencer began helping me shovel the line on the reel at this point since we were straight up and down and the fish was less than 60 ft away. I was so exhausted I had no pride left and didn't really care about the result. It was time to stop him or pop him We never got a look at this critter as he finally parted the line but I guarantee I've never pulled on a fish like that before.
Day one in the books: expectations exceeded, exhausted anglers, stories nobody will believe.
We met up with our other 4 guys that evening and they shared stories almost identical to ours. Capt Kyle was the only smart one out of our group who opted to fight his fish out of the rod holder on a 130 Tiagra. He was able to beat his 600lb fish in less than 30 minutes. Capt Chris Eckert fought his fish stand up and had his 700+ lber alongside in just over an hour before the fish realized what was going on and left town again. Capt Zach and Big Chief both did battle as well but mostly enjoyed watching the tunas feed as they had them chummed up next to the boat for a good part of the day. Their day was highlighted by their Capt, Capt. Bucko, cooking up local cuisine out on the water consisting of local mussels, lobster sandwiches and all kinds of other local seafood. In fact, I tried to change boats on day two so I could meet the crews of both boats but Kyle, Chris, Zach and Chief weren't having it. Apparently the food was too good to pass up!
We had dinner that night at the Sandstone restaurant, the only real sign of life in the area, and enjoyed another great local seafood meal. We all attempted to tell each other what we had seen that day just but knowing well words, pictures and even videos wouldn't do it justice. This is just something you need to see for yourself.
Day two and trip wrap up coming tomorrow. My pictures didn't turn out very good, so I'm hoping Capt Zach, Kyle and Chris will share some of theirs on the Fishing Report. Stand by.
- Capt. Barrett McMullan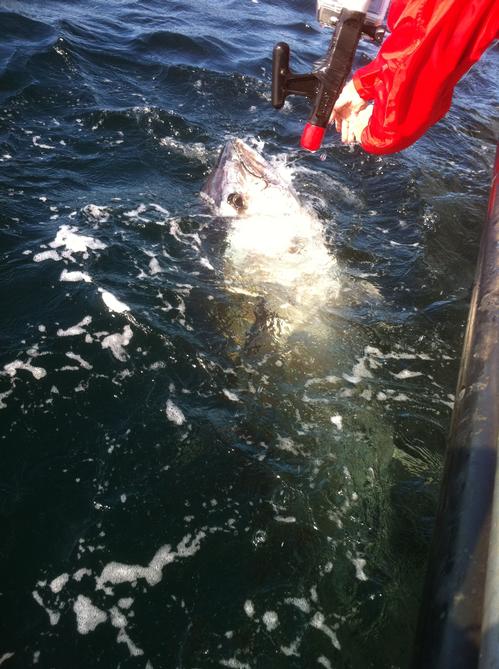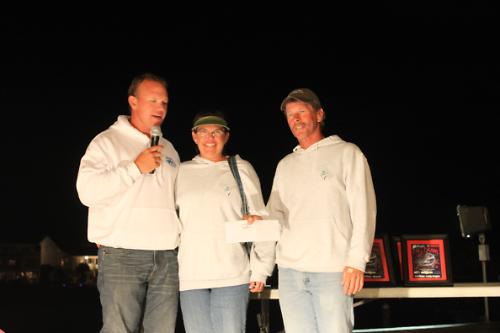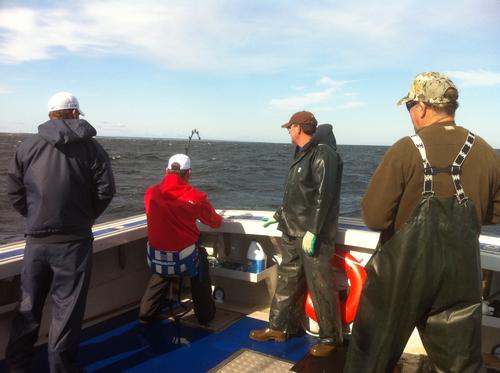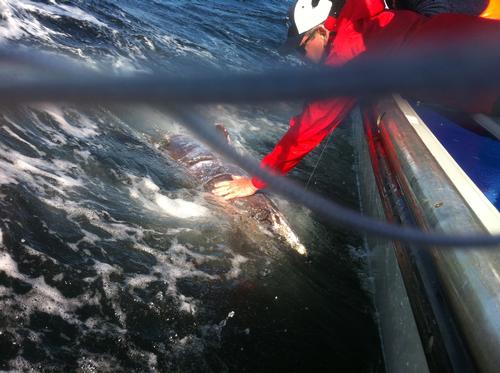 ---