"Bonecrusher or......" | Get Busy | 04/08/12
Capt. Brandon Sauls continues to pretty much dominate backwater red drum fishing in the armature division our area. It's pretty obvious by the background the picture was taken at the Little River Jetties. The burning question is, is that where he caught his fish?
Perhaps he should consider a name change from the Bonecrusher to the Dominator.
- Capt. Rickey Beck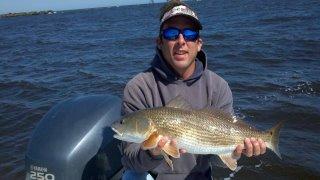 ---