"Team OIFC Report" | OIFC World Cat / Carolina Cat | 03/15/12
Team OIFC, Brant, Barrett, and Rube combined forces and set sight on Bluefin Tuna action from Oregon Inlet. Also very cool was the addition of professi onal photo/videographer, Chris Campbell who's job was to document the adventure.
We arrived to the boat ramp to a hustle of action as dozens of boats were busy unloading, all with similar visions of bent rods and big fish. We too had similar thoughts, but a plan to do it "our way" -- while most boats chose to troll ballyhoo, and most had success catching a few Bluefin, we made a stop inshore and loaded our well with 2-4 pound live Bluefish. From there, it was just a matter of delivering these poor, innocent sacrifices to their demise. I assure you that while Bluefin can stick their nose up at trolled ballyhoo, vertical jigs, poppers..... they WILL NOT turn down a live Bluefish. It was automatic and it was ugly. We started with 50# tackle to "have some fun" but quickly realized "fun" lasted WAY too long and hurt too much. We caught and lost (break offs from putting too much pressure) dozens of Bluefin -our first fish to the boat was a 68 incher, good eating size, so we helped him make the decision to come home with us. By 10am we were whooped and it was brake time. We sat around eating lunch, lounging and messing with monster Hammerhead sharks until about 2pm when we decided we'd give it another go. Luckily I had brought a couple of my TLD 50 reels on OIFC custom Bluefin rods, so we geared up. We decided to spice things up as a 10-15 knot breeze had kicked up, thus allowing the chance to fly the kite. We pulled upwind of the fleet and put the boat in neutral, deploying a bait from the kite on one side of the boat and another on a flat line on the other side. It was quiet; action and reports seemed to be very scattered. Then from nowhere, the biggest Bluefin that ever lived (at least it looked like it at that second), with no warning, erupted from under the kite with the Bluefish in its mouth and left a hole in the water that sent whitewater 10 feet up and bubble trail 20 feet down - IT WAS INCREDIBLY COOL. The line came tight, the clip released, the circle hook set and Barrett went to work. We were driting as Barrett did battle when the tell-tale marks of Bluefin showed under the boat--I just commented to Rube that if the other bait got eaten it'd be interesting -- and of course, it did. I was hooked up and shoved the drag apparently too far and broke the Bluefin off on the initial run. I wound in, retied, rerigged another sacrifice, freelined it down, felt it stop, twitch and then get heavy -- again, I engaged and again got too aggressive and again busted the fish off on the initial run; all while Barrett is working on his fish; making good runs, sounding and fighting like a nice fish. Now I'm mad. I had a weak link of 100# mono topshot over the 150# braid, so I spooled the 100# off and tied my leader straight to the 150# braid -- now I'm ready. I again hooked the bait, threw it over and it swam right into another hungry mouth -- 15 seconds wait time, maybe. I came tight and threw the drag in the corner- 30+ pounds. The fish had some shoulders and did its thing. Barrett worked his fish to boatside after about 20 minutes and we released his 82-84 inch (350lb) Bluefin. My fish was now the focus and it fought hard, staying deep. We had to spend 30 minutes on this fish but eventually Barrett had the leader and the 88-90 inch fish (400lbs+) was at boatside and released. And that was all we wanted. We released the remaining baits from the well and watched as the water around us boiled as big Tuna chased the Blues around the boat. The fishery is obviously healthy and pretty darn cool. Chris got a ton of footage, and I can't wait to see what he comes up with. We had planned to fish 2 days, but as we rode back to the motel from the boat ramp this PM we concluded there really wasn't much more that could be accomplished. So, I think we'll eat a good dinner, watch some NCAA tourney games and the head back to OIB in the early AM. I love it when a plan comes together.
Back at OIB, I've gotten several reports of good Wahoo action. Capt. Steele and team are heading to the Stream tomorrow, so hopefully we'll get a good start to the Stream season as well. It sure is beautiful at the coast, come on down and join us. See you at the OIFC -- when we get some video footage from our trip on-line I'll post it to the report to check out --
- Capt. Brant McMullan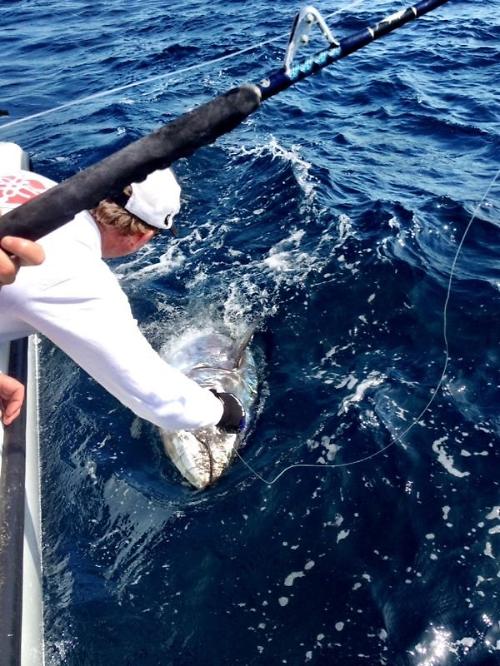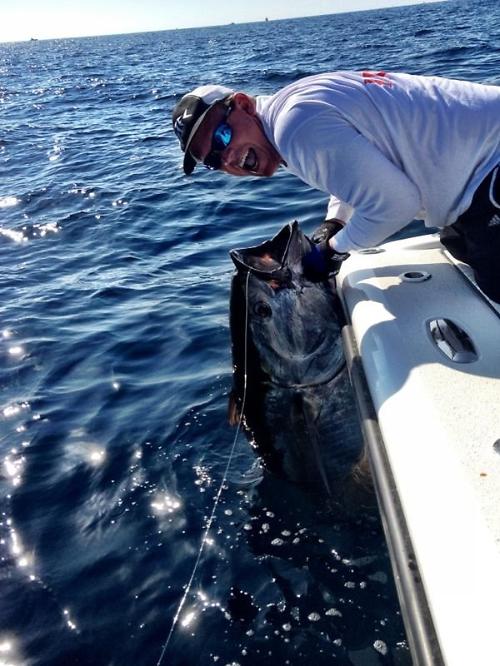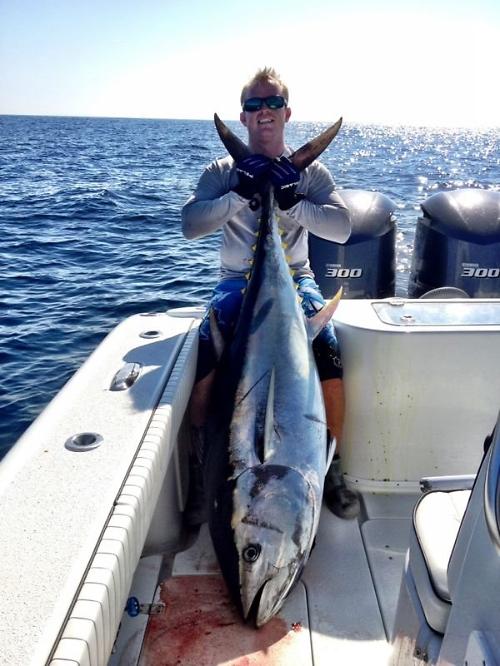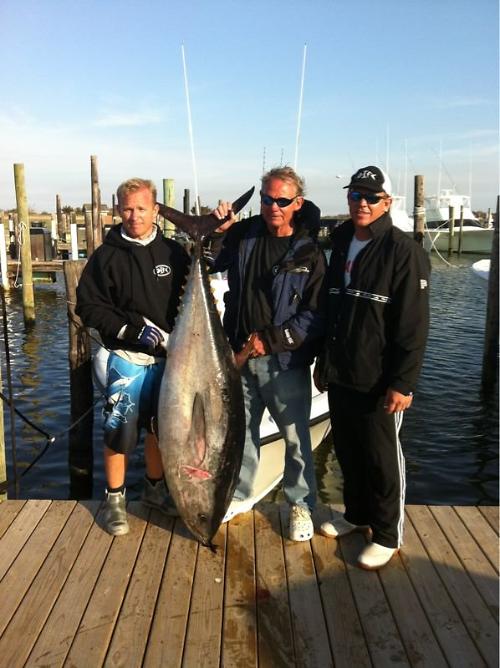 ---