"Near and Far" | Get Busy | 05/31/12
Near.....Jason Sessoms was down from Aiken, SC visiting family and managed onto 4 over the slot drum Sunday. Below is a picture of the largest, measuring 34".
Bob Newell (Black Dog) promised he would send great fishing tales from the Bahamas crossing. He reported they are in the Abacos. Bob said generally, the bite is 2 to 8 miles straight off the beach on the change of tide at Tilloo Cut. They have basically missed 2 whites, but had enough mahi for dinner, and his crew , aka Ned Garber, Casey Johnson, and Andrew Sanderson jumped on board the Stinger for a half day last Tuesday with some folks they befriended from Florida, and they released 2 blues before lunch! The crew is still waiting on Mr. Blue to show up on the Black Dog, But meanwhile they have plenty of snorkeling, traveling to different islands, and just general all around fun. I
Bob said he would recommend a Bahamas crossing to anyone of the regulars at the OIFC, He is taking plenty of notes and has a chart plotter full of fishing spots.
Thanks for the reports guys!


- Capt. Rickey Beck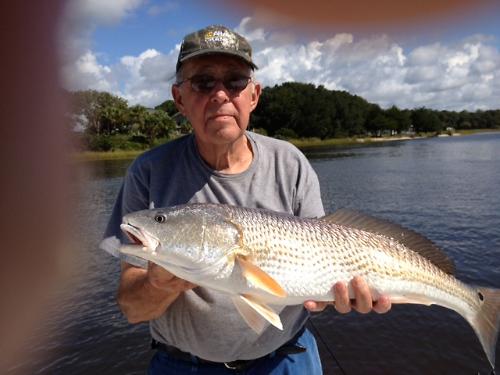 ---