"Fishing from another Zip Code" | OIFC World Cat / Carolina Cat | 05/09/12
Amy and I are down in St. Thomas with the Campbell's, enjoying a few days of R&R before we get into the "season". Of course, we had to go fishing.
Pretty cool – they load well with pilchards, head to break and troll until they see birds and topwater action – pull into area of activity and throw scoops of live baits out and then free line single baits on small circles on 30's, one on downrigger- and drift – Once Tuna get on bait and start busting you can watch as they work their way to boat and then its on – landed 7 whole YF 45-60 pounds, 3-4 Blackfin – lost 2 YF to sharks and missed probably 3-4 more – 6 hour trip. 20 mile run.
Pictured are Robin and Chris Campbell with one of their Yellowfin Tuna; wouldn't it be nice to have that fishery!
There is also a story that involves the marina Tarpon (schooling and ravenous by the dozens) and a certain $1000, Orvis, 11 weight fly rod. You can't buy that kind of entertainment. Let's just say that Orvis will soon be making another sale and there's a herd of Tarpon laughing like Hyennaes.
- Capt. Brant McMullan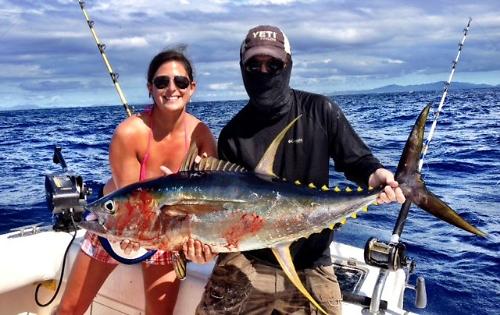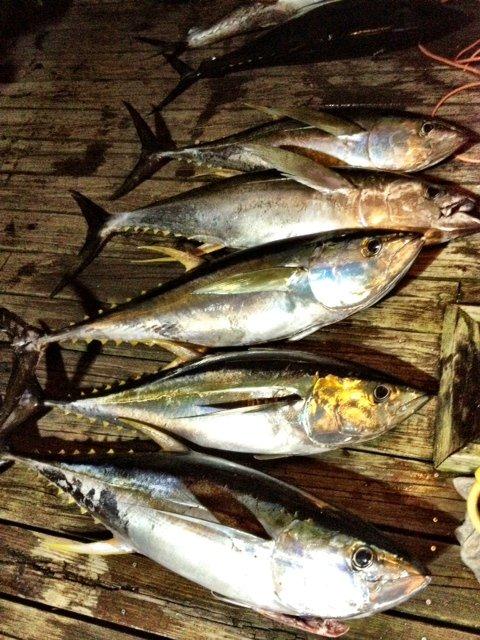 ---