"Big Whiskey Scouting" | Get Busy | 04/30/12
Chris Campbell sent a report on a scouting mission he went on Sunday. Here it is:
"I know it looks like the Lochness monster, but unfortunately The camera I was using isn't that good at a distance from far away. I worked around a couple of buoys off Tubbs (bigger one and smaller one). There were tons of birds working and thick bait along bottom. The big cobia looks "small" from the wide angle lens but this was the first pass of the bigger cobia I saw on top....he was at least a good 30-35+, other one was about half that.....

He came back up and nabbed the back of my prop wash cigar minnow and then spooked off. The wind kept picking up so I decided to call it a day...

But if anyone is wondering about cobia moving in yet (cause i haven't heard any reports) - this is about all the blurry physical proof I have."
With Cris' fishing and photo skills, I have the cobia are here. Add that to the king that have been seen (and caught), the spanish, trout, catch and release sea bass, with the awesome in shore and Stream bite, there is little reason not to fish!
I love photographic evidence and Chris is the best. Click this link for the coolest fishing video I have seen lately!
- Capt. Rickey Beck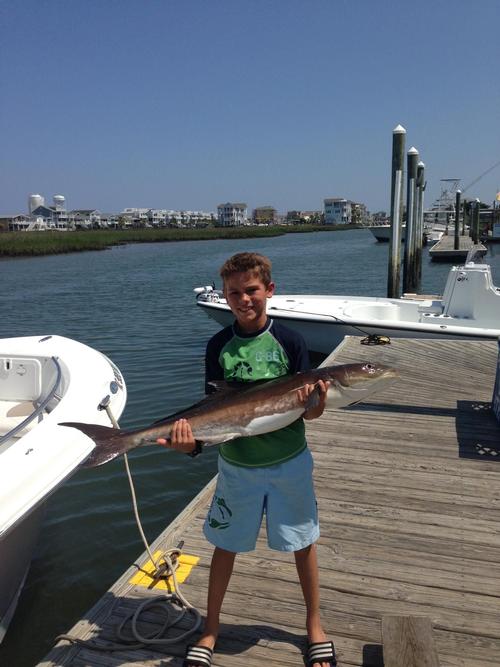 ---