"Response" | OIFC World Cat / Carolina Cat | 07/07/12
Art..We got a ton of responses regarding identifying and it seems your fish is an Atlantic Big Eye. You won't kill your family if you feed it to them, in fact it is supposed to be very good.
Bryan Freeman said::Ricky, that red fish in question is a Toro Snapper, otherwise known as an Atlantic Bigeye. They are quite tasty.
Daniel Simmons responded:I'm pretty certain they are called "bigeyes". Google it and see if that isnt the same species. I used to catch them nite fishing in the keys on the reef. Their eyes glow red at nite and look ferocious as can be. They are actually good table fare very soft, white meat
Scottie Richardson said:"Yep..thats a Short Bigeye."


And Joe Seegers responded:If that's a Rosefish, they're delicious, but I thought they had black bellies."


Many thanks to Bryan Freeman, Daniel Simmons, Scottie Richardson & Joe Seegers for your feedback!
P.S. I have no idea why some of the type is bold..DUH
- Capt. Rickey Beck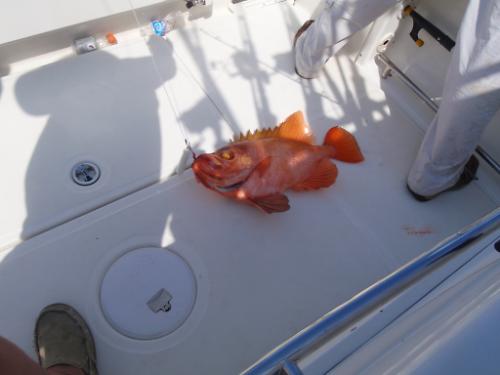 ---