"Licking Wounds" | N/A | 11/08/12
It's been a tough couple days for Team OIFC. Myself, Chris Bryan, Chris Campbell and Rube competed in the SKA Pro Championship out of Biloxi. Unfortunately we weren't much competition. It wasn't for a lack of effort though as we braved 20-25knot north winds for both days of the tournament and traveled almost 400 miles trying to find the right fish. There were plenty of big king mackerel scaled but we just couldn't seem to get in the right place at the right time. Our hero or zero/ checkers or wreckers approach to tournament fishing has not paid off yet this year in Biloxi. The good news is the big show starts tomorrow. The National Championship will be held over the next two days from Biloxi and we are ready to redeem ourselves. Most all fishing teams have arrived including a good contingent from Ocean Isle Beach and Brunswick County. The goal is for one of us to bring the hardware home to Ocean Isle. The weather is shaping up to be a little better especially tomorrow. Brant, Amy, Caroline and Brayden are now in town along with my wife stephanie and we along with Rube will join forces to get Team OIFC back on track. Stand by for an update tomorrow evening.
Rube is really focusing on the mission at hand. He was last seen having a long conversation with the mount of "kingzilla" located here at the Isle of Capri hotel in the restaurant.
- Capt. Barrett McMullan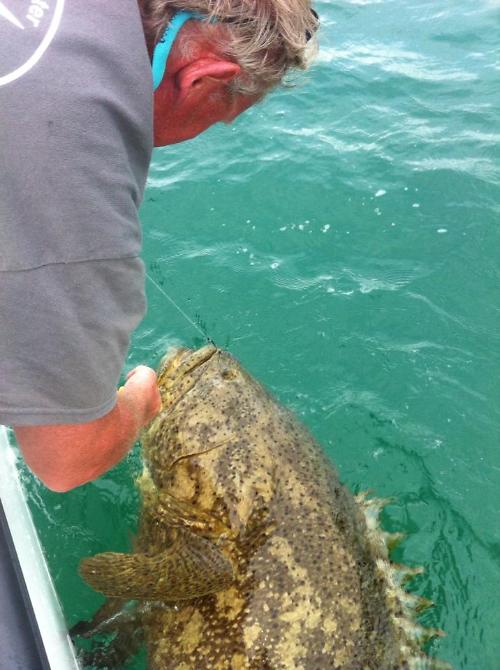 ---