""BIG Day at Navy Wreck"" | Real-Time Update | 11/30/12
Derreck Treffinger and Terry Johnson left out of OIFC early this morning (7:00AM) on Terry's 22' SeaFox WA. We knew the water was going to be calm and that we had to find some "warm" H2O. After consulting with Captain Brant, we loaded up with Cigar Minnows and Select Ballyhoo, and made a beeline to The Navy Wreck out of Shallotte Inlet (about 50 miles). Captain Brant had already checked the water temperatures, so we were confident we would have a good chance to catch some Kings and maybe some other desirable species. Upon arrival at the Wreck about 8:50, we found the water temperature to be 72.4 in 104-106 ft. of water, right at the wreck. The water was crystal clear, and the sun was baking us, so we took multiple layers of clothes off. Derreck quickly got our spread out, primarily because we could see King Mackerel and some sharks skying all around us, something neither of us had every witnessed in this magnitude, continuing half the day. In certain spots around the Navy Wreck, the bait was very thick, and we "marked" it, because we began catching Kings almost immediately, the first was a "double." I got mine in the boat, but Derreck's was bitten in half, presumbly by one of the many sharks we caught, or maybe another species with a "lazer-sharp bite." Simply pulling dead cigars minnows, in some unique OIFC ways, we managed to catch 8 Kings (kept four small ones), and then a pleasant surprise - a 25.6 lb Wahoo, The Wahoo slammed a cigar minnow on a white jig-head skirt rig we use every day and sell in the shop. The Wahoo raced back and forth on top across the remaining spread, and then chased right at the boat; it was all I could do to keep the line tight, and then he dove and took off again, and he stayed on with both hooks embedded. We weren't certain, but hoped it was a Wahoo; Derreck gaffed him, and we were thrilled. We switched to some Select Ballyhoo and began fast-trolling, only to catch three large Bonitas, one which we used as bait and "hooked" a hammer-head, which we let go, along with several other species of sharks, large ones. We really had a great time. It was a little risky going so far in a single-engine 22 WA, but the gamble was all worth it. We caught Kings until 4:00PM, then realized we were going to arrive in the pitch dark; that was different and fun; try to find those Inlet buoys sometime in the dark! The end result of a good float plan? We have a freezer full of good-eating fish! IF you are thinking about a good spot, try the Navy Wreck, besides "Mary Lee" is out that way too in the "target-rich environment." Cheers and Happy Fishing!
- "Dr. Terry H. Johnson"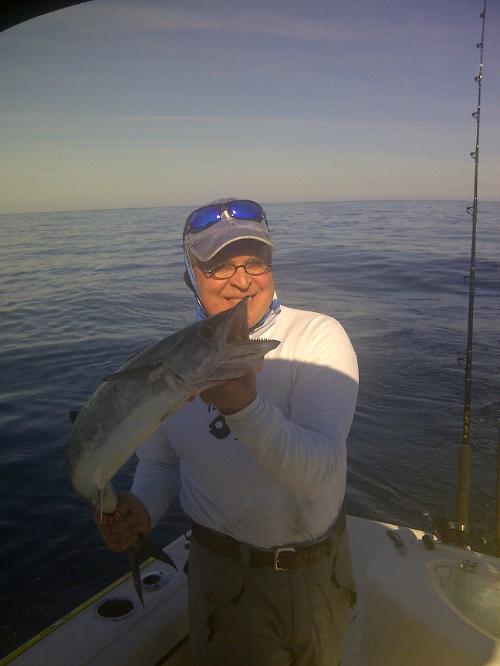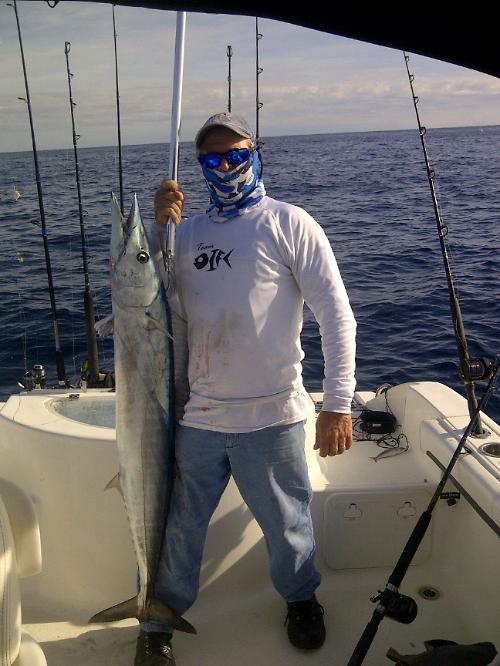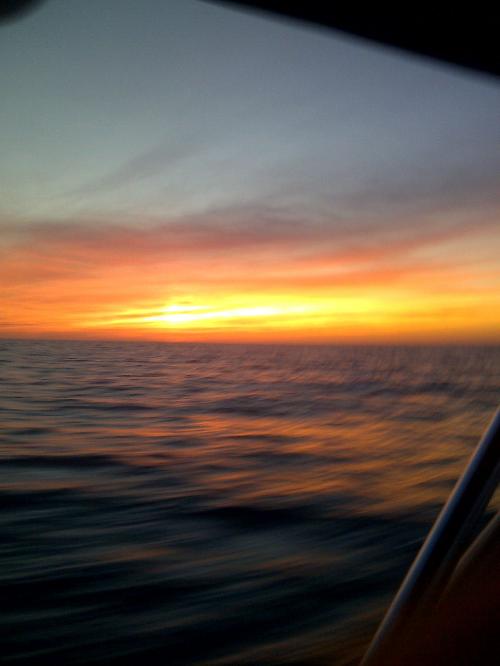 ---