"Cool Fishing Adventure" | OIFC World Cat / Carolina Cat | 11/13/12
Victor Jones sent the OIFC this tale of his recent fishing adventure. It's well worth reading.
Captain and boat owner Richard Hodges, Birk Ayer, Alex Rodriguez and I took the BroadBlue 42 catamaran sailing/fishing south from NC to FL bucking the edge of the gulf stream. This is the reverse trip than we have taken in Mays past. We loaded supplies Saturday in Beaufort, NC and initially anchored nearby in the ocean about 1/8 mile west of the last dunes at cape point Cape Lookout, marginally protected from north and east wind. We were waiting on the wind to turn some and blow harder out of the north. In the mean time we took the dingy over to the beach to spend time on the beach with a bunch of our friends for the afternoon and great fireside dinner.
We pulled anchor Sunday at midnight to head south and east to be on the continental shelf edge by late morning. When daylight came we had 20+ kts out of the NW and 12ft following seas. We put lines in and fished anyway$B!D!D(B.that$B!G(Bs why we were in that location. We caught the head of a Blackfin Tuna, the head of a large False Albacore, one half of a very large False Albacore ( it looked like it had been chopped in half with a meat cleaver) and we eventually boated two nice Wahoo about the same size (see picture one) both north and south of Steeples which is 50 miles or so off Cape Fear. When the Wahoo was being fought Richard would fire up both diesels in full reverse to slow the boat speed from 9kts down to around 3.5kts. Heavy two speed 50 wide reels with 100lb line set to maximum drag were the standard set up. Most fish were caught with 6 oz lead head dark skirted wire trace ballyhoo rigs pulled behind heavy trolling weights 32 or 48 oz. We barbequed Wahoo steaks Monday evening on the boat for dinner and knew on day one we would definitely not go hungry for the rest of the trip$B!D!D!D(B.there would be no rice and beans only meals. We were headed for shelter at Raccoon Key, which is near Cape Romain to hide from north Gale Force Winds associated with the big Noreaster that came through after Hurricane Sandy.
After sailing through the night, we waited on anchor for a day off the south facing beach protected from the wind and far away from the center of the Gale. We set sail Wednesday before daylight headed back to the gulf stream. We caught about a dozen large False Albacore before we got to the stream and then picked up some Mahi Mahi and one more Wahoo (see picture two) near 226 hole off Charleston on Wednesday. Sailed through the night on Wednesday. Did not have much luck in Georgia and northern Florida on Thursday with sharks and one Mahi. While the fishing was skinny I feel confident we caught more Wahoo than anyone else on November 5. In 500 miles we did not see one sportfishing boat. Thursday night we made our approach to St Augustine arriving at the sea buoy at first light Friday morning. We drove back to Charlotte Friday afternoon.
We sailed hard and caught some nice fish. Had fresh fish everyday Wahoo steaks, Mahi fillets, Mahi sushi, Ceviche etc. And have some fish in the freezer. It was a pretty amazing.
- Capt. Rickey Beck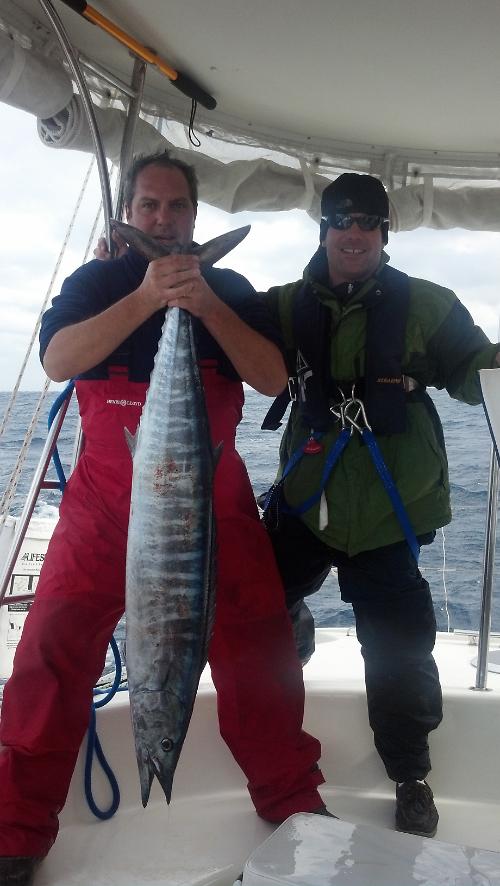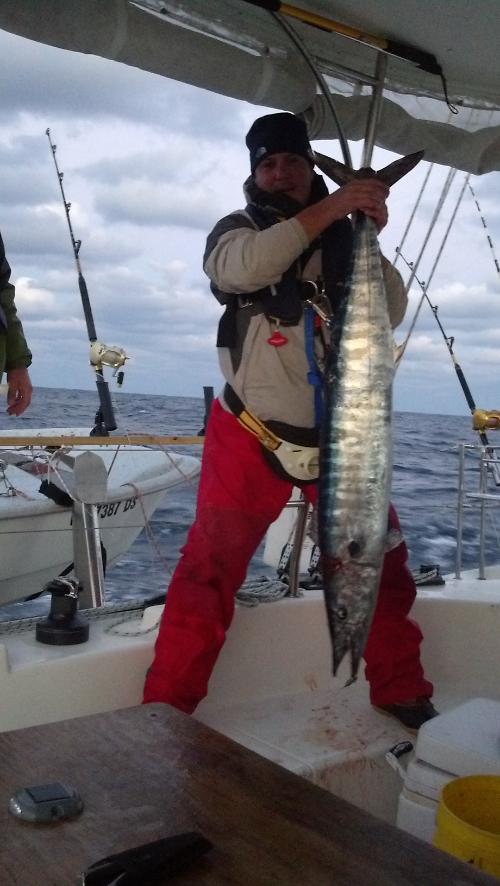 ---