"Offshore report from sunday" | OIFC World Cat / Carolina Cat | 01/21/13
Capt. Chris Dew and I had an opportunity to get offshore Sunday with the Richardson Clan from Charlotte. The weather forecast was WRONG... Forecast was for 10kts or less, actual conditions, 20kts plus... Thanks NOAA, we enjoyed that little trick... We made the decision to fish south as there was some good water down there a few days prior and we had not been able to get a good sat shot before leaving. Fishing ended up being fun, with a mixed bag of fish. We managed 2 Wahoos, both citation fish, one on the planer, one on the shotgun, both on big illander style lures. Normally, I like to fish a cedar plug on the shotgun position for tunas but the wind was suspending the cedar plug in the air so we went with something heavier. Glad we did because our biggest wahoo ate that bait.
Throughout the day we picked at a variety of fish including several doubles and triples of Amberjacks and bonitas. Despite the conditions we had a really fun day with steady action. Got word after we got back that one boat to the east had gotten into a really hot bite just inshore of the 100/400 and had a limit of Wahoos(8), all of them good sized. The fish are still out there and will be out there, all you have to do is go out there and find'em... We got some really good video while out there that I will be editing over the next few days and will get it posted on our youtube channel, this time with no Bob Marley... Apparently, postumously, he is really strict on licensing...
- Capt. Steele Park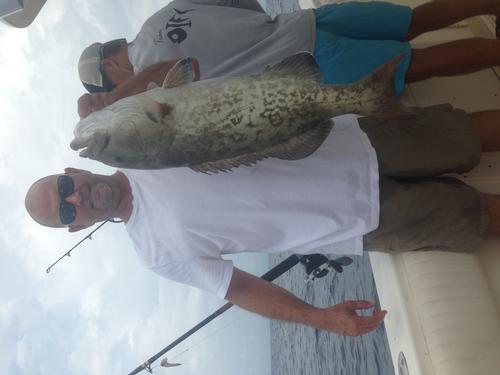 ---