"Cash is King" | OIFC | 03/17/13
Over the Winter I was reminiscing on how the tournaments "used" to be. There were more boats and more money. A $250 entry fee was standard, 200+ boats were average, and payouts over $20k were the norm- oh yeah, and fuel was $2/gallon; those were the days.
Our sport has been under attack for several years, and the result is sport fishing has been hit hard; including fishing tournaments. Entry fees are pushing $400 in many tournaments and if a tournament gets 100 boats it is considered one of the big ones.
So, I am thinking, how do we get more people interested? How do we get more fishermen to fish? How do we generate outside interest and excitement? I'm not saying that I have come up with a solution, but I do think I have developed a program that might just help to bring some of the energy back.
The program is called "Cash is King"; and it will be introduced and utilized for the first time in the 2013 Jolly Mon. Here is how it works:
Beginning on Friday, June 14th at 12pm, a live updating grid-like webpage will be broadcast live on www.oifc.com. The grid will consist of the boat name, capt. name and each level of TWT that every boat that enters the Jolly Mon has paid for. A red square means the TWT has been paid for, a green square means it was not purchased by the captain. Throughout the day, as captains enter their boats, the grid will fill out continuously; a meshwork of boat names and green and/or red squares. At any time, the general public can click on a green square, add it to their shopping cart, and purchase that boat's upaid TWT. If that boat wins, whoever bought the available TWT will win 90% of the prize money and the boat will 10% of the prize money. Some simple math to consider: The Jolly Mon has averaged 275 boat entries over the past 5 years. On average, 20% of boats enter in the High Rollers TWT ($250 per boat). If the public was able to purchase the remaining available Hight Roller TWTs, the average High Rollers payout would go from $12,000 to an astounding $60,000. The same would apply to the 23 and under TWT and the standard TWT. Every time a boat does not purchase their TWT in any level, it is money left on the table; for them or for another team. The intent is for the public: a team's family member, friend, boss OR maybe a fishermen in South Florida who loves to tournament fish decides to buy a team's open TWT just to feel like he is competing. ANYONE can buy another boat's open TWT. I am hoping that by the boat collecting 10% of the winnings, it will incentivize the captain and crew of that boat to market themselves to potential buyers of their open TWT's, thus giving them a great chance of increasing their potential prize winnings. Facebook, The Hull Truth, FishSKA.com.....these are all viable marketing sites in which a crew can find interested buyers to purchase their open TWT.
That is pretty much the concept and jist. I want to see money injected into the payout that does not have to come from the fishermen that are competing themselves. Sure, fishermen will likely buy other fishermen's TWT's, but maybe friends, family members, co-workers or anonymous buyers who simply like the name of the boat will also buy; thus adding more money while also increasing the base of people that are interested in the tournament. Spectator crowds will grow and not only will fans be watching for the fun, they will have a vested interest. Certainly there are details, but I believe that my experience fishing tournaments will address all the "potentials". What I am hoping is for you fishermen to start talking about it, start thinking about it, and hopefully start marketing yourself for the Jolly Mon 2013. This is a radical new concept that also involves the use of technology; thus there will be lots of questions and resistance to change. But, I think this is the time for change. For many of us, tournament fishing is a way of life, and we want to see it rise, therefore a change must be made.
Please help me spread the idea of "Cash is King" so that when June 14th arrives, www.OIFC.com will be abuzz with activity as fishermen and non-fishermen add to the pot, all hoping to take home a piece of the winning prize in the 2013 Jolly Mon King Classic.
- Capt. Brant McMullan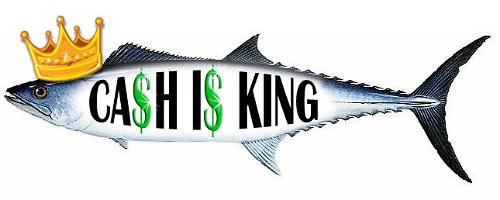 ---