"Battling the Conditions..." | Tiberias - 22' | 04/05/13
It seems that I have been fishing in the wind and rain all week. To make things even more challenging my Thursday group packed a banana for their mid morning snack. We were going to do a drive by fruiting on Capt. Jeff's crew, but after a short conversation via cell phone, I found out his crew packed a whole stalk of bananas. We would have lost the banana battle as they had more ammo. Despite a stiff ENE 25kt wind, bananas, and fish hanging up in the pilings we still managed to get a few fish to the boat. Thank you Grandpa, Chandler and Hayden for fishing with us! Hope to see you guys again soon.
Friday morning was even more challenging with a straight East wind 25kts+ and horizontal rain. My Monday group, Chris and Jack were cut short because of the same kind of conditions. Chris and Jack were again on the water with me trying to get in a couple more hours in the rain and wind. Sometimes the conditions just aren't going to work to your advantage. As written in Capt. Barrett's last article in the Brunswick Beacon, you must adapt to the conditions. Some creative boat handling kept us in position and fish started to come out from under the dock. Jack landed 6 reds in an hour and a half. The two biggest reds were 24 inches and 26 inches...both were released to be caught another day. A huge THANKS goes out to Chris and Jack for coming out in tough conditions. I think we were all suprised to see the fish cooperate as well as they did. I love it! See ya on the water!
- Capt. Jacob Frick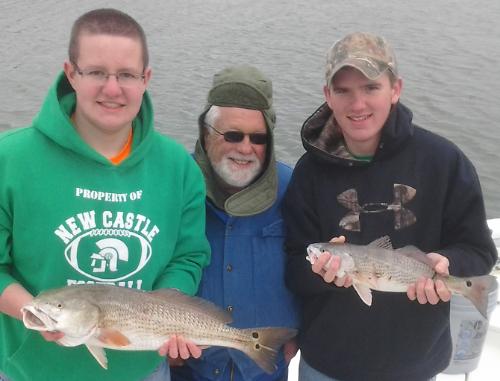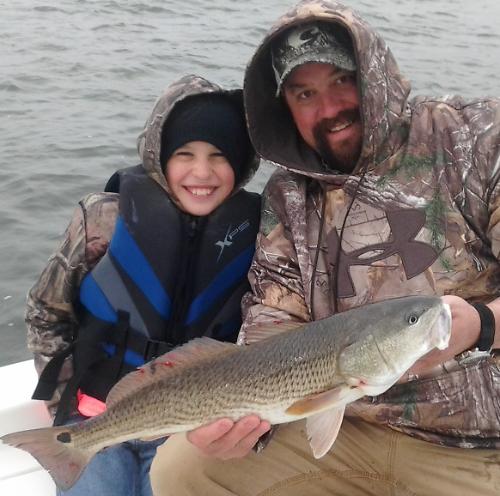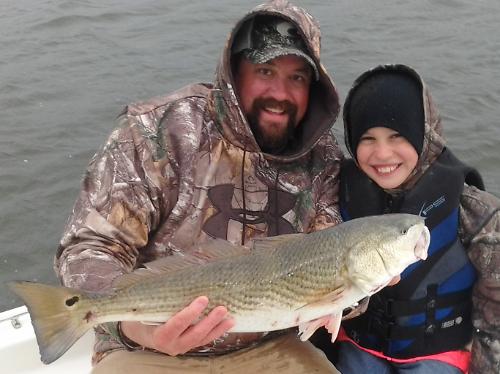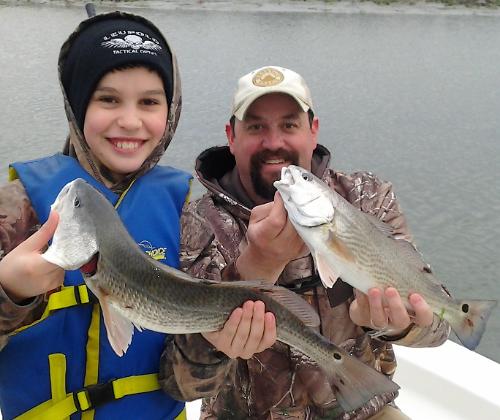 ---