"Bitter Sweet" | Tiberias - 22' | 02/25/13
Got out for a little while today. Myself and a good friend Joe Zurad battled the bitter cold ENE winds in hopes of catching a redfish. The weatherman was dead on with the wind direction, but where was that sunshine until 2 pm today? We woke up to cloudy conditions and never saw the sun peak at us once. This made it very difficult to scout out and see the redfish. Water conditions were very clear, but again low light conditions made it tough. The water temperature started off at 49 degrees. When the water temp gets into the 40's the fish really seem to get sluggish. We moved around looking hard and watching water temps. We found some water reaching the 51 degree mark and got our first bite of the day. We worked the area over pretty hard without another sniff. We moved to another area and found some more water around that 51 degree mark. The bite was on! The majority of the fish were just in the lower slot around 19 inchs or so. Joe finally got a bite and landed a nice red. Bitter sweet! We ended the day with a dozen reds, not too shabby for February. See ya on the water!
What were they biting? The 4" sea shad by Bass Assassin in grey ghost tied to the end of my line!
If you look real close you can see one hanging out of the fish's mouth in the picture. Don't forget the red jigheads!
- Capt. Jacob Frick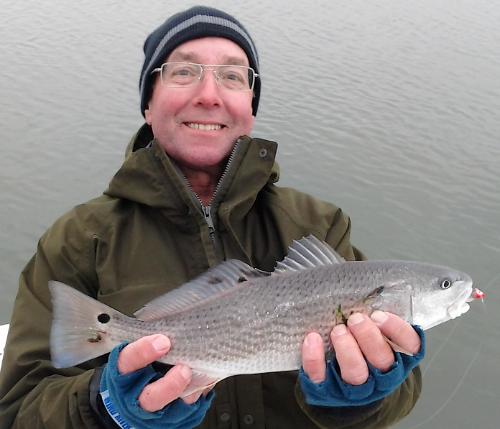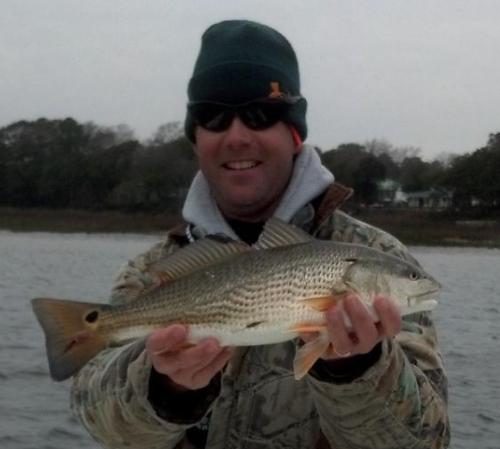 ---