"Swordfish Adventure" | OIFC | 07/19/16
Team OIFC, Capts. Brant & Barrett McMullan with crew Brayden McMullan, Connor Yates, Dillon Stone and Chris Campbell landed this 245 pound Swordfish yesterday out of Ocean Isle Beach. The crew fished 92nm offshore and caught the Swordfish in 1300' of water on a rigged Bonito strip.
First off I didn't think it weighed it 245 pounds, so if you are thinking that, I'm with you. But, we put it on the scale and that's what it said. Those fish are SOLID and darn neer a foot across at the base of the tail. Anyway, for all the time we've been talking about "we ought to...", we finally took the time and did it. And low and behold, it isn't magic. The best part was that we took the risk and brough along our No Limits Fishing TV producer Chris Campbell and he was there to film the entire thing; thus in a month or two you can watch the "cluster" that unfolded that led to this catch. The funny part is that the theme of most of the show is how we don't know what we are doing and we "You Tubed" how to do it, so it must be true. To my fellow Pelagic pro Nick S. in Islamorada, hats off to you and your Swordfish catches and thanks for inspiring me to try to be as cool as you!
The other cool thing was that my son Brayden and couple of his neighborhood bass fishing buddies were with us, one of which who had never been offshore fishing before. They did great and have a memory that I hope will stay with them for a while.
As for "the story"..... Everyone had dozed off and I was left staring at a slowly bobbing rod tip, willing it with my mind to make an awkward movement. I saw two small taps and stood up; reminiscent of Quint in JAWS when he's rod and reel fishing. I stared intently at the tip and it bobbed. One more time.... and it twitched twice and pulled the trigger on the Daiwa Tanacom electric reel. It came tight in about 10 seconds like it was hung, just a steady hard bend, but the tip was slowly bobbing like the beat of tail. We had hung bottom a couple times in the day fishing too deep, so I was a bit skeptical. I kept pressure and suddenly the pressure lifted and the Daiwa started rolling to the surface under no additional strain but the typical 5 pound weight. I was honestly thinking I had pulled the hook. However, a couple times the rod twitched or bucked just a little odd as it came up some 1200', and it made me wonder. The weight came to the surface about 150' ahead of the bait and there was definitley tension and something hold the line down, so I knew something was up. I unclipped it and turned the electric back on. My light showed next at 40' from the bait and now the rod started bending a little more. I unclipped and watched as this is when a Grouper would normally pop to the surface from being full of air. But the line stayed tight and the fish was swimming with us. Then the line began to rise quickly to the surface and out of the water, straight into the air came this beautful Swordfish. The excitement was now in full force as the realization that we had somehow stumbled onto a nice fish despite our lack of experience. This is when the fight started as the Sword sounded a couple hundred feet and locked in. We were up and down for an hour, making ground and then losing. At about 30 mins in the Sword was within 30' or so and came flying boat the boat in full purple color, swinging its bill back and forth and looking VERY intimidating. Everything looks bigger in the water. We began to contemplate how or who was gonna gaff this thing, thinking if it came up like we just saw it then we were outgunned. A good friend of ours Justin Huntley on the Contagious boat was who we had teamed up with and they were not far from us; in fact they had allready boated a 50" Swordfish earlier in the day. They had a harpoon on board and we requested it's use. My son Brayden actually requested it's use as he's been watching Wicked Tuna for years and ALWAYS wants to harpoon anything we catch. We worked the fish up in another 30 mins or so, now hand cranking instead of electric, which was a really important feature. "I heard on YouTube" that Swords have soft mouths, so we fought the fish on the 80 pound gear with 10-15 pounds of drag pressure. Eventually the Sword was swimming on its side and we circled her up just like we do Giant Bluefin. The good news was she was whipped when we got her up, but I had the dart and by gosh if I didn't throw it my son would have a stroke. So she was feebly darted and eventually boated. And that's pretty much the story.
For those of you that this story my inspire ambition to reality, a few things we did (I am NO expert, but just observations):
-I used a Bonito belly that I rigged by watching YouTube. Justin caught his on a rigged Squid. The Sword we caught puked up 5 pounds of Squid in the 8-12" size range. But the squid are not as durable and more likely to get beat off the book by the Sword; from what I saw anyway.
-The Daiwa Tanacom 1000 we used was spooled with 80# braid (holds plenty) and then I had 150' of 80# monotopshot going to a 12', 300 pound leader. The Daiwa is probably not meant for that much work, and she did overheat a few times which makes you have to hand crank until it resets itself; wasn't really a big deal. BUT, I also went into the reel and replaced the manufacturer drag washers with Carobon Fiber drag washers, which I think made a big difference. The drag was no problem very smooth.
- We fished a 150' steep roll that went from 1350' to 1200', drifting across it. There was very little current, but there is technique to letting out that much line and not tangling up so I'd suggest "Googling" or "YouTubing" like I did to have an idea. We dropped to the bottom and then cranked up the same distance as the length between the weight and the bait. This keeps it off the bottom and hopefully drifting up a little in the current; the amount of current you have will change a lot of what you do I believe.
And that's about all I know. And again for you guys in S. Florida or other parts of the world rolling your eyes at my descriptions and little Sword; it may not be the biggest, but it is an important fish to our part of the world as an inspiration for more to follow. Good luck to all.
- Capt. Brant McMullan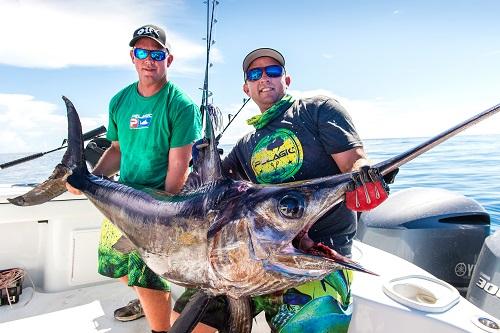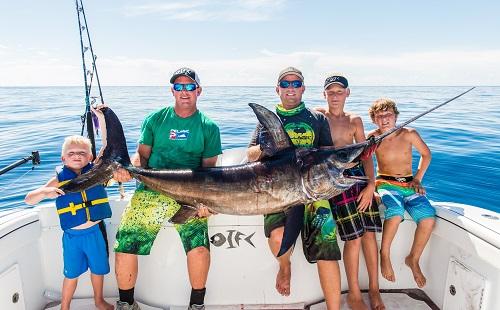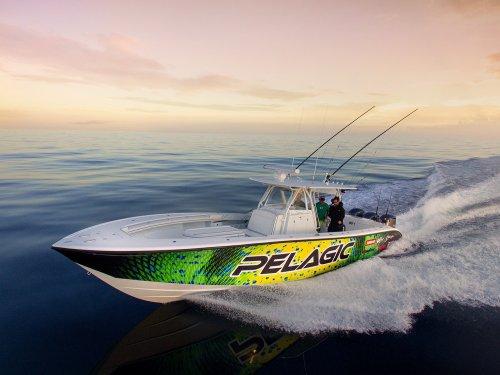 ---