"Royal Slam" | Hail Yeah / OIFC | 05/27/14
I got a couple of texts today about a friend catching a white marlin off of OIB and it reminded me that I was supposed to be looking for a pic I had of another white marlin. I will post the details of Kurt Cross' white marlin once I get the "rest of the story".
In the meantime, I finally found this pic from a couple of years ago when Jeff Beck, Brant McMullan, Barrett McMullan and I fished a billfish tourney out of Biloxi. I should probably save it for a TBT but it's too cool not to share. In the pic are Barrett McMullan and a white marlin. This is not just an ordinary white marlin, but a record book worthy white marlin. This was the final billfish Barrett needed to complete the "Royal Slam" and get his name in the IGFA record books. An angler completes the Royal Slam by catching all 9 billfish of the world. This accomplishment has to be one of the toughest of all sportfishing quests.
- Brian Aycock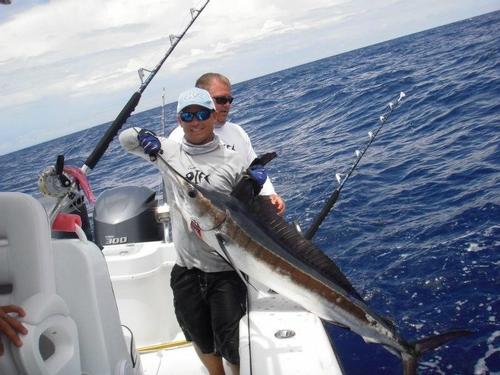 ---