Capt. Brant's Fishing Report
"Mixed bag of bottomfish" | World Cat- 33' | 09/26/07
Jason Pike, Jody Thompson, and Snoop had a great day on Saturday 50 some miles offshore while it seemed like the rest of the world was tournament king fishing. The crew of the Fishbonz caught 7 scamp grouper, black sea bass, beeliners, white grunts and a knobbed porgy. Seems like there are opportunities to catch just about everything right now. Gotta love it. Kings on the beach and offshore... Good numbers of wahoos and tunas in the Gulf Stream... Grouper in 80 odd feet of water... Fall fishing is getting hot.
- Capt. Chris Burrows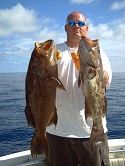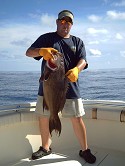 ---
"Panama- Fishing Abroad" | Carolina Contender- 36' | 09/24/07
Fall fishing is just hitting its stride off the Carolina coast and it's time to take revenge after all those hot hot summer dog days where the fish were less than lathargic. Whether you chase tuna and wahoo in the Gulf Stream, king mackerel and grouper nearshore or prefer dangling a blood worm for spots the next month is the time to be on the water in North Carolina. With all the excitement in the air for Fall fishing it's easy to forget what comes after Fall on the Carolina Coast- a long cold winter. If you're not a bluefin tuna fisherman or you just don't do cold weather fishing, it's a long tough road until spring. While most here at the OIFC fish during the winter we've come to learn that even the hardiest of anglers need a reprieve. Thus we have designated February the exotic fishing excursion appreciation month! As you may have read by now this year we have set up a true fishing adventure. Together with Coral Star Fishing Expeditions the OIFC will be hosting a trip fishing the remote and pristine waters of the Hannibal Banks off the coast of Panama in Central America. This is a mothership expedition where a group of anglers will use a 130 + foot cruiser as home base and fish each day from one of the six 30-34 foot sport fish boats. The mothership is equipped with all the creature comforts needed including individual bedrooms, bathrooms, dining room, onboard chef, and an upper viewing deck where you watch sailfish crash bait pods in the evening while enjoying cocktails. The trip consists of 4 full days of fishing and 2 half days. Species likely encountered includes blue marlin, black marlin, sailfish, yellowfin tuna, wahoo, mahi, grouper, snapper, roosterfish and much more. This adventure is a great opportunity to experience big game fishing at its finest with multiple shots per day at a variety of incredible fish. It is also a great opportunity to bust out of the winter blues and catch some fish! We still have several slots remaining and we need to fill them asap. The intention when setting up this trip was to fill all the slots with OIFC "fishing friends" thus there would be a connection between everyone which is comforting when taking a trip abroad. In order to keep this option on the trip we must have our slots filled by October 1st. In order to hold your spot there is a $1,125 deposit required. This trip is for all anglers male and femal no matter experience or age. We hope you will join us on this trip of a lifetime. For more information please contact us immediately at captbarrett@oifishingcenter.com or 910-575-3474 ext. 4. Thank you.
- Capt. Barrett McMullan
---
"Team OIFC Wins" | Stori Teller-24' | 09/23/07
Team OIFC was victorious in the Flounder division of the Long Bay Artifical Reef Flounder and Mackeral Tournament winning both the overall flounder division and the largest flounder caught. The tournament was held this Saturday. This was only the second year Team OIFC has participated in the LBARA event. OIFC beat out perennial powerhouse Charlotte Offshore Fiching Club, Winston Salem F.C, Oak Island F. C. and Holden Beach F. C. The team consisted of Captain Tommy Helms, Charlie Pistolis, Jeff Beck, Ryan Mattingly and myself. We were outnumbered but still brought home the hardware with Captain Helms winning the biggest flounder award. The very fogggy day started with my team fishing the Sunset Beach Bridge, while Capt. Tommy went offshore. We came up dry so we joined Tommy and Charlie at the Jim Caudle Reef. Both team members battled with sharks, with Tommy winning the most sharks caught. We were able to bring in the winning flatties in the midst of the sharks' feeding frenzy. FYI, Jeff had great success with a mullett minnow on a buck tail. The rest of us were using the standard carolina rig with lively mullett minnows. All of our flounder were brought back alive and turned over to the aquaculture students of South Brunswick High School for their pilot program of spawning flounder in captivity and then releasing them. The LBARA folks put on an excellent meal and Captains' meeting Friday night giving away tons of raffle prizes. The awards banquet was again filled with good food and prizes. We were also able to witness Bob Black being honored by the state of N. C. officially naming the Frying Pan Tower Artifical Reef the Bob Black Artifical Reef, recognizing him and the LBARA for their hard and dedicated work in saving this valuable reef. The LBARA brought in around $8,500 to be used in their projects. Captain Brant and the OIFC were recognized for their work and contributions to the LBARA. Congratulations Team OIFC and all the particapamts as were are all winners!
- First Mate- Rickey Beck


---
""I love to fish"" | Stori Teller-24' | 09/22/07
Dell Williamson came to the OIFC along with his future father-in-law and friends bright and early yesterday morning to load up on on Gulp and other artificial bait. He came back a short time later with a six pound trout, which won a friendly side bet. Oh yeah, did I forget to mention Dell got married yesterday! What's the Brad Paisley song about fishing......"I'm Gonna Miss Her"? GOOD LUCK TO MR. AND MRS. WILLIAMSON!!!!!!!!!!! I'll be fishing the flounder division of the LBARA Mackerel and Flounder Tournament along with Tommy Helms of the Tini Tuna and Brant and Barrett on the World Cat. More later.
- First Mate- Rickey Beck
---
"A Day Late" | Stori Teller-24' | 09/19/07
Talk about a day late!!!!! It was a good luck/bad luck day for Odell Williamson of the El Patron II. First thing this morning Odell came to the OIFC where Captain Roger and I weighed a 4 pound trout and a 7.75 pound Red Fish, which he released in good condition. That would have made it a 8.75 pounder as per the CCA Rodeo rules. Only problem was that Odell had already fished his declared day, which he knew, but just wanted to get a weight on the fish. Was he broken hearted or what? Also Captain Stan of the Stori Teller had a half day charter during which he bagged several nice Flounder. The weather is cool, the bait is THICK, making for perfect conditions to catch your limit of fine reds, trout and flounder. Don't forget the Long Bay Artificial Reef Association's 2007 Club Challange, flounder, king mackeral tournament this weekend. The same fish can be weighed in at the OIFC for the CCA Rodeo AND at the LBARA weigh-in at Southport Marina giving you the opportinuity to participate in and win in both events. Live flounder weighed in for the LBARA event will be given to the aquaculture students at South Brunswick High School for spawning, thusly helping to increase the flounder population in our area. As a reward, all flounder weighed in alive and in good condition at the LBARA weigh-in location will be given an additional 10% weight in that tournament. Visit Long Bay Artifical Reef Association on the web for entry form and information. Join Team OIFC and fish this worthy event. It will be a rare occasion to fish as a team. Call me at the OIFC 910-575-FISH Thursday or Friday between 7am and 2pm and join our team. Good Fishing!!
- First Mate- Rickey Beck
---
"On second thought" | World Cat- 33' | 09/19/07
Hmmmm... Maybe that winning king in the CCA tourney is going to come from a little closer to the beach. Bernie Sanchez at Marine Max sent in this picture of his customer's catch from the past weekend. He didn't say exactly where it came from, but hinted that it was a lot closer to shore than we've been thinking. With this cooler weather and rain earlier this week pushing the bait out of the creeks, that may be the winning combination. Either way, there are some good fish on the leaderboard, but with everyone getting two days to fish, the tourney is still wide open.
- Capt. Chris Burrows


---
"Lucky Two" | World Cat- 33' | 09/19/07
Larry Fanella on his boat "Lucky Two" had the hot hand last Saturday at the Jungle as he caught these kings and a pile of spanish. As thick as the spanish were out there, it's hard to believe that there aren't some monster kings mixed in as well. Might be the place that the CCA tourney winner comes from. It's going to heat up for the weekend as the wind dies down so get ready.
- Capt. Chris Burrows


---
"CCA Rodeo Final results update" | Carolina Contender- 36' | 09/23/07
The last day of the tourney finally produded the perfect weather and all out bite that we had been hopeing for all week. It took 8 days to finally get a good weather day[there's no rhyme or reason to hurricane season], and with the stable weather, we knew the fish had to be hungrey, and were they ever. The King bite contined good at Yaupon for good sixe fish, the Jungle lit up like a firecracker with Kings biting as fast as you could put a bait in the water. Offshore, the Wahoo bite went nuts for boats in the Scarf area with double diget wahoo catches. Also boats reported seeing Yellowfin busting. The gulf stream is on and this week the weather looks excellent to get into the fall blue water bite. The bigest news has to be the inshore division, where Brandon Sauls on the Bone Crusher absolutely crushed them. He added a 9.40lb flounder to his already impressive catch and blew away the field by 7 pounds! His point total would have put him on the leaderboard in the King division! I saw his live well, and he had another flounder close to 8 pounds. Tricky Rickey added his 8.10 flounder and several others in the 5+ range.

We thank everyone who fished the event and came out to support the CCA and their plans for attacking fishery issues in our Brunswick County waters. True, the turnout was very disappointing and unfortunately that effected the prize money paid out. But hopefully, many of you can understand what we are trying to develop with the CCA folks as we attempt to strengthen our voice in attacking important fishery issues. If you will consider joining CCA, go to www.ccanc.org and print out a application. Be sure to mark "Brunswick County chapter" on your application. Again, thanks to all the participants and congrats to the leaderboard winners.

King Division:
32.45 Coon Dog
31.65 Reel Music
31.00 Thats My Dog
29.55 Mr. Goodhands
27.35 No Alibi
27.15 Not Today
26.95 Simply Storage
26.95 Reel Salty
26.30 Billzfisher
26.05 Miss Janelle
25.95 Reel Buzz
25.10 Liguid Fire
25.00 All In
24.55 Sic-em
24,45 Team Addiction
23.55 Bout Time
23.20 Wild Ride
22.95 Howg Daddy
22.55 Hot Rod
21.75 Capt Choice

Inshore Diivision[Combined weight Flounder/Trout/Redfish]
22.10 Bone Crusher
15.80 ASS Boat
15.40 Tim Parnell
12.80 Nova
11.70 Top Priority


Biggest inshore fish:
Redfish
10.15 Bone Crusher
7.10 ASS
6.55 Jeff Taylor
5.70 Tim Parnell
5.35 Team Husqvarnah


Trout
3.85 Tim Parnell
3.55 One Shot
3.55 Casual Water
3.35 ASS Boat
2.95 Top Priority


Flounder
9.40 Bone Crusher
8.10 Tricky Rickey
5.85 Tim Parnell
5.35 ASS Boat
5.10 Causal Water

Offshore Division
[Combined weight Tuna/Dolphin/Wahoo
45.25 Crowd Pleaser
28.65 Top Shelf

Biggest Wahoo
45.25 Crowd Pleaser

Biggest Dolphin
14.55 Top Shelf

- Rube McMullan
---
"CCA Auction Sneak Peak" | Carolina Contender- 36' | 09/14/07
Brunswick County Anglers,
Our Captain?s Party and Banquet will be held this evening at the Ocean Isle Fishing Center. The Captain?s meeting is at 6:00pm, and the banquet with live auction will be held at 6:30pm.
Admission to the banquet is included with your tournament registration. If you would like to attend, but are not fishing the tournament, admission is $10.00 and includes dinner.
Join us for a great event! Below is a preview of the live auction items that will be up for bid starting at 6:30pm tonight.
- Bryan Stange
Brunswick County CCA
Chapter President
910-279-4530
Item#1____ Museum Marlin: This Bronze Sculpture of a Marlin would be the perfect addition to your beach home, office, mantle, or REALLY big boat. Donated by CCA.
Item #2____ Bristol Clean: Ocean Isle Fishing Center employee and mediocre saltwater angler Nolan Newell will wash the purchaser's boat, up to 28 feet, in the vicinity of Ocean Isle Beach by appointment. Call Nolan at 919.818.9685 to arrange redemption. Donated by Nolan Newell.
Item #3____ His and Her Ocean Waves Sunglasses: Choose your favorite style of polarized Ocean Wave Sunglasses. You get one $179.00 gift certificate and one $139.00 gift certificate to purchase the Ocean Waves shades of your choice. Donated by Ocean Waves.
Item #4____ High Speed Waterway: Enjoy a jet ski rental for four compliments of Captain Brant and the Ocean Isle Fishing Center. Bring a few friends or your whole family. This rental is good for four people, May 15 ? June 15th 2008. See the Intracoastal in a whole new way. Contact the Ocean Isle Fishing Center. Donated by Capt. Brant.
Item #5____ Ideal Reels: Due for some new offshore gear? This is your opportunity. Up for bid are these matching pair of Penn GLD 20 Graph-Lite lever drag reels. With four, shielded and sealed aircraft grade aluminum ball bearings, and stainless steel gears, these reels will take on smokers for years to come. Donated by Penn.
Item #6____ Captain Brant?s Live Bait Fishing School: Captain Brant will teach one angler the secrets of live bait fishing. Start catching more kings, and take advantage of this great learning experience. Must attend October 4-5 2008 and must RSVP for the trip. Contact the Ocean Isle Fishing Center. Donated by Capt Brant.
Item #7____ Bustin? Kings Like a Champ: SKA National Champion Forrest Taylor takes two anglers live bait fishing for kings on his boat, ?That?s My Dog.? This is sure to be a trip you won?t soon forget. Expires 9/14/2008. Donated by Forrest Taylor.
Item #8____ Hand-Crafted Rocking Chair: This child?s rocker will make the perfect birthday or Christmas present for one lucky youngster. Get them into the greatest American sport at an early age. This rocker is hand pained by Holly Rinker of Rinker boats. Donated by CCA.
Item #9____ Go After Grouper with a Pro: SKA Angler of the Year Dean Spatholtz takes two lucky anglers for a full day of grouper and king mackerel fishing on the ?Fishmeister.? This trip is sure to be action packed, and you will certainly learn a thing or two from spending the day on the water with Dean. Expires 9/14/08. Donated by Dean Spatholtz.
Item #10____ Sweet Success! This cast bronze statue depicts two billfish on a wave. This is one fishing-related item that your wife will actually be glad to see you bring home. Donated by CCA.
Item #11____ Flounder Poundin? Captain Woody Wooten (this guy?s good?he?s sponsored by Modern Lighting Systems and World Cat Boats) takes two anglers on a full day trip after big flounder. Learn the techniques that put the doormats on the dinner table. Donated by Captain Woody Wooten.
Item #12____ WOLF?PACK!!!! You and three of your friends will enjoy the NC State basketball game of your choice during November and December of the fall 2007 basketball season from your lower level, courtside seats. RBC Arena Parking Pass is included. Call Edwin at 919 345 8978 to select game and arrange to receive the tickets. Donated by Edwin Newell.
Item #13____ Arrrrrrr We Going Fishing!?!? Captain David Hooks gives you your choice: Inshore angling on a ?Trippin,? a 22-foot Nautic Star bay boat, powered by a 225 Mercury, or live bait fishing for kings on ?The Black Pearl,? a 2006 31-foot Contender powered by twin 275 Verados. Whether you catch fish or not, there?s no question that you?ll definitely be riding in style. Contact Capt Hook through www.captainhookoutdoors.com. Expires 9/14/2008. Donated by Captain Hook Outdoors.
Item #14____ Captain Brant?s Fishing Adventure: This is your opportunity to learn, first hand from the best. This trip is for two anglers for a full day lesson offshore, learning the ins and outs of grouper/snapper fishing with Capt. Brant and Capt. Lyndon. Bring a notepad and good set of biceps. Expires 9/14/08. Contact the Ocean Isle Fishing Center. Donated by Capt. Brant.
Item #15____ Treadbrite Steamer: Make your house the neighborhood gathering place when it comes to oyster roast time. This full-sized treadbrite steamer can cook an entire bushel of oysters at once. Donated by CCA.
Item #16____ Bird?s Eye View of Brunswick County: This is the best way to get well above sea level while still enjoying the beach. The Flying Fish will provide you will an exceptional view of the Brunswick Beaches. See your beach house from a new angle, or get a pinpoint location on the pogies for your next day of fishing. Donated by Capt. Barrett. Expired 9/14/08.
Item #17____ Waterdog: Captain Tom Roller takes two anglers for a full day of inshore fishing for drum, flounder and trout in beautiful Beaufort, NC. Don?t have a beach house in Carteret County? We provide it for you. Your package includes a two nights stay at an upscale condo in Morehead City. Captain Tom is one of North Carolina?s premier inshore guides, and he will treat you to a wonderful day on the water. Schedule on a mutually agreeable day. Expires 9/14/08. Donated by Waterdog guide service and Dave Hawkins. 252-728-7907. Dave Hawkins (accommodations) 919-971-3665.
Item #18____ Trout Tackler: This matching pair of trout combos will be perfect for fall spec fishing. The CCA Special Edition G-Loomis rods have the perfect action for slinging light baits, but have the backbone to take any trout you may come across. They are perfectly paired with Penn Captiva reels, with 11 ball bearings for ultra smooth operation. Donated by Penn.
Item #19____ Inshore Slam: You and a friend will spend a full day (6 hours) fishing with Captain Brandon Sauls. Brandon has been fishing the waters of Myrtle, Ocean Isle and Little River for years (he?s even the back to back, defending champion of the Dixie Chicken Funament!). The two lucky anglers who win this trip will be targeting flounder, trout and drum. This is a sportsman?s trip?all fish will be released. All you need to bring is your sunscreen, camera, sunglasses, and drink/lunch. Schedule on a mutually agreeable date, Sunday through Friday. Donated by Captain Brandon Sauls: 910-443-1786. Expires 9/14/08.
Item #20____ Cape Lookout: This limited edition piece of art was sanctioned especially for CCA by North Carolina artist Bob Pittman. It is framed, matted, signed and numbered. Donated by CCA.
Item #21____ Red Drum Artwork: This painting was done by North Carolina artist and CCA supporter Mark Ray. It would look great in a beach house, home or office. Donated by Mark Ray Studios.
*** There will be sure to get in the gun raffles, which will be held at the banquet.***
- Capt. Barrett McMullan
---
"CCA Tourney weather update" | Carolina Contender- 36' | 09/14/07
Although the concept of the extended 8 day fishing time frame for the CCA North Carolina Rodeo was intended to accomodate fishermen who might want to fish multiple divisions[King; Flounder/Trout /Redfish; Tuna/Dolphin/Wahoo], probabaly the biggest benefit is to take the weather man out of the equation. If it doesn't look good one day, you've got 7 more days to work with, thus insuring you can pick the ideal conditions to fish the days you choose.

Looking at the forecast, it looks like Saturday is good, the cold front comes thru late Saturday with strong north winds Sunday and Monday. High pressure builds in, doesn't appear there is another one coming, therefore everything should stabalize and flatten out beginning Tuesday thru the rest of the week.

We hope you will come join us in introducing CCA to Brunswick County and promoting the fishery conservation agenda of CCA. Capt meeting is this evening, dinner, and CCA benefit auction[open to the public]. Hope to see you at OIFC!
- Rube McMullan
---
"Mullett" | Stori Teller-24' | 09/13/07
I talked with a local fisherman Dwayne Ward tonight who told me the Mullett were thick today around the Tubbs Inlet area in and just beyond the breakers. He did not see any pogies. I'll keep you updated.
- First Mate- Rickey Beck
---
"CCA Kingfish Clarification" | Carolina Contender- 36' | 09/13/07
Once again this is a clarification on the rules/scheduling of the kingfish portion of the CCA tourney taking place this weekend and coming week. If you are fishing the kingfish division of the CCA event, you may fish ANY 2 days starting Saturday the 15th and concluding the following Saturday the 22nd. You must declare your fishing day by 6am of the day you are fishing. Again, you have a choice to fish any 2 out of the 8 available days for the kingfish division and all divisions. You may also fish multiple divisions on the same day if you choose.
- Capt. Barrett McMullan
---
"CCA tourney weather/fish update" | Carolina Contender- 36' | 09/12/07
An update to yesterdays fish/weather report forecast for the CCA tourney this weekend at OIFC. Looks like the front will come thru Saturday and high pressure will build in Sunday. Saturday looks lite out of the northwest; Sunday will see a fall northeast wind 10-15kts. The mullets will run with the Kings in hot pursuit. All next week high pressure will build in and weather will become very stable offerring great conditions all week for the offshore guys. Received a rumor Kings were seen yesterday heading toward the Jungle and Lighthouse Rocks. Standby for updates. Also heard a rumor, the CCA guys will have their "Atlanta models" conducting the CCA auction Friday following the Capt meeting. The auction is open to the public, whether fishing the tourney or not. Ever been to a Ducks Unlimited banquet?
- Rube McMullan
---
"CCA Fishing Rodeo starts this weekend" | Carolina Contender- 36' | 09/11/07
Coastal Conservation Association's North Carolina Fishing Rodeo will begin this weekend with registration Friday at the Ocean Isle Fishing Center. For full info on the tourney, click on our tourney page on our web site. On the fishing and weather scene, it's time for my official unofficial fearless forecast. Here is what I see looking thru my cloudy cristaless ball. The weather will be perfect; the fish will bite like bulldogs. Now for the science: After the tropical storm last week, the fish are beginning their journey back from the safety of the deep water which they run to when they sense a dropping barometer[low pressure storm]. They packed up their bags and left the gulf stream waters yesterday when Jim Cantorie gave them the all clear, and are working their way back to the Jungle/Shark Hole/Horeshoe as we speak. They are tired, hungrey, and ready for some exercise, so my forecast is a all out bite starting Saturday morning coninuing all thru next week. With the weather pattern shifiting to a fall flow with north and northeastly winds, our Carolina classic fall fishing is ready to begin and should arrive this weekend right on schedule. Although the above mentioned locations should be hot, don't overlook the closer in spots such as Lighthouse Rocks and the River Channel as the water has been full of mullets with the northly winds. As to the weather, a weak front is trying to come thru this weekend but will probably stall out leaving us 10kt or less winds Saturday and Sunday. Next week the weather stabalizes further and should be light southerly winds. So long as a hurricane doesn't jump up on us, the weather throughout the entire tourney period looks "perfect". So, come on down and join us in introducing CCA to Brunswick County and help us build a power base thru CCA to address various fishery conservation issues effecting our waters. Remember, the rodeo offers 3 different fishing venues; King Mackerel division, Flounder/Trout/Redfish division, and Tuna/Dolphin/Wahoo division. You can fish any division any 2 days beginning Sept 15 thru the following Saturday, Sept 22. Also don't forget the CCA auction at the Capt meeting which will feature fishing tackle and trips offered by the top fishermen in our area including Capt Brant, Capt Hooks, Capt Sauls, Capt Woody, SKA Angler of the Year Dean Spatholtz's Fishmeister; SKA National Champion Forrest Taylor's "That's My Dog", Spring Inshore champions Austin Aycock and Tripp Hooks, and others to be added. Bid on a trip with these experts and learn from the best of the best.All proceeds go to CCA-NC and are fully deductible as a non-profit. The auction is open to the public, whether you are fishing or not. Registration begins Friday at 3:00 and dinner/capt meeting/auction starts at 6:00-8:00. Our off island shuttle will be running so please ride the free shuttle as there is no tourney parking on the island. Thanks.
- Rube McMullan
---
"CCA Fishing Rodeo September 14" | Carolina Contender- 36' | 09/06/07
A reminder to everyone out there that CCA's North Carolina Fishing Rodeo will begin Sept 14 at the Ocean Isle Fishing Center. There are 3 divisions; King Mackerel Division[SKA 9], Tuna/Dolphin/Wahoo Division, and Flounder/Trout/Redfish Division. You can fish any or all divisions and can fish any 2 days per division beginning Saturday Sept 15 thru Saturday Sept 22. This expanded time frame hopefully takes weather issues out of the equation plus offers the opportunity to fish multiple divisions. Registration begins Friday Sept 14 at 2:00, dinner at 6:30, capt meeting at 7:00, and at 7:30 CCA will have a benefit auction for a variety of fishing equipment, fishing trips/ect. The auction is open to the public, so whether you are fishing or not, please come join the auction. CCA state reps will be on hand to answer question regarding CCA and set forth their conservation political agenda for our Brunswick County waters. Our goal is to build a strong CCA chapter for Brunswick County that can be used as a vehicle for fighing various fishery issues effecting our waters. CCA will set out the plan at the tourney. Also, hopefully, our elected officials who got our pogy bill passed in the State Legislature will also be in attendance, a great opportunity for us to thank them for their efforts in getting this very important bill for Brunswick County passed. Please join us. Our off island shuttle will be running beginning Friday afternoon. Thanks. Rube McMullan
- Rube McMullan
---
"Panama Trip- Still Taking Reservations" | Carolina Contender- 36' | 09/05/07
The mothership excursion to the remote Hannibal Banks off Panama in Central America is slated for Feb 8th-15th 2008. Our objective is to fill this trip with OIFC "fishing friends" in order to keep control of the fishing agenda as well as be surrounded with a good group. Currently 8 spots remain and will be filled first come first serve. A deposit of $1,125 will guarantee your spot. This exotic fishing expedition is nothing less than a trip of a lifetime. We are likely to encounter Sailfish, Marlin, giant yellowfin tuna, huge grouper and snapper, roosterfish and much more. In addition to incredible fishing and great camraderie, we will focus time each evening on specific big game tactics used in Panama that can be applied to our fishing in home waters. If you need additional information on the trip please check out http://www.oifishingcenter.com/traveling_fisherman.cfm or email captbarrett@oifishingcenter.com.
- Capt. Barrett McMullan
---
"World Cat report" | World Cat- 33' | 09/04/07
We've had a chance to run the new OIFC World Cat 33 and thus, far I am very pleased. As is the case with all boats, it is not perfect in every aspect, but as I had hoped, it has thus far proven a very good compromise between the big boat diesel feel and speed/fishability of a center console. Last week we had a lull in activity here at the OIFC and myself and father Rube, fishing friend Yorke Pharr and OIFC employee of the month Rickey Beck got together for a day of bottom fishing aboard the new OIFC World Cat 33. Winds were East at 10-15kts and seas were 2-3 feet. Hardly a hard core boat test, but conditions in which you get a feel for the boat and hope to be comfortable. We were not disappointed. The boat ran easily in a side see, cruising at 30 mph and burning 1.2mpg with the twin Yamaha F250's. We jigged bait around a nearshore AR and headed offshore some 30 miles to 90 feet of water. I set the TR-1 autopilot on course and we all set back. One of the better aspects of the boat and a reason why I chose the boat as a good option for our charter fleet, is all the seating. You can comfortable seat 6 people behind the console, out of any spray. And speaking of spray, we encountered no wind driven spray as the boat pushed the water down the side and not into the cockpit. However, we did get a little mist every once and while as a result of the air being forced between the hulls and pushing out forward-- called "sneezing" in the world of catamarans. It is a very light mist and the curtains caught all of it. Fishing was great. Tons of room to work and the boat anchored very easily. It was stable despite a side current that kept the boat cocked almost sideways to the seas. The boat handled the current fine, but the fish didn't. We worked hard to land a hand full of grouper and snapper, with the current fighting us all day. We called it an early day at 2pm and headed back. The wind had come around a bit more from the north, so we had a slight head sea. The boat ate it up at 30mph cruise as it gently rolled off the wave tops. We did experience a little sneezing, but other than that and having to fight to stay awake, the ride home was pleasant. First analysis. Very functional boat that should our operation as a charter boat due to its smooth, dry ride, fishability, stable drift, relative speed, bathroom and comfortable seating. The only negative that I can comment on thus far is having to learn how to deal with "sneezing" and "hull slap". Hull slap occurs when doing less than 15mph and heading directly into the sea. The center of the two hulls falls onto the sea and slaps, rattling the boat. I haven't played with it much, but my experimenting thus far shows that if you can keep the boat at at least 30 degrees or more off the sea while trolling, you will avoid this aggravating pitfall to catmarans. It will require slight adjustment, but I don't see it as a deal breaker. Stay tuned for more fishing reports and Cat reports. Also in fishing, the Kings are beginning to get the itch to head inshore. This North and East wind are getting the mullet running and the kings will sense the food opportunity. Look for the kings to move back into the 65 foot depth range over the next 2 weeks and be close to shore within 3 weeks. I can't wait !
- Capt. Brant McMullan

---
""the spanish are here!"" | Stori Teller-24' | 09/01/07
All reports are that the spanish mackeral are here. I talked with two anglers today while manning the command center behind the counter of the OIFC who told me that they hit the spanish yesterday between the Shallotte Inlet and the Ocean Isle Fishing Pier. Later while pulling in Flounder behind Sunset Beach, which is another story, I talked with the McKinney's of Sunset Beach who were unloading several nice spanish from their boat. They said they made their catches near the Little River Jetties while pulling gold and silver clark spoons and crystal minnow Yo-Zures. They said their fish were full of glass minnows and were chasing glass minnows when caught. They further noted some Kings in the area. Back to the flounder. Jeff restocked our fishing tackle at the OIFC. His idea was to downsize all the terminal tackle in our flounder arsenal to make it less visable and more sensitive. We then carried out our attack in the finger canels behind Sunset Beach. His plan worked as we landed several "barely legal" fish, which we released so they could grow into more formidable foes. All told, after a rather slow and hot August it seems the fish are back in our area!!
- First Mate- Rickey Beck
---
"CCA Tourney" | Carolina Contender- 36' | 09/01/07
Finally, it's September 1st and finally, the winds have moved to the north, and finally, the summer heat spell is broken, and finally, the fish will wake up and we can get back to catching instead of just fishing.

It's delightful this morning with a north/northeast wind. For past two days we have seen an excellent mullet run, another signal of our coming fall. The ocean and waterway has been full of mullets. Today the South Brunswick King Tourney is underway, and although all reports of King action during the previous weeks suggest deep water, I'm betting with the north wind and mullet run occurring, the winner may be at Yaupon or the River Channel. We'll see this evening.

Seeing the weather change and the signals of coming fall, timing is coming together for the Coastal Conservation Association[CCA] Fishing Rodeo to be held at the Ocean Isle Fishing Center September 14- September 22. By mid September, the first cold fronts will have passed, the waters will have cooled, the mullets will be migrating, the pogies will re-apear, and the Kings should be chewing at the traditional fall locations from the River Channel to the Jungle setting up a great tourney for the King Mackerel division. For the inshore division of trout/flounder/redfish, the cooling of the water will get the inshore fish moving, and all 3 species should be abundant. Remember, in the inshore division, there will be a 1 pound per species bonus added to the weight of each species you weigh if the fish is weighed alive and released alive at the weighin docks at OIFC. A great way to improve your score and support the conservation agenda of CCA. Offshore, same story; cooling water should lite up the wahoo/tuna/dolphin. We've had a great wahoo fishery all summer, but the fall is what really gets the gulf stream going, so great blue water fishing should be available to everyone fishing the offshore division.

Please everyone remember, the objective of this tourney is to introduce CCA to you fishermen and allow CCA to set forth their agenda for our Brunswick County waters. We have talked CCA into focusing their efforts on our part of the state with the hope that successes can be accomplished in our area that is so heavily dominated by conservation minded fishermen. By supporting the tourney, you endorse our efforts with CCA and justify their committment to our waters. Although our grass roots efforts certainly have been successful, looking toward the future, we need a "bigger stick", and the CCA, with their national organization, professional lobbyist, and political clout on a statewide and national basis,offers the perfect vehicle for us to use in the fight for other critical fishery conservation issues. Representaties from CCA will be at the tourney to explain their plans for Brunswick County and answer any and all questions regarding CCA and why your help and support is vital. Please join us at the tourney and demonstrate your committment to a fishery conservation agenda. Thanks and for tourney info, click on the tourney page on our web site[www.oifc.net]
- Rube McMullan
---
"What did you expect?" | The Flying Fish | 08/30/07
Through an unfortunate set of circumstances I will be away for a few days, but just wanted to let all of you that target sails out there that I am watching you... Stewart Hamilton caught this one at the Jungle earlier this week and released it to fight again. I also want to thank each and every one of you who takes the time to revive and release your sails properly. This is a fantastic sportfishing resource just off of our coast and I honestly feel that the sky is the limit if we protect our fish and are considerate to our ocean. Don't forget, all you need is the length of the fish to come on in and get a North Carolina citation or a fiberglass replica mount made.
- Capt. Chris Burrows





---
"OIFC Welcomes New Fleet Addition" | World Cat- 33' | 08/28/07
With time, all things change. As such, the good ole' MacMarle'n has moved on and has been replaced with the new. Before I get to the new, just a few words on the MacMarle'n. She was and still is a great boat. A true workhorse that in my opinion, was at the forefront of establishing Ocean Isle Beach as a fishing destination. She pioneered the Spring yellowfin fishery and Fall wahoo fishery off our waters and has seen MANY a fish come across her gunnels. Heres to you old girl- may you live out your life on calm seas! And the new--- I have chose a World Cat 33. A catamaran? Yes, that is right. Many of you laugh or scoff, but I too had my doubts. However, if you can get past the unconventional looks, the boat is extremely functional, and thus my reason for choosing it as the fleet addition. My ambition for the World Cat 33 is for it to bring the best of both boating worlds-- the comfort, size and ammenities of a comparable sized diesel boat and the speed, agility and fishability of a center console. The boat has huge deckspace with plenty of seating and storeage. It has a forward cabin for catching a nap as well as a toilet for the women. The boat if fully walk around, has 2 standard live wells and on mine a third center console live well for serious live bait fishing. The cruising speed with twin F250's is a smooth 30mph with top speed at 42mph loaded. Not a speed boat by any stretch, but at 1.4mpg loaded and making over 30mph in sloppy seas, you won't find much better. And with the outboards, no more engine room nightmares and inboard problems. Outboard mechanics are available and the engines are certainly easier to access! And thus my reason for choosing the World Cat. However, I am very much in the testing - learning phase with this boat. I have not officially fished the boat and have only had it on a few ocean test drives. I plan on reporting to you my finding with the boat, good or bad, so stay tuned
- Capt. Brant McMullan



---
"YEEEEHAWWWW!!!" | Mac Marle'n- 32' | 08/27/07
Okay, I'll admit that I was one of the skeptics, but I had the opportunity to fish one of Rube's yeehaw fish call devices last Thursday and was quite pleased with the result. It was in the water for about fifteen minutes with a dead cigar minnow behind it at the Atlantic Ledge and caught a sailfish. So now I am a believer. We also caught amberjack and mackerel that day, but a slower-than-normal prompted the "extreme measure," and hence the lure got put in the spread towards the end of the day. It will be used much more often now, of course. In other news, Michelle Evans of "The Law" fishing team reports a good bite in the area of the MacMarlen ledge. They were out there on Friday when Cody Childers caught his very first wahoo!!! Congratulations to Cody and the rest of the team, who also managed a couple of tuna. Good to know that they are around, just in time for the CCA deep water/shallow water tournament. Finally, the sails bit again, today down at the Jungle. The heat has broken (albeit just a little) and the winds are supposed to be reasonable for the rest of the week. What is everyone waiting for? There is success to be had out there.
- Capt. Chris Burrows
---
"Bank Fishing" | Stori Teller-24' | 08/24/07
Not often do anglers fishing from the surf, or banks of the Intracoastal provide us with fishing reports. However, Tuesday a lady came in the OIFC beaming with pride that her 12 year old son had caught two flounder from the bank at the end of Shallotte Ave. on the east end of OIB. Then today she and her husband stopped by the OIFC to buy tackle and I told her I'd do a report if her son was successful again. Later this afternoon, sure enough, they returned with their 12 year old son Josh Schlude all from Cary, N.C. to report that Josh had landed an 18 inch flattie. All total this week Josh caught a 15 1/2, 16, and 18 inch flounder using minnows he caught with his cast net while at OIB on vacation this week. Sounds like an angler with a future. This shows that people fishing from the banks can be very successful. Congratulations Josh from the team at OIFC!!
- First Mate- Rickey Beck
---
"New Move Law" | Stori Teller-24' | 08/21/07
Most everyone is familiar with the North Carolina law which requires motorists to move over and slow down when passing a law enforcement vehicle with it's blue lights flashing on the highway. But how many of us anglers knew that this law also applies to boaters? I didn't!!!!! The law in general says that boaters approaching within 100 feet of a law enforcement vessel displaying flashing blue lights must slow down to no-wake speed and use caution in passing. In narrow channels, such as the Intracoastal Waterway in our area the distance becomes 50 feet. Violators are subject to fines up to $250. Just a little safety reminder as well as a money saving tip from the OIFC.
- First Mate- Rickey Beck
---
"Panama Trip Filling Up" | Carolina Contender- 36' | 08/21/07
In case you haven't tuned into the Traveling Fisherman link off our homepage here is an update on where the Panama trip aboard the Coral Star stands. The trip is scheduled Feb. 8th, 2008- Feb. 15th, 2008. All the details for this exotic fishing expedition can be seen at the following link http://www.oifishingcenter.com/traveling_fisherman.cfm. We are hoping to fill all 12 available spots on this adventure with OIFC "fishing friends" so we will have control over the trip. We have until Oct. 1 to get it done. As of this morning we have 8 spaces remaining. If you're interested in reserving a slot or need more information please contact me immediately. My contact info is at the link above. Thanks.
- Capt. Barrett McMullan
---
"Today's Report" | Carolina Contender- 36' | 08/20/07
How to Beat the Summer Heat by Capt. Brant McMullan Man is it hot. We are well past the dog days and now into some sort of oppressive heat days. However, the show must go on, and if you are a fisherman, you will agree that we rarely let a little heat stand in the way of fishing progress. The problem comes in achieving fishing success. The fish are hot too as the water temperatures from the shoreline all the way past the Gulf Stream are 86-88 degrees. As such, many of the fish that prefer to spend their days basking in the shallows or near the surface are forced to retreat to deeper water where they can find food and refuge from the heat. And thus, the answer right now is to go deep. Most of the kings are holding in the 80-100 foot depth range right now. They are feeding on an assortment of bottom fish and are often schooled up over your favorite snapper and grouper ledges. The dolphin, mahi and cobia have moved on for the most part, but it is certainly not unlikely to run across one or two, especially while fishing offshore. The one fishery that is typically most productive during the heat of Summer is bottom fishing. In particular, the vermillion snapper bite is very strong in 80-100 feet of water. These 1-4 pound snappers are very plentiful and incredibly tasty. There is a trick to catching them that will keep you from loading your hooks with grunts and other smaller ?trash? fish. I like to use a #14 Sabiki style rig and attach a 4 ounce weight to it. I then cut small, postage stamp size pieces of squid and tip the end of each hook. The next thing is to locate the vermillion snapper on you fish finder. They will be holding over structure and are the fish you mark 5-20 feet off the bottom. Stop over them and drop your rig down. Now it is important you not just drop to the bottom or the ?trash? fish will immediately catch wind that food is available and they?ll get stirred up like a hornets nest. The trick is to stop your rig at the top of snapper school so you can pick them off from the top while not disturbing all the other ?trash? fish below. Also, I typically find the large snapper in the school will hang toward the top of the school. Thus, as you drop your weight and rig, count in seconds and try stopping at 10 seconds, then 12, then 15?. As you reach each level, stop the rig and wait 30 seconds. If you get no bite, drop a little further. You will find the depth the snapper are holding and then you can wear them out. One other tip is to use a ?live bait? style rod. The flimsy tip will act as a shock absorber and keep the snapper from tearing out the relatively small hooks that are on the rig. Once you get the snapper going good, take a small one and put it on a grouper rig and send it down. Now you?ll be working on two of the best eating fish in our waters. And for further action, pitch out a small vermillion snapper or a dead cigar minnow on a top for kings, mahi, cobia or sailfish. Good luck and remember, October is now just around the corner. I can?t wait!
- Capt. Brant McMullan
---
"update, lbara king and flounder tournament" | Stori Teller-24' | 08/15/07
The week of September 14 through 22 will be a very important and exciting week for anglers who are interested in protecting and improving fishing in our region. The CCA Fishing Rodeo will take place September 14-22 and the LBARA King Mackeral and Flounder Tournament will be September 21-22. Rube is spearheading the CCA Rodeo and I'm incharge of pulling together Team OIFC for the LBARA Tournament. We encourage anglers to fish both and support two important organizations while having a blast and increasing your chances of winning the money! Those fishing the LBARA Tournament should contact Bob Black at 910-278-4137 for an application. You may send, your application along with shirt sizes for you and your crew and your check for the entry to me, at Ocean Isle Fishing Center, 65 Causeway Dr., Ocean Isle Beach, NC, 28469, attention Capt. Rick. I can be reached at the OIFC, or by phone 910-443-0531 or email sunset69@atmc,net. I encourage you to fish both tournaments, but if not both please fish one. GOOD LUCK!!!
- First Mate- Rickey Beck
---
"Bottom Fish Monday" | It Works- 27' | 08/14/07
Monday I was fortunate enough to be invited to bottom fish with Captain Lyndon and Big Zack of the OIFC abord the "It Works". The day began with us netting our bait, pogies, off of Holden Beach just east of the pier. Loaded with pogies and northern mackeral we headed to several spots, in the 80-100 foot range that Capt. Lyndon has secreted in his electronics. Our first stop resulted in several groupers, and a false albacore which got drilled by a hungry barricuda which Lyndon estimated in the 70 lb. weight class. We made several stops a different ledges in the 95-100 depth range. Each stop resulted in grouper, but most exciting to me was when I hooked up with a 23 lb. American Red Snapper. It felt like I was trying to haul a VW into the boat! The weather was beautiful out at sea while the mainland was getting pounded by a thunderstorm. We put in a long, but enjoyable productive day locating and wrestling these massive fish up from the bottom and ended the day with a full fishbox. When booking trips, or planning bottom fishing, I suggest, based on my experience with a knowledgeable charter captain, that you plan a full day if you are interested in successful bottom fishing. Today me and my sunburned head were back working in the OIFC store. Captain Roger on the Showtime, had a half day charter which was extremely productive catching mackeral and spanish, so do not overlook these hot fish when thinking of a half day or longer trip. They are on fire and our seasonsed captains have the fishing knowledge and experience to put you on them.
- First Mate- Rickey Beck

---
"Checking In" | Carolina Contender- 36' | 08/14/07
Hello OIFC fishing friends. It's been a while since I've had any fishing news to report as the parasailing has kept me away from wetting any hooks lately. Fall is just around the corner though and I'll be back on the fishing scene. It can't get here quick enough. I do have some fishing news to pass on though as I'm filling in as fishing report correspondent until Capt. Brant returns home. Brant is onto a new game and fishing excursion at the Pirates Cove Billfish Tournament out of Oregon Inlet, NC. He has teamed up with Capt. Trae Ross aboard Trae's 65' Blackwell for this prestigous billfish event. It is mostly a white marlin tournament but a few blues and sails are mixed in. Today was the first day of fishing and their team, the Re-Zoned, released 2 white marlin and 1 blue marlin and are currently in 2nd place. It must be tough riding around in a 65' air conditioned mega yacht chasing billfish for big money! That's ok we'll bring Capt. Brant back to blue collar dog shark and barracuda reality when he gets back home. If you're interested in following the Re-Zoned's progress tomorrow and the day after I believe the event has a website. Just try searching Pirate's Cove Billfish Tournament. If it's not updated I will update our fishing report tomorrow evening with any news. Around OIB it seems like the kingfish bite is fairly steady again in the 60 to 70' range but most fish are smaller. The sailfish are still more prevalent than usual with catches reported daily from just a few miles off the beach all the way to the gulf stream. The wahoo bite in the stream remains hot and the deep water grouper bite has been consistent especially on the reds.
- Capt. Barrett McMullan
---
"CCA Fishing Rodeo September 14" | Carolina Contender- 36' | 08/10/07
We are working with CCA to help pull together the CCA-NC Brunswick County Chapter Fishing Rodeo to be held September 14-Sept 22 at the Ocean Isle Fishing Center. The tourney is a CCA[Coastal Conservation Association] benefit tourney. It is the hope and desire of CCA to use the tourney as a introduction to you fishermen of CCA and their interest in building a strong chapter in Brunswick County. This chapter then will focus, in concert with the OIFC, to address important fishery related issues effecting our waters. We will have the tourney brochure out in a week but the basic format is as follows: King Mackerel Division[SKA sanctioned division 9]. Entry is $235 which include a one year membership or renewal to CCA. Tourney will pay 20 places; first place $10,000 plus calcuttas[based on 150 entries]. Tuna/Dolphin/Wahoo Division. Entry fee is $335 which includes a one year membership or renewal to CCA. Winner based on combined weight of one fish each of eligible species. Pays 5 places plus big fish calcuttas for each species. Trout/Flounder/Redfish Division: Entry fee is $135 which includes a one year membership or renewal to CCA. Winner based on combined weight of one fish of each eligible species. Pays 5 places plus big fish calcuttas for each species. The Captain's meeting will be held Sept 14 at OIFC at 7:00; free dinner starting at 6:00, and a auction event featuring tackle/equipment from many of the major manufactures as well as fishing trips/schools from the best know Captain's in the area. All entry fees/auction items are 100% deductible to you as CCA is a nonprofit organization. The format of the tourney allows you to enter any or all of the divisions and fish any division any 2 days beginning September 15 thru September 22. You will declare your fishing days and scales will open 4:00 each day with 5:00 deadline to be in line. We will be running our off island free shuttle so please use it and help us manage the traffic from the event. There will be free raffle prizes only for shuttle riders. So; join us for this CCA Fishing Rodeo and help us build a strong voice as we continue to fight various fishery related issues effecting our waters. Thanks. Rube McMullan any questions can be directed to me at Rubemc@att.net
- Rube McMullan
---
"LBARA Tournament" | Stori Teller-24' | 08/07/07
No real "new" news. But I just talked with Bob Black and he has some real exciting things lined up. Brant is donating OIFC T shirts to participants of Team OIFC so get me the shirt sizes of the fishermen or ladies fishing your boat. We realize that this event will take place the same time as the CCA tournament, but as Bob said for this year it is what it is and we'll work things out next year. I've gotten committments from more area fishermen. The LBARA does some great things for the fisheries in our area so it is very important that we support them. Thanks
- First Mate- Rickey Beck
---
"State of the union" | Carolina Contender- 36' | 08/06/07
The dog days of August Summer are upon us and man is it hot. And just like you and me, who prefer to stay in the comfort of AC, the fish too feel the affects of hot water. Currently the water in the ICW is 87 and the ocean water temperatures range from 84-86. That is hot water, wherever you go, and thus the fish are feeling discomfort. As such, you have to put yourself in the fish?s position. What would you do if it were blistering hot. If you stayed in the heat, you?d be lethargic and not very hungry, which is what some of the fish have done that have stayed near shore. However, if you were not interested in messing with the heat and you had an option to get cooler, you would. And thus, many of the fish that have been inhabiting the near shore depths of 40-60 feet have moved offshore to the 80-110 foot range where they can get into deeper water and thus cooler water. For those of you who cannot venture offshore to this 25+ mile range to get to deeper water, fishing early in the AM will likely produce the best action when the surface water is coolest. Also, fishing with downriggers and fishing very slow will also help your chances. For those of you who can get offshore, again, downriggers are deadly and slow presentation will further your chances. The king mackerel are spread all over this deeper range and while the majority are in the 10-15 pound class, there are larger fish mixed in. The good thing about kings offshore is that they feed heavily on cigar minnows, and thus if you can?t get live bait, a slow trolled dead cigar minnow is often just as effective. Also in this 80-110 foot range the snapper are especially biting good. Vermillion snapper in the 1-4 pound range are very prevalent and by simply using a two hook drop rig with a small piece of squid, you should be able to get your limit of these great eating fish without trouble. Also the red, scamp and gag grouper will be mixed in as well in this range. Further offshore, the wahoo bite has continued pretty good along the break in 140-250 feet of water. In addition, fishermen continue to see quite a few sailfish with the scattered dolphin and even tuna. That?s pretty much the state of the union right now. Fishing near shore is pretty tough, but that isn?t to say there aren?t fish to be caught. Offshore is where the big bite is happening, so if you get the chance, head on out. Good luck and good fishing.
- Capt. Brant McMullan
---
"LBRA Turnament" | Stori Teller-24' | 08/04/07
ATTENTION ALL FISHERMEN!!!! Team OIFC is once again gearing up for the Long Bay Artifical Reef Asociation's annual tournament. I have just been informed that I will be spearheading the OIFC effort to get out team together. I've gotten commitments from some exellent local flounder fishermen already. This is an excellent opportunity for us to fish together as a team, representing Brunswick County,the OIFC, while helping our friends at the LBARA continue to improve our fisheries. The tournament is slated for Sept.21 and 22. We need "lines in the water" in order to be successful in bringing home the hardware. I'll keep you posted as I learn more. Visit www.lbara.com for further information. Contact me at the OIFC, or my cell 910-443-0531 or email sunset69@atmc.net. Let's bring home the gold!
- First Mate- Rickey Beck
---
"Weekly Sails Report" | Mac Marle'n- 32' | 08/04/07
There are two truths about billfishing I have discovered. (1) You are either a hero or a zero and (2) It ain't a long walk from the penthouse to the outhouse. Today I had the pleasure of getting to fish with long time friend Sonny Carter, his son J.D. (of NC/SC Governor's Cup fame), and several of Sonny's business associates who had heard of our recent successes and wanted to cash in. First Mate Rudy Upton ran the cockpit as we went back to one of the usual places, the good old Horseshoe. We got a late start, but were thrilled to see that even after this easterly blow (which lasted most of the week) the bait is still there. We skirted around bait pods all day and saw tons of flyers, but managed only one definite sailfish bite. Interestingly enough, all our bites (including mackerel and bonitas) came from our shotgun line, which I have started to fish when targeting sails. This bait is not as far back as a shotgun line would be when targeting tuna or dolphin, but it is well separated from the rest of the spread, at the edge of where you can see it. The fact that this is all the fish would hit makes me think that they are not feeding aggressively, right next to the boat (and the dredge, like they typically do. What I want to try next, when confronted with the same situation, is live bait under a kite. This will get everything back further away from the boat and hopefully get these fish feeding even when they are in a more timid mood. It works wonders in Florida, so why not here? On another note, I just got in the pictures from another sailfish encounter on the MacMarlen, taken earlier this week. Butch Armstrong, his son Jason, and Greg Crumpton went with Capt. Scott Hewett and myself and were able to catch this 74 inch beauty on a circle-hook rigged ballyhoo. These guys have fished around the world (especially Costa Rica) and are wanting to do some damage in the billfish record books. We were thrilled that Greg could check Atlantic Sailfish off from his list of species towards his Royal Grand Slam. I think he is up to four species total, so he is well on his way. Good luck to Greg and the rest of the crew--we'd love to have you back on board to chase some more of the elusive fish on your list.
- Capt. Chris Burrows


---
"New King lure" | Carolina Contender- 36' | 08/03/07
I've been testing a new King lure last couple weeks. Actually, a friend in Minnesota turned me on to it where they use it for Walleye and Muskie fishing. I've used it on last 3 trips where I caught approx 20 Kings, several Dolphin, and 2 Sailfish. Of approx 25 fish, this lure accounted for 20 of them. It operates on a theory of generating hydro kinetic energy that is then transformed to your bait fish and thus attracts predator fish to you. Maybe thats what happens or maybe it scares your live bait so that he is putting out the hydro kinetic energy. I'm not a scientist, but I can tell you it works. Wire it inline on your King rig 3 inches above your bait or connected to swivel where you tie in to your line. We have them here at OIFC. Comes in red,green or clear and cost $9.99. Give it a try. We can ship them to wherever you're located. Give us a call at 910575FISH. Thanks. YEEHAW FISH CALL!!!!
- Rube McMullan
---
"You guessed it..." | Mac Marle'n- 32' | 08/01/07
The brothers Newell struck again on Sunday, Bob and Edwin teaming catching a sail at the 100/400 for team Black Dog. You know we'll have to watch out for them in next years tournament. Hunter and Lyle got one on Tuesday at the Jungle. Everyone go ahead and get your practice in. Bear in mind, if this tournament is a go, it's going to reward dead bait trollers over live bait fisherment. Hint hint... Jamie Blue and Zach Faulkner said they are going to give it a try tomorrow on towards the Jungle so we'll see if the spindlebeaks are biting down that way. Stay tuned.
- Capt. Chris Burrows


---
"'Cuda Fishing" | It Works- 27' | 07/31/07
Due to the north east wind today, the king mackerel bite was extremely slow, so on my pm trip, we decided to do a little 'cuda fishing. We managed to coax one on the line, a beauty at 43", and around 30 lbs. Contrary to what many people think, these fish are outstanding game fish, quite often skyrocketing out of the water when striking, really smoking off the line when they run, and even jumping during the fight. The best part of 'cuda fishing is that it is a catch and release fishery, which translates into a very sustainable, highly exiciting big game fishery. The best areas to 'cuda fish are any wreck or buoy from 30 feet of water on out. You start out by catching a spanish on a clark spoon, then rigging it live with 3-4 #1 or #2 trebles on #9 wire, making the rig just like your normal live bait king rigs. Put the spanish out in your spread in the propwash, then pull it around the buoy or over the wreck, and wait for the explosion. This is guaranteed to be one of the most breathtaking strikes you will ever witness. If you haven't tried 'cuda fishing before, give it a chance, you won't regret it. The weather is looking good for the next several days, and we happen to have some openings, so give us a call and let us show you what excitement is all about, be it king mackerel, wahoo in the gulf stream, or 'cuda fishing.
- Capt. Lyndon Carter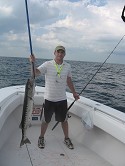 ---
"Save our pogies SAVED!!!!!" | Carolina Contender- 36' | 07/31/07
There's been a whole lot of politicing going on last couple weeks on the menhaden bill in the State Legislature. The bill cleared the House and was sent to the Senate. It was assigned to the Seafood and Agriculture committee where I think the plan was for it to die.HOWEVER, due to the effort of all you fishermen out there it did not die, and Saturday morning at 9:00am it passed the Senate with a resounding 38-5 majority. So what happened, and how did we go from the same failures we have endured in the past to victory! The credit goes to several:
[1] you fishermen for letting Senator Soles and Senator Albertson know how important this bill is.
[2] Representative Bonner Stiller for introducing the bill in the House and being it's champion throughout the process, never giving up, and continuing to fight the battle for us fishermen.
[2] Senator R.C Soles for understanding how important the bill is to us fishermen, and using his considerable influence to get it out of comittee and to the Senate floor where it passed by a overwhelming vote.

You would have to have been in the middle of this thing to understand the amazing dynamics of what happened. For the last week, I was advised repeatedly that it was a dead deal, however with the incredible support for the bill that Senator Soles saw from his constituents, Senator Soles stepped in and saved the day. Where it appeared the bill would be a victim of "politics", in the end, our elected officials heard your voice and responded to the public rather than letting the bill be killed. The public prevailed and this is a great feeling to know that our government will be steered by the citizens if we make our voice loud enough and directed enough. For us residents of Brunswick County, we are blessed to have Bonner Stiller as our representative in the House and Senator R.C. Soles as our senator in the Senate. These elected officials need and deserve our support. They both went way out on a limb to get the bill passed, and now we must reward them with our support.

What does this mean for our Brunswick County waters? After the Governor signs the bill[which I can't imagione he wouldn't with the strength of the vote], we have saved the pogies from commercial purse seine netting in our state waters. This will be "law" and cannot be changed unless a new bill is passed. That would be a stretch which we obviously would fight. Brunswick County will be put on the world stage as taking a strong step forward with fishery conservation matters and I believe our area will be viewed as a "fishing mecca" in North Carolina.

Congrats to everyone and please drop a email of thanks to bonners@ncleg.net and rcsoles@ncleg.net. Thanks again for your support. Rube McMullan
- Rube McMullan
---
"King Fish" | It Works- 27' | 07/30/07
Sorry I haven't posted in a while. The king mackerel bite has been really consistent in 70+ feet depths, with a pretty consistent bite in 60+ feet the last week due to the fact that a cold front cooled the water down 3-4 degrees. There is still an above average sailfish bite in 70+ feet of water. Today, I took two groups out. On my am trip, we boated 6 kings, and released 9 more in 65 feet of water. The bite was nothing short of on fire. On the pm trip, the bite had slowed quite a bit, however, we pulled it out at the end before an incoming storm forced us back to the dock. The 2 kings weighed 26.05 lbs, and 32.65 lbs. I don't think anyone would complain about slow action with 2 smokers like this!! The weather has been great, the fishing world class, all that's missing is you! Come on down and go with us!!
- Capt. Lyndon Carter



---
"Today's Report" | Carolina Contender- 36' | 07/30/07
Despite entering into the ?dog days? of Summer, offshore fishing has actually picked up over the past week. Often this time of year the high water temperatures cause the offshore fish to become lethargic and thus produce less fishing action. However, for whatever reason, the offshore bite for wahoo, sailfish, king mackerel, snapper and grouper has been very good over the past week. The biggest surprise has been the very good wahoo fishing that has been taking place along the edge of the break in 140-200 feet of water. The Winyah Scarp area has been producing the best action, but there has also been good action at the 100/400 and Black Jack hole area. The wahoo have been biting trolled ballyhoo behind skirts with blue/white and black/purple being the most productive skirt colors. In addition, there continue to be an above average number of sailfish being caught anywhere from 60 feet out to the 180+ foot depths. There are two ways that sailfish are most commonly caught in our area. The majority are caught by fishermen fishing for king mackerel, slow trolling either live or dead bait. In this instance, the sailfish are certainly welcome, but a totally incidental catch. The other technique involves actually targeting the sailfish by trolling with teaser chains and dredges in an attempt to draw the sailfish?s attention to the boat. Once the sailfish is in the spread focused on the teaser, you pitch a small rigged ballyhoo to them and pull the teaser away. The sailfish will see the bait and almost always attack it. This form of ?bait and switch? has been made famous in Central America and now the opportunity is presenting itself right here off our beaches. If you are serious about catching sailfish, this technique is deadly effective, however it takes a lot of practice and keen observation. Once you set your teasers, you must keep a very close watch so you can be ready when the sailfish shows up. The advantage to this style is that you get to actually see and feed the fish, which is fun and challenging, and you get to pick whatever size tackle you want to fight the fish on. In addition to the sailfish and wahoo, the grouper and especially snapper have been biting very good in the 90-110 foot depth range. Also, the king mackerel have been biting this week at the Jungle as well as most of the bottom fishing hot spots in 80-100 feet of water. A great day of fishing might include anchoring over good structure in 100 feet and catching grouper and snapper while drifting back live snapper on top and catching king mackerel. All in all, the fishing has been strong this past week, and I hope it continues. We are now in the last 1/3 of the Summer season and I?ve all ready got Fall on my mind: I can?t wait. *** Also- new school dates announced for October-- come join me- call (910) 575-3474 xt 3 to reserve a spot.
- Capt. Brant McMullan
---
"Got ballyhoos?" | Mac Marle'n- 32' | 07/29/07
Got the pictures from Jimmy Lee Williams and Capt. Drew Shytle today from their adventures in the Gulf Stream yesterday. They fished with Mr. and Ms. Gus and really mugged the wahoos. They ended up with thirteen, a few dolphin, a blackfin tuna, some king mackerel, and some rainbow runners. Drew said they quit fishing when they ran out of bait. Ilander Flashers were the hot item riding in front of their baits. I guess the weather has just been different this year--it feels like August on the beaches, June when you are 30 miles offshore, and October in the Gulf Stream! There is actually a band of cooler water as you move offshore, and that edge forming up against the Gulf Stream is causing the Winyah Scarp area to hold mucho bait. Anyone want to get out and try it? We've got a few scattered openings over the next two weeks. We can go offshore for the wahoos or do a full day to target sailfish. Let's go fishing!
- Capt. Chris Burrows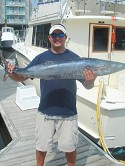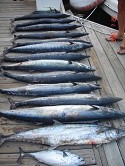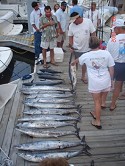 ---
"Action everywhere" | Mac Marle'n- 32' | 07/28/07
I think everyone fished today, and the results were pretty solid. Capt. Brant finished in the top 10 in the Greater Wilmington King Mackerel Tournament on the Carolina Contender, and while we couldn't replicate his success on the Fight'n Triton, we found the Horseshoe covered up with dolphin, mackerel, and once again, a sailfish. Just wish we could have caught a heavier king. Jamie Blue nailed a 39 pounder at the Jungle, where it seems like the bite finally heated up again. Too bad he wasn't in the tourney--I think that fish would have won. Capt. Drew Shytle on the Crowd Pleaser has been fishing the Gulf Stream hard this week down towards the Winyah Scarp and just called to say that they absolutely crushed the wahoos and the dolphins today. He promised to send me pictures of their catch tomorrow. It's getting to be that time to start heading offshore again, and I'm fired up about that. Finally, Gene Williams sent me these pictures of the giant redfish that he, James Hodge, and Brad Barbee have been targeting right off the beaches. It's good to know that this fishery, which were once thought to be exclusive to Cape Lookout and points north is thriving in this area. There will be much more to report with fair winds on the horizon, so I'll try to keep everyone posted. If anyone wants to go dead bait trolling for sails, I think we have an opening on Thursday...Results have been pretty good lately...910 575 FISH...
- Capt. Chris Burrows


---
"Capt. Brant's Fishing School" | Carolina Contender- 36' | 07/28/07
I am fairly good at inshore fishing but wanted to gain some knowledge at off shore angling, so my son Jeff and I signed up for Brant's school. As Brant can, and probably will, tell you I have a LOT to learn. Also attending were Butch (I apogize for not rembering his last name) and Gary Hurley, publisher of The Fisherman's Post. Brant covered in depth everything from determing where to fish for Kings to "his" very simple way to throw a Pogy Net in the land class Thursday. Friday was spent putting our knowledge to practical use. The seas were glassy and the weather perfect,ideal for the school. Sounds just like a Rube weather report doesn't it. First we located Pogies and after a spectacular throw by yours truely we had enough bait for the day. Brant let the others throw for the experience. Then we were off to catch Kings. We spent the rest of the day fishing the 50 to 70 foot range, boating six nice Kings for Gary and Butch to eat. We caught many more which were released with Brant showing the proper way. We fished several locations with positive results at each. We all signed up for the school to learn, which we did. But each had other motives as well. Butch wanted to become a better fisherman so he could teach his son. Gary was writing an article. I wanted to spend quality time with my son, as well as learn to become a better fisherman and to better help custumers at the OIFC. Jeff wanted to improve his off shore skills and give me this as my birthday present. All of us reached our goals plus more! A special thanks goes out to Brant for putting on an excellent school. I really recommend this school, even to the experienced King fisherman.........Thanks Brant
- First Mate- Rickey Beck
---
"Today's Report" | Carolina Contender- 36' | 07/23/07
Fish & Fishermen Get Heat Relief by Capt. Brant McMullan It is so nice to wake up in the morning and not break a sweat between the front door and the car door. Over the weekend we had a welcome cool front pass through the and bring low humidity and temperatures in the 80?s. And although it also brought strong winds which made fishing offshore difficult, I am personally happy to sacrifice a day or two of getting beat up on the ocean for a few days of heat relief. All last week we fought aggravating southwest winds at 15-20 knots and seas in the 3-5 foot range. It was sloppy seas, but they were not bad enough not to go, but just bad enough to make many of our parties lose their lunches and keep everyone off balance and hanging on. The fishing was also a bit tougher as it seems that most of the kings, dolphin, cobia?. that have been holding in the 50-70 foot range have moved offshore to the 80-90 foot depth range. As such, we had to try to beat our way offshore to deeper water in order to have the best success. The good news is that when we were able to get there, the kings were biting quite well along with a mix of dolphin and quite few sailfish. On Saturday, I released two sailfish and caught a mahi and a bunch of kings aboard the Ocean Isle Fishing Center boat while fishing 85 feet of water. Capt. Roger released two sailfish last week as well aboard the ShowTime while fishing the Raritan. Hot spots have included the Atlantic Ledge, 22 mile rocks, 26 mile rocks, Raritan and Horseshoe. Due to last week?s rough seas, we weren?t able to find pogys for most of the week and caught most of our fish on dead cigar minnows. It is true that I preach and push live bait fishing whenever possible, but if you can?t get live bait or don?t want to take the time, a dead cigar minnows slow trolled behind a Cape Lookout skirt is hard to beat. Looking ahead to this week, I think the forecasted stable weather may likely bring more action back to the 50-70 foot depth range. We have started seeing the pogys again along Ocean Isle and Holden Beach, so live baiting is back in the picture. On the offshore fishing scene, I have gotten reports of a few guys still heading to the break and doing quite well on wahoo. If you?ve got the itch, don?t overlook this possibility. Good fishing and catch you next week.
- Capt. Brant McMullan
---
"Fishing Report" | Carolina Contender- 36' | 07/23/07
Finally! We have a gotten a weather change, and although it made the weekend a bit rough, this week looks very nice. The kings are still biting, but they are scattered in the 50-70 foot depth range. Once you get to the 80 foot depth they are more prevalent along with a mix of dolphin and quite a few Sailfish-- on Saturday I had 2 Sailfish, a mahi and a bunch of kings in this range. The Pogys have shown back up on the beach and have been holding off of Holden and Ocean Isle. Come on down and enjoy the great weather this week as the temps look to stay in the low 80's and the winds light-- the fishing should be excellent. Also, this weekend I am hosting another fishing school and currently have 2 spots open. This week's school has the ground school portion on Thursday PM from 6-8pm and the fishing will be all day on Friday. Call me at (910) 575-3474 xt 3 or email with interest. Capt. Brant
- Capt. Brant McMullan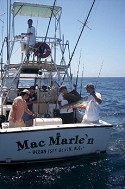 ---
"Inshore Update" | Stori Teller-24' | 07/22/07
There is no doubt that the dogs days of summer are officially here, but thankfully the fishing has remained strong, despite air temperatures in the 90's and water temps soaring in the mid 80's. The flounder bite has continued to be strong, with a couple of recent days producing exceptional numbers of fish. I didn't see one over 4lbs this past week, but the numbers of fish made up for it. The flounder are biting basically everywhere, from the creeks and inlets, out to the nearshore reefs in 35 - 40 feet of water. There are still a few trout lurking around, most of which are nice ones, averaging from 2 - 4 pounds. Finally, things on the redfish front have also been good, with plenty of reds being found in the creeks and in the ICW. The key is to locate the baitfish (there are tons of finger mullet right now) and in most cases the reds and trout aren't far behind. I've seen reds of all sizes this past week, from 12" puppies to big bulls pushing 40", so be prepared, you never know how big that drum is going to be when he bites. So don't let the hot weather stop you, get out there on the water nad catch some fish.
- Capt. Kyle Hughes



---
"Flounder Reort" | Stori Teller-24' | 07/21/07
Us inshore guys have been extremely pleased with the flounder action over the past few days. Captain Kyle of the Stori Teller reported to me that he had nine keeper flat fish and two trout in the four pound range Thursday. His charter was so happy with the day that she not only helped Kyle clean the fish, but helped him wash the boat. Now that's a happy customer!!! Today I went out with family and friends and nailed two flounder in the 16" range right off in the Shallotte Inlet. Big Zack of the OIFC had a great day with 12 in the 16"+ range. All were caught on a falling tides, at the beach side of the Shallotte Inlet. We were both using mullet which were easily caught in the concrete canals at OIB. Finally, a local fisherman advised he'd been netting shrimp around the fishing boats in the Calabash River. A lot of info., I know, but we at the OIFC are comitted to helping everone's fishing experience.
- First Mate- Rickey Beck
---
"Menhaden bill" | Carolina Contender- 36' | 07/19/07
Ok, been digging deep into the political world and here is the deal on the menhaden bill that is stuck in Senator Albertson's committee. Long story, but here is what needs to happen. Senator RC Soles[a Democrate] is co-sponsor of bill with Stiller[a Republican]. Senator Soles represents Brunswick County. As a Democrate with years of service and great respect in the Senate, he has the power to get Sen Albertson[a Democrate] to move the bill out of committee. It's a question of how aggressive Sen Soles is willing to be to get the bill moved. He needs to hear loud and clear from his constituents that the bill must be moved out of Sen Albertson's committee so it can be voted on in the Senate. Senator Soles is the key so PLEASE contact him by tele at his office #910-6532015 and by email Rcsoles@ncleg.net. The telephone contact is most effective. This is a time critical matter. Thanks. Rube McMullan
- Rube McMullan
---
"Fishing Report" | Carolina Contender- 36' | 07/17/07
It has been a bit since I've reported and sorry for that. We have been busy running fishing charters as we hit the middle of the Summer tourist season-- 1/2 day fishing trips galore. We are in a typical Summer pattern right now with SW winds between 10 and 20 knots-- typically lighter in the AM and then picking up by 2 or 3pm. The kings are scattered around, but for the most part, they have retreated back offshore to the 80-100 foot depth range. Spots such as the Atlantic Ledge and Horseshoe have been producing well. Also in this depth range we are seeing some Grouper and still the occasional Mahi and Cobia. We have also been seeing a lot of Sailfish in this range as well. Further offshore, I got a good report last Saturday of some good wahoo catches at the 100/400 and Winyah Scarp areas. There are plenty of Pogys on the beach for bait, so that has been nice and consistent. The fishing is not crazy good, but it is decent and to par with what late July normally offers. This coming weekend I have a fishing school and have 1 spot left if anyone is intersted. The ground school is Thurs. PM from 6-8pm with fishing all day on Saturday-- call me at (910) 575-3474 xt 3 if you have interest.
- Capt. Brant McMullan
---
"Sails pitch" | Mac Marle'n- 32' | 07/15/07
Ok, the evidence is overwhelming. I had the priviledge of fishing today on Norris Buff's "Johnny Mike" with Norris and First Mate Rudy Upton. We ran in the slop out to the Raritan and pulled four naked ballyhoo on circle hooks along with two teasers, a squid chain trailed by a blue/white Ilander and a pink Moldcraft widerange. We dealt with a couple of peanut dolphin fish harassing our baits, but no doubt about it, after thirty minutes, a sail rose to our right rigger bait and sucked it right out of the pin. Rudy dropped it back and then cranked down to the fish, but nothing there. No worries. We reset and it wasn't fifteen minutes until the bait in the same position got hit again. Rudy freespooled the reel for what seemed like an eternity until the speed of the line changed and then he came tight. Bingo! The sailfish tailwaked through the rest of the spread as we gunned the boat and cranked in teasers to keep lines untangled. Norris fought the fish to nearly boatside, but the sail managed to jump one last time and free himself. No matter--we were going to let it go anyway--we'll just call that a sportsman's release. All this adds up to one thing--SAILFISH TOURNEY NEXT SUMMER! Expect a format that rewards trolling and circle hooks over live bait and traditional Js. Of course, all sails will be released and scored on the honor system, but you can count on dolphin being added to the points total. I am open to any and all input on this event, so keep those emails coming.
- Capt. Chris Burrows
---
"Menhaden bill stuck in Senate committee" | Carolina Contender- 36' | 07/13/07
Representative Stiller's bill on restricting commercial menhaden netting off Brunswick County was passed by the House and sent to the Senate. It is in the Seafood and Agriculture Committee chaired by Senator Albertson. We need everyone to contact Senator Albertson and encourage him to approve the bill and move it out of his committee so it can go to the Senate floor to be voted on. The message to Senator Albertson is that protecting menhaden is critical to the very important recreational fishery in Brunswick County and thus is very important to our tourist industry. There is no commercial conflict as there is no North Carolina company involved in the business. Protecting our tourism based recreationalfishing industry is critical to our Brunswick County economy. His email address is: charliea@ncleg.net Everyone please send a email, letter or tele call. Thanks.
- Rube McMullan
---
"Post Storm Report" | Show Time- 34' | 07/13/07
We, inshore fisherman at the OIFC have been wondering what effect the recent turbulant weather would have on our fishing. Well, yesterday one of the "Fishing Center's" expert inshore fishermen Zack Faulkner, (for inshore advice, Zack works in the store) set out flounder fishing. First of all he netted some live shrimp in the waterway, a good sign. Then he proceeded to Tubbs inlet where he caught a 6.35 lb. citation flounder. Congrats to Zack!!! His trip indicates that the inshore bite is still on. The July 4th crowd has slacked off, so come down and "Get ya' some!!!
- First Mate- Rickey Beck
---
"Live Bait Fishing School" | Carolina Contender- 36' | 07/12/07
Had a great school last weekend as students and I caught several kings, dolphin, jacks and sharks. Everyone learned to tie rigs, throw a cast net, angle fish, use a downrigger..... A-Z, it was covered-- AND, believe it or not, we caught a 30 pound king and finished 7th out of 220 boats in the East Coast Got'em On King Classic. I have a couple more schools scheduled for this season. I am hosting 2 remaining classes on Thursday PM from 6-8pm for "ground school" and then fishing all day Friday. I currently have 2 openings for July 19-20 class and 4 openings for July 26-27 class. Call Capt. Brant at (910) 575-3474 xt3 to inquire.
- Capt. Brant McMullan

---
"Sailfish tournament idea gathers momentum" | Mac Marle'n- 32' | 07/11/07
The seas were a bit sloppy this morning, but Capt. Roger and First Mate Matt Holt toughed it out with Dr. Allen Lish and his son Ryan.  They hooked up with this sail in the vicinity of Christina's ledge and got a great release on her, watching her swim away to fight again.  This is one of the larger sails caught this year, and the angler was one of the youngest, at ten years old.  So how about that!  After all, Ocean Isle Beach does have the North Carolina sailfish record, which is likely to stand,.  The 100 pounder was caught in 1987, before releasing them was as common as it was today.  I've already heard from some of you, but if you haven't emailed me yet, don't be shy.  I want to hear what you think about the idea of such an event for next year.
- Capt. Chris Burrows



---
"He will not be denied!" | Mac Marle'n- 32' | 07/11/07
Quite some time ago we realized that Matt Rogers is absolutely determined to become a better fisherman. Matt's family lives in Bladenboro, over an hour from the coast, and he does not have a boat, but that's not about to stop him. When he's not fishing, he's reading about fishing. If there's an event at the OIFC, he's there asking if he can help. This weekend, he got the opportunity to go to Capt. Brant's Live Bait 101, which was held in conjunction with the East Cost Got 'Em On Tournament out of Carolina Beach. This was Matt's first tournament and I'll let him tell you about it in his own words: "We boarded the Carolina Contender at 5:30am and started tying rigs and setting up our rods. Then we headed out of Shalotte Inlet around 6:15 to find some pogies and started to get our hands dirty by thowing the cast net. Bait was good but was scattered around the Holden Beach Pier there must have been 20 or more boats. After about 3 hours of cast netting everyone in the class got to net some pogies. With our baitwells full we headed out to 80 foot of water as we set lines. At this point everyone in the class was ready to start fishing. We hooked bait and slow trolled around over and over.At around 12 or 1 o'clock there was already one mid-teens king and dolphin in the box. We continued to set lines. At around 1:45 is when I set the downrigger and it wasn't 3 minutes before the drag started screaming! I rushed and got the rod while anonther class member got the downrigger up. We knew indeed it was a king. I fought the fish around I'd say 30 mins before I saw color and knew right then we were heading to the scales. By now it was after 2:00 and we had 2 dolphin, and a mid-teens class king and a 30 pounder in the bag, but we still didn't stop the day yet. We released a couple of small dog sharks,and a 40lb AJ and broke another one off at the boat. By now it was time to get the lines in and head off to the scales. We got to do alot of sight seeing of Bald Head Island and other remarkable land marks as we made our way thorugh the Cape Fear River on up to the docks where we got a photo or 2 of the fish and weighed it in. This was my biggest king mackerel yet weighing in at 30.55 lb which would get us 8th place in the Got'Em On. By that time I think everyone in the class was ready to call it a day we got to enjoy a nice ride back to the OIFC where we cleaned our catch and all thanked each other for the help and things we learned in the class.All the guys in the class Charles, Bob, Larry and myself and most of all Brant all made it happen everyone had there on part in getting us to the scales." We're all proud of Matt and wish him the best in his fishing endeavors. Hopefully the experience hasn't spoiled him--not everyone catches a 30+ mackerel in their first SKA tournament! Matt wanted to say thanks to Capt. Brant McMullan, Capt. Barrett McMullan, Capt. Amy McMullan, Capt. Roger Gales, Capt. Lyndon Carter, Capt. Kyle Hughes, Brian Aycock, Stephen Hunter (Fight'n Triton Fishing Team), and Ray Labonte (Plumb Crazy Fishing Team) for helping him. Keep it up Matt!
- Capt. Chris Burrows

---
"Weekend rundown" | Mac Marle'n- 32' | 07/10/07
It's hot right now, but don't let that keep you off the water. The heat didn't deter Jody Thompson this weekend as he caught this sail on the FishBonz. Also, Jeff on the Martini decided to switch it up a bit and ended up with these hog snapper and a giant spiny lobster. Steven Godbold got this sail while fishing the Got "Em on Tourney at the 30/30. It was his first. Any takers out there on the idea of a sailfish tourney? Get on the email and let me know.
- Capt. Chris Burrows



---
"Inshore Update" | Stori Teller-24' | 07/09/07
Well, summer is finally here. With air temperatures soaring into the 90's, it certainly makes for some hot days on the water. But on the bright side, the fish are still biting pretty well. I've been seeing good numbers of redfish, trout, and flounder, mostly from the usual hotspots around the area. We've been catching reds of all sizes, from puppies to "over the slot" fish that have been running up to 10 pounds. There have also been some nice trout around also, including a few gators up to 6 pounds. on the flounder scene, the usual summertime spots like Tubbs and Shallotte Inlets have been producing well, and the have also been some nice fish on some of the nearshore wrecks/reefs also. So don't let the heat stop you, get out there and go fishing.
- Capt. Kyle Hughes
---
""Blue" Water Adventures" | Mac Marle'n- 32' | 07/06/07
Check out the OIFC's own Jamie Blue, helping his sister release a sail from yesterday at the Raritan. This is the second sail caught by Jamie this year on his 21' center console. There's a ton of bait out there right now, and Lyndon reported hooking on and seeing a free jumper today. Maybe we need to start our own tournament down here...
- Capt. Chris Burrows



---
"Bite is on the way" | Carolina Contender- 36' | 07/05/07
Beeen kinda weird last few days with weather pattern we have had. The water is full of bait and fish should be biting, but Kings have been very spotty. What we are seeing are tons of spanish on offshore fishing grounds feeding on glass minnows. In the world of tourney fishing, this is the classic senario you look for, and if I were tourney fishing, I would catch a live spanish and deploy him to serve as the special of the day to a 40lb King. They got to be there where the big schools of spanish are holding such as 90/90 and Jungle.

Cobia reappeared yesterday as a number were caught by the fleet. Weather is stabalizing and I expect fish to go on all out feeding frenzy as they must be hungrey by now.
- Rube McMullan
---
"Fish/weather outlook" | Carolina Contender- 36' | 07/01/07
The incredible King/Dolphin fishing we have been experiencing last couple weeks slowed last couple days with the weather change. However, we're seeing tons of bait in the 65 foot area[cigars/sardines] and as is always the case, where there is bait there are predador fish. I think with the weather change they're just not biting as good as they were. High pressure is building in now for next couple days, and by mid week we should be back in another stable weather pattern, and on Wednesday they should go on an all out feeding frenzy lasting thru the weekend. In meantime, great opportunity to get a few brownie points, enjoy the cool northeast breeze we will have for next couple days, as this is probably last cool air we will have for the summer.

The jelly balls are here now and so are the spade fish on the near shore wrecks. This is great light tackle fun. Please remember these fish are very prone to over fishing so keep what you want for dinner and go to catch and release so they will be there for another day.
- Rube McMullan
---
"Today's Report" | Carolina Contender- 36' | 06/29/07
The King Mackerel are chewing hard. Most fish in the 10-15 pound class, but the occasional 20+. Yesterday the word from all the Capt. was more bait than they'd ever seen in their life at the 65 foot hole area. Spanish everywhere and Cigar Minnows everywhere. The bite was strong.
- Capt. Brant McMullan
---
"King bite continues" | Carolina Contender- 36' | 06/27/07
The King bite that began with Jolly Mon has continued this week as our chartrer boats and private boats are catching limits of Kings at 90/90 and Christina. Good number of gaffer Dolphin mixed in along with Cobia. We are having the best King season I can remember in many years which I'm hoping has to do with the best abundance of pogy schools I can remember in many years. Think it's a simple equation; if you have a food source for predator fish, you will have predator fish. "SAVE OUR POGIES"!!!!!

Inshore, the Flounder bite is smoking. They're biting almost everywhere, especially Tubbs Inlet acording to local flounder expert Tripp Hooks. The mullet minnows have grown to perfect bait size and the Flounder are eating them.
- Rube McMullan
---
"Jolly Mon Recap 07" | Carolina Contender- 36' | 06/25/07
Sailfish/ Yamaha Jolly Mon King Classic Sets New Participation Record with 360 Boat Entries by Capt. Brant McMullan This past weekend marked a milestone for the Jolly Mon King Classic as the past record of 340 boat entries was eclipsed on Friday evening when a very impressive 360 fishing teams from all over the southeast put their money on the table to compete for the over $100,000 in cash prizes. Aiding in the great turnout were Mother Nature and the king mackerel themselves. The weather could not have been any better on both Saturday and Sunday, and thus boats from 18? and up had no problem traveling to and from productive fishing grounds in complete comfort. In addition, the king mackerel fishing had been picking up all week prior to the tournament and even though every participant is gunning for the big one, the opportunity to catch lots of king mackerel, regardless of the size, certainly adds to the interest. On Thursday we took registrations for the Jr. Jolly Mon, which is a tournament just for young fishermen under 16 years old. The tournament offers prizes for king mackerel, cobia, dolphin and sea bass. This year we had 31 junior anglers competing. Results as follows: 1st king- Zack Shackleton- 15 years old- 22.9 lbs 2nd king- Jordan David- 16 years old- 16.8 lbs 3rd king- John Pugh- 7 years old- 15.1 lbs 1st dolphin- Jordan David- 16 years old- 33.6 lbs 2nd dolphin- John Pugh- 7 years old- 14.55 lbs 3rd dolphin- Vicky Kim- 15 years old- 13.0 lbs 1st cobia- Paul Arvidson- 5 years old- 28.25 lbs 2nd cobia- John Pugh- 7 years old- 22.6 lbs 1st sea bass- John Pugh- 7 years old- 1.05 lbs 2nd sea bass- Nicholas Seagroves- 9 years old- .8 lbs 3rd sea bass- Vicky Kim- 15 years old- .3 On Friday evening the festivities began with a great meal served compliments of Guy C. Lee of Shallotte, followed by the awards ceremony for the Jr. Jolly Mon, followed by the Capt. Meeting and finally wrapped up with some wholesome family entertainment in the form of the Pogy Bobbing contest. This year we had a total of 66 contestants; 49 in the under 13 year old class and 17 in the over 13 year old class. There were girls, boys, men and women who all competed to see who could catch a live Pogy from a tank using nothing but teeth. The winner of the under 13 class was 11 year old Adam Lapish who bobbed a Pogy in an impressive 3.9 seconds. Runner-up was 11 year old Errol McGillewie with a 10.02 second bob. In the over 13 class, the winner was 15 year old Julie Glass with a 7.6 second bob. Runner-up was 18 year old Wes ?Lock Jaws? Glass with a 15 second bob. As always, it was quite a sight to see. By evenings end, 360 fishing teams had registered their boats and it was time to get down to the business of winning some of the $100,000 + in available prize money. On Saturday, 278 fishing teams opted to fish. The weather was beautiful and reports indicated that live bait was easy to find. Teams spread out from Georgetown, SC up to Topsail Beach, NC looking for the big king. When the scales opened at 2pm a few boats began to trickle in with their catch. Roofing Contender showed up with a 32.65 to take the early lead, but was soon bumped by Zig Zag with a 33.95. Later Coon Dog would post a 36 to take the lead but by day end, it was Michael Kennedy of Winnabow on the Simply Storage boat who led with a 38.8 pound king mackerel. A total of 118 boats weighed their fish on day 1 and the 30th place fish was 20 pounds. On day 2, 82 teams fished to try to beat the previous day?s mark. Much of the leader board remained unchanged, however it was the No Alibi team that scaled a 37.55 pound king to shake things up. A total of 38 boats weighed in on day 2, but none could top Michael Kennedy?s 38.8. Your 2007, Yamaha/Sailfish Jolly Mon King Classic winner: Michael Kennedy and team from Winnabow, NC aboard the Simply Storage. I interviewed all the teams that placed on the leader board, and as were the indications prior to the tournament, the fishing was great all around, but no one location gave up more than a few leader board fish. Spots that produced top finishing fish included; Jungle (2nd place winner) , Shark Hole, Palm Tree Hole, Cucumber Rocks (1st place winner), 390/390 (3rd place winner), Shallotte sea buoy, Lighthouse Rocks, Topsail Ledge, Atlantic Ledge and Myrtle Beach Rocks. Final Results as listed below: 1 38.80 Simply Storage, Michael Kennedy -Winnabow, NC 2 37.55 No Alibi, Neal Loman -Greensboro, NC 3 36.00 Coon Dog, Samuel J Cernugel -Wilmington, NC 4 33.95 Zig Zag, Johnnie A Johnson -Wilmington, NC 5 32.65 Roofing Contender, Randy Wallace -Hickory, NC 6 30.35 Play'N Hookie, Jay Robertson -Pawleys Island, SC 7 29.60 Reel Action, Jeremy B Harrelson- Hope Mills, NC 8 29.55 Bird Man, Woody Wooten- Ocean Isle Beach, NC 9 29.50 Steel Fishing, K & R Fishing Inc- Southport, NC 10 29.40 Reel Time, Tim Lowry- Norwood, NC 11 29.25 Black Cat II, Jamey Stewart- Georgetown, SC 12 29.05 Liquidate, Kenny Clark- Matthews, NC 13 28.60 Total Chaos, Sid Cauble- Simpsonville, SC 14 27.20 White Collar Crime, Tor Swenson- Raleigh, NC 15 26.50 Sandpiper, Fred W Piper- Raleigh, NC 16 25.80 Mac Daddy, Wesley S Campbell- Elizabethtown, NC 17 25.75 Tall Tail, Ronald Foster- Trinity, NC 18 25.25 Billzfisher, Bill Welborn- Lexington, NC 19 25.20 Final Approach, James M Demyan_Jr- Southern Pines, NC 20 25.00 Trust Knot, Kenneth Howard_II- Southport, NC 21 24.65 Reel Commocean, Curtis Corney- Saint Pauls, NC 22 24.50 Nauti Girl, Andy Barringer- Mooresville, NC 23 24.35 Hot Rod, Brett A Barnes- Wilmington, NC 24 24.10 Gambler, D Allen Kinney- Oak Island, NC 25 23.80 Schneider Stone, Tommy Schneider- Asheboro, NC 26 23.65 Fairways and Greens, Bodie Watkins- Bethune, SC 27 23.60 Tale Chaser, Ted Johnson- Bolivia, NC 28 23.40 Liquid Fire, C Mark Henderson- Cape Carteret, NC 29 22.95 Wet Flash, Gary Pollard- Clover, SC 30 22.90 Let's Go, Wade Byrd- Clarkton, NC 31 22.90 Sweet R Tea, Joseph Stone- Wrightsville Beach, NC Jr. Angler Division 1 32.65 Roofing Contender, Jonathan Pugh- Hickory, NC 2 29.50 Steel Fishing, Travis Gunter- Southport, NC 3 28.60 Total Chaos, Taylor Henkel- Simpsonville, SC 4 23.40 Liquid Fire, Joshua & Crockett Henderson- Cape Carteret, NC 5 22.95 Wet Flash, Grant Pollard- Clover, SC 6 22.35 Team Mitch Craft, Shaun Benton- Whiteville, NC 7 21.75 Mining My Bidness, Charlie Permenter- Little River, SC 8 21.05 Punch List, Catherine Condon- Pawleys Island, SC 9 20.90 Live Line, David Jackson- Wilmington, NC 10 20.10 East Coast Sports, Cole Edens & Blain Gibson- Hampstead, NC 11 19.95 Logan's Run, D Logan II- Wrightsville Beach, NC 12 19.50 Double Down, Austin Allen- Asheboro, NC 13 19.50 Tee To Sea, Jackson Denny- Murrells Inlet, SC 14 18.65 Trac Attack, Eric Swart- Chatham, VA 15 17.90 Team King Hunter, Hunter Roberts- Shallotte, NC 16 17.90 Team Concept, Jacob Faircloth- Graham, NC 17 17.40 Maverick, Jake Godwin- Raleigh, NC 18 17.10 Black Cat, Hunter Harrelson- Georgetown, SC 19 15.55 Get You Chum, Zach White- Hope Mills, NC 20 15.30 Ms Louise, Zach Illing- Mocksville, NC Lady Angler Division 1 32.65 Roofing Contender, Amy Wallace- Hickory, NC 2 30.35 Play'N Hookie, Lisa Robertson- Pawleys Island, SC 3 27.20 White Collar Crime, Tisha Edwards & Carolyn Swenson- Raleigh, NC 4 25.75 Tall Tail, Summer Foster- Trinity, NC 5 24.65 Reel Commocean, Kelly Smith- Saint Pauls, NC 6 22.85 Cap't Choice, Amy Jordan- Ocean Isle Beach, NC 7 22.80 Taylor Made, Ashley Hines- Ocean Isle Beach, NC 8 21.40 Plumb Crazy, Karen Dees- Ayden, NC 9 21.15 Hooligan, Jackie Sgambati- Sunset Beach, NC 10 20.85 Wild Ride Fishing Team, Shayna Griffin- Hampstead, NC Sr. Angler Division 1 37.55 No Alibi, Donnie Ward & Neal Loman- Greensboro, NC 2 29.60 Reel Action, Ricky Long Sr- Hope Mills, NC 3 29.55 Bird Man, Woody Wooten- Ocean Isle Beach, NC Thanks to all who participated and thanks to all our very important sponsors and advertisers for making the 2007 Jolly Mon King Classic a great event. Stay tuned for more fishing reports as I wrap up final paperwork on the Jolly Mon and get back to the water for myself.
- Capt. Brant McMullan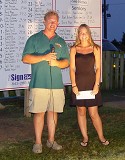 ---
"Billfish from a center console? You bet!" | Mac Marle'n- 32' | 06/25/07
Even with this weekend's fantastic king bite, which continued today at the 390/390 (Capt. Lyndon had 20+ releases on a half day charter!!!) there was still time for local anglers to catch a pointy-nose or two. Matt Holt caught his first sail at the 70 foot hole, fishing with Capt. Drew Shytle on the Crowd Pleaser. Capt. Ryan Strickland had one on the Black Pearl, even closer in. Ryan said he could see the hotels on Cherry Grove as he was fighting his fish. Out in the Gulf Stream, Capt. Jimmy Lee Williams and Brian Wilson released this marlin, which bit in 350 feet, after a two and a half hour fight. All these fish were caught on outboard powered boats 31 feet long or less. Gotta love it... They're still around folks, and at the Ocean Isle Fishing center we have Moldcrafts already rigged and for sale, the classic Ilander rig, and Capt. Nelson Applegate's rigged spanish mackerel. Plenty of teasers, too. Better take advantage of this bite and go catch one when you're not wearing out the kings and dolphin inshore. The time is now!!! Addendum: John Gallo released this sail during the tournament at AR 420. Wow. Just got the picture. Matt Eisenberger's sail is pictured too. Catch 'em up guys...
- Capt. Chris Burrows





---
"S. C. Fishing Regulations" | Stori Teller-24' | 06/24/07
Effective June 15th, S.C. put in place new fishing regulations for black drum, trout, saltwater catfish, red drum, flounder, black sea bass and dolphin. Of particular interest this time of year is flounder must be 14 inches. You may want to log onto www.dnr.sc.gov for further info.
- First Mate- Rickey Beck
---
"Jolly Mon Registration Complete" | Carolina Contender- 36' | 06/22/07
At times it was intense, and I apologize for any inconvenience due to the crowds, but when it is all said and done, 361 boats have registered to fish the 2007 Jolly Mon King Classic. Approx 60% are fishing on Sat and the rest on Sunday. The weather forecast looks great and the fish are biting. Stay tuned tomorrow as we update the weigh-in as fish come in. Thanks again and good luck on the water.

- Capt. Brant McMullan
---
"Jolly Mon; they're everywhere, they're everywhere" | Carolina Contender- 36' | 06/22/07
On weather scene, looks like so called weather experts are now folding their tents and adjusting their forecast to the one I put out over a week ago that forecasted PERFECT weather for the Jolly Mon. Sat/Sun both look excellent and only question is do you want to fish in front of the front, or behind the front; do you have first crack at the fish Saturday, or do you get a read on where they are at Saturday and fish Sunday. Here's what we know. Our charter fleet caught fish everywhere they tried yesterday including 65 foot hole, Jungle, 10/10, Christina. Also here there are good fish in Cape Fear shipping channel, loaded with glass minnows. It's a problem when weather is so good that certain options are eliminated so I'm throwing my hands up, I don't know where to go, the fish are EVERYWHERE!

We definitely have live pogies at OIFC, we're feeding them high torque formula., and by tomorrow morning they will be race horses ready to go. It is true that they build strength in our tank and are the best baits that swim. This morning there is bait at Ocean Isle pier but if you need/want insurance, we've got them. Also we have hand caught pristine 18 inch ribbons, the absolute best ribbons that exist anywhere, and of course dead cigars and ballyhoo for added insurance.

Anyone coming to tourney, Friday/Saturday or Sunday, PLEASE ride our off island shuttle and help us manage the event by keeping tourney traffic off the island. Shuttle is free, easy door to door, no hassel, and you can win free rods/reels in shuttle only raffle. Thanks for you co-operation and join us for a great event.
- Rube McMullan
---
"Todays jolly Mon update" | Carolina Contender- 36' | 06/21/07
On the weather scene: the pressure gradient that was forecasted to develop with the southern low and current high pressure didn't happen, therefore instead of strong east to northeast winds, we have lite northeast winds. The Saturday forecast is showing SW winds picking up in afternoon. Here is what will happen in our fishing area. Another cold front will approach on Saturday, thus the SW flow in front of the front, however what is being shown for later in the day as a 15kt SW wind is connected to the passage of the front, which will not occur until late on Saturday. This means, we will have closer to 10ktSW winds Saturday and the stronger winds won't occur until front passes late in the day. Sunday, the front will have passed; winds will go to north and then to southeast which means they will lay out completely thus offering flat conditions for Sunday.

On the King scene, our boats caught decent fish in the 65 foot area. Bait was much more prevelant however it is small. Time for your double pogy rigs and slow your speed to "0".

We hope[plan] on having pogies available for tourney fishermen. Also have hand caught pristine ribbonfish. Join us for a great event and please help us manage the event by parking in our off island parking lots and riding the free shuttle. No parking hassels, front door delivery, and win fishing tackle in free raffle for shuttle riders only. There is no tourney parking on the island. Thanks for you co-operation.
- Rube McMullan
---
"King Fish Bite" | It Works- 27' | 06/20/07
Sorry I haven't posted a report in awhile. As everyone else has reported, the kingfish bite has really turned on lately from the beach on out. Also, if you want a hard fight, the Amberjack are thick on the offshore wrecks and ledges. For the jacks, I prefer 4/0 or larger reels loaded with 60-80 lb. line. Put a live bait on an 8/0 or 10/0 circle hook with a 50 lb. fluorocarbon leader on a standard grouper rig, and drop it down. Have another rod ready with the same setup, but with a barrel swivel instead of a three way ready to free line a live pinfish or pogie to the jacks that show up on the surface. Jacks are extremely hard fighting fish, so be prepared to do battle. We were kingfishing at the Raritan Wreck last week, and had a double header of jacks on live bait rods with 20 lb. line. After about an hour fight, we put on 25 lb. and one 42 lbs. in the box. Below are some pictures of kings caught recently, as well as the jacks. The fish are biting great, so come on down and go with us.
- Capt. Lyndon Carter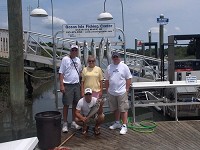 ---
"Jolly Mon forecast change" | Carolina Contender- 36' | 06/20/07
We have a weather forecast change. Believe it or not, it just got better. We are going from a PERFECT forecast to "MACRO" PERFECT forecast. What this means is not only are the sea conditions going to be excellent, but certain dynamics will play out the next couple of days that will make the fishing Saturday/Sunday amazing. Here is what will happen: A strong front will pass thru tonight and behind it will be strong north and then northeast winds that will develop due to a pressure gradient associated with the cold front[high pressure] and a low pressure system that will develop off the Georgia/SC coast. These conflicting systems will create the "perfect storm" scenario, but instead of heavy seas, it will interupt the feeding cycle of Kings beginning this afternoon, and will continue thru Thursday and into Friday morning when the wind will shift back to the south as the low pressure system moves further offshore. What this sets up is a south wind Saturday/Sunday, pent up hunger from the lockjaw the fish will incur Thurs/Friday, and thus flat seas and very hungrey fish for Saturday/Sunday. Thus, it is this "Macro" event that will set the stage for an all out bite for the tourney!

Update on fishing news, best bite yesterday was at the Jungle area. Capt Shane had couple mid 20's. Bait this morning is at Holden Beach pier. We will try to have live pogies at OIFC for tourney.
- Rube McMullan
---
"jolly Mon weather/fish update today" | Carolina Contender- 36' | 06/19/07
Yesterday saw good King action at 70 foot hole, Jungle, and a few fish were caught at Yaupon. Pogies were at Lockwood inlet yesterday and seemed more abundant than previous days. On weather side of equation, looks like front will pass thru Thursday, winds go to north Friday and then to south for Saturday. What will happen is winds will blow pretty strong on Thursday night/Friday morning, laying out friday afternoon, and going flat Saturday as winds shift to south. This is a classic pattern for all out Kingfish bite and I'm sticking with my forecast that with a north wind, Yaupon will be the hot spot for the big fish. That said, with the stable weather Saturday/Sunday, fish should also explode in the 60-70 foot range, where they have been biting last couple of weeks. To be honest, with weather looking as good as it is, i am getting confused as to where to fish. I think they will bite everywhere, and as appropriate in the Jolly Mon, anyone can win this thing; who will get lucky and catch the hog out from underneath your buddies boat?

On bait scene, we will try very hard to have live pogies, and we will notify via this site. Also, we have the best hand caught prisitine ribbonfish that exist anywhere.
- Rube McMullan
---
"Don't give up on the Gulf Stream just yet" | Mac Marle'n- 32' | 06/18/07
I know king mackerel tournament season is upon us, but a great forecast for the weekend and the "Captain's Choice" format for the Jolly Mon provides a great opportunity for the weekend. Fish the tournament one day and run offshore the other and you might be able to have some of the same success the Newells and the Niebauers had at the 100/400 last Saturday on the Secret Weapon. In case you didn't hear, the crew released two large sails in the area, while Scott Ward cleaned up on the dolphin nearby. Both the sails ate Ilander/ballyhoo combos and were released to fight again. Anybody want to fish the Haneman sailfish tournament in July out of Wrightsville? I think we still have some dates open. I'm betting the Secret Weapon will contend in that one.
- Capt. Chris Burrows


---
"Today's Report" | Carolina Contender- 36' | 06/18/07
The Kings are biting! Fish anywhere from 20 feet on the beach out to 80+ feet and you'll find Kings. The trick is to find big ones, like this beauty Larry Sims caught with me while fishing on Saturday. It is Jolly Mon time-- come on down !!!!
- Capt. Brant McMullan

---
"Jolly Mon official weather/fish report" | Carolina Contender- 36' | 06/17/07
Ok, looking thru my clouded crystal ball here is what I see in the weather/fishing for the Jolly Mon. All next week we will experience typical summer conditions which means a southwest wind 10-15. Typically that means calm in the morning and then picking up as day progresses with land effect. This will lead to good catches at the Jungle/Atlantic Ledge/Horeshoe/30/30 and get everyone thinking that is the where the winning fish will come from. However, Friday evening, I think a weak cold front will come through and winds will go back to north, and Yaupon Reef or Myrtle Beach Rocks will light up and that is where winning fish will be caught. Yaupon has been hot all spring, lots on bait on the beach, historically winning fish have come from Yaupon/Myrtle Beach Rocks, north wind; and that's all I got to say about that. Hope all you fishermen will join us at this years Jolly Mon next weekend. Standby as this forecast will be refined as week progresses and we get reports from our charter boats and others. UPDATE. Just spoke to Brant and said he had 6 fish over 30 yesterday around the 65foot Hole area. However, I'm sticking with my story, when front passes Friday evening, and wind goes to north, Yaupon will light up which is where the Jolly Mon winner will be caught.Said bait was difficult, but best towards Ocean Crest and scatterred small schools around Tubbs Inlet. Standby.
- Rube McMullan
---
"Kings ready to lite it up!" | Carolina Contender- 36' | 06/15/07
Last couple of days, with weather change, King action has slowed down, however wind will be shifting to south tomorrow and look for bite to kick off again. Last week had good action at 90/90 and 65 foot hole area. Brant had good 1/2 day fishing Yaupon catching 6 20-lbers on a kite. Saturday I threw my brand new Capt Brant's fast sinking cast net and caught all the pogies I needed plus a King that then skyrocketed thru the hole he put in my net. This was in approx 8 feet of water. The beach is full of pogies and this may be the year that the Jolly Mon winner comes from Yaupon or Lockwood Ledges. I think it was 1995 when me and Brant caught a 40 at Yaupon in the Jolly Mon and came in 2nd. Look for the big fish to move into our waters this week as the weather stabalizes. The Jolly Mon is next weekend[June 22] so the timing should be perfect. Standby for up to the minute reports as we are about to get into Jolly Mon mode. We've got live pogies, hand caught pristine ribbonfish and plenty of chum.
- Rube McMullan
---
"Catching Up" | Stori Teller-24' | 06/13/07
First I must apologize for not giving you guys a report in a while, as I haven?t even used my computer in the past two weeks because I?ve been on the water nearly every day. Thankfully, the fishing continues to be very consistent, with the flounder bite being the most prominent species right now. The Tubbs Inlet area is still producing good numbers of fish up to 3lbs., while the Shallotte and Lockwood Folly Rivers have been producing some real doormats up to 8lbs. The small ?peanut? menhaden have been difficult to locate lately, so I have been exclusively using mud minnows, which of course work great, but don?t usually produce the quality of fish that pogies or mullet will, so if you can get your hands on some of those larger baits, there is a good chance of catching a wall ? hanger right now. There are also still a few trout around, with many being caught in the creeks and rivers by fishermen targeting flounder. Live shrimp aren?t as much of a necessity to catch trout this time of year, as the will usually respond quite well to mud minnows, pogies or finger mullet. Finally, on the redfish front, things have been a little harder to predict, as they will bite one day and then are impossible to locate for a week. However, they should only become more plentiful in the coming weeks, as they will begin to move to their usual summertime haunts. Most to the reds I?ve caught recently have been slot ? sized (18 ? 27in.) but I am beginning to see more of the larger over ? the ? slot size fish, which will become more prevalent later in the year. With the fishing as good as it is, there is no excuse not to get on the water and give it a try, so everyone get out there and catchemup!
- Below are a few photos of some the fish we?ve boated over the last few days.
- Capt. Kyle Hughes



---
"William Miller's first dolphin" | Mac Marle'n- 32' | 06/12/07
It's a few days old, but I couldn't resist posting this picture of William Miller's first dolphin, caught last week on a trip with Capt. Roger Gales. There's nothing better than seeing a kid's face light up on their first offshore trip. It certainly makes the "What I did on my summer vacation" report much more interesting on the dreaded first day of school.
- Capt. Chris Burrows

---
"Gulf Stream is back!" | Carolina Contender- 36' | 06/11/07
Excellent action today from gulf stream to kingfish grounds. Capt Shane on MacMarlen had big catch of dolphin/wahoo/blackfin at 100/400. Closer in Capt Lyndon on It Works had big catch of Kings and Dolphin at Gary Enis wreck. Closer in Capt Brant on Carolina Contender had big catch of Kings and a Sailfish just inshore of the 65 foot hole. Also good catches of Kings at 90/90 in the morning as well as cobia scattered at all the king spots. Some of the Kings are Jolly Mon material as Capt Brant reports several in the mid 20's and Capt Lyndon reporting smokers biting thru wire. Pogies were at Holden Beach pier this morning.
- Rube McMullan
---
"King bite is on" | Carolina Contender- 36' | 06/10/07
Just as we forecasted, with weather stabalizing, King bite kicked into high gear today at 90's and Jungle. Also good reports of Cobia in same areas. Pogies are on the beach or we have some here at OIFC.

Offshore, the Crews Missle made their maiden voyage on their brand new 38 Rampage to the Black Jack and came back with good catch of wahoo, dolphin, and kings including a citation 41.65 wahoo. Congrats to the Crews Missle.

Still hearing reports of Blue Marlin sightings. We have some rigged spanish mackerel Capt Applegate made for us that is guranteed to lite up Mr. Blue if he is anywhere in the neighborhood. This is prime time to catch the #1 glamor fish in the sea.Mix a spanish into your spread and you might be a hero!
- Rube McMullan
---
"Gulf Steam cooling off, Kings heating up" | Carolina Contender- 36' | 06/10/07
Gulf Steam action yesterday slowed significantly for our boats that fished 100/400 however, as they moved closer in to the 120 foot range around wrecks found scatterred dolphin and kings. Big news was kings showed up pretty good at 90/90's. Most boats fishing dead cigars, however Capt Barrett reports from his 800 foot observation view aboard the Flying Fish Parasail, that pogies are up and down the beach from OIB to Holden. Also grouper starting to show in the 90-100 foot range. Weather looks perfect all thru next week and as weather continues to stabalize, King bite should gear up into high speed at the Jungle/Horeshoe/Shark Hole.

Correction: Just spoke to Capt Roger and he says it ain't so..."says he caught em in the stream and caught em in the shallower water; decent bite of dolphin with kings mixed in." Hot lure was Blue Water Candy Cotton Candy and C&H Blue Alien.
- Rube McMullan
---
"" | Black Pearl- 31' | 06/10/07
I'm sorry that it's been awhile since I've posted any inshore reports, but Captains Amy, Brant and Chris have had all of us at the OIFC stocking up on fishing supplies and bait for this upcomming busy season. We're keeping a good supply of mud minnows, DOA's and Gulp for us inshore folks. Which brings me to an update on my fishing. Thursday, after work, Jeff and I loaded up on OIFC mud minnows and headed out for our favorite prey...flounder. We arrived in Tubbs, on a falling tide, located a creek mouth with water flowing out and proceeded to drift. Within fifteen minutes we landed 2 fat flatties, each 16 and @ 17 inches respectively. A short time later when the tide ebbed the bite turned off. None the less we had enough flounder for a good supper. I've heard of good bites in the Shallotte River with an 8 pounder weighed in at the OIFC, and I know they are in Tubbs. I'll keep you posted.
- First Mate- Rickey Beck
---
"POGIES HERE !!!" | Show Time- 34' | 06/09/07
The POGIES have arrived off the beaches at the OIFC. We have fresh pogies that are now on sale for 18 dollers a dozen. A must have for Kings, Cobia, and Grouper.
- First Mate- Matt Holt
---
"Perfect weather starting Sunday" | Carolina Contender- 36' | 06/09/07
Looks like another week of perfect fishing conditions starting Sunday. Today we have a little SW winds[15kts] in front of lite cold front that will pass thru tonight giving us stable high pressure into next week. We have boats in stream today so will have updated gulf stream report this evening. Thursday Roger on Showtime had decent catch of Dolphin and Kings so action still good. Also Dolphin showing up in Atlantic Ledge area mixed in with Kings. Kings bite should gear up good this week as weather stabalizes. Cobia are appearing and will bite a cobia jig tipped with squid or live bait if you have it. Capt Barrett reports seeing pogies from his parasail viewpoint at Ocean Isle and Holden.
- Rube McMullan
---
"The bite of the wicked wahoo" | Mac Marle'n- 32' | 06/05/07
First Mate Rudy Upton found out first hand on Saturday just how sharp the teeth of a wahoo are. Rudy was fishing with Rudy Sr., on the "Double R" down at the Winyah Scarp when the citation wahoo bit yet another BWC Bling head (Mr. Sparkle strikes again!). The seas were rough, and in the confusion of the fish coming into the boat, the business end somehow found a way to latch itself onto poor Rudy's leg. Between the razor sharp teeth and the point of the gaff, the wound required double-digit stitches to close. Thankfully, the fish's teeth missed the artery, but Rudy still had to hold his leg together for the 60 mile run home in building seas. I guess there are worse scenarios, but please, please exercise caution when bringing a large wahoo into the boat. By the way, the wahoo weighed 41.10 pounds. His father said the certificate acted as a good anesthesia while the doctor was stitching him back together.
- Capt. Chris Burrows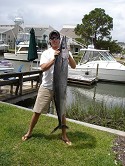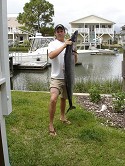 ---
"Report" | Carolina Contender- 36' | 06/05/07
Weather Finally Offers Fish a Break by Capt. Brant McMullan Well, it was a great run of great weather and great fishing we?ve had over the past couple of weeks, but you knew it couldn?t last forever. Tropical Storm Barry moved in from the South, and as is typical of almost every named storm, it passes within 100 miles of Brunswick County and thus affects us in some way. This time, the effects were not so negative as the rain we so badly needed was certainly nice to have. However, if you?re a fisherman, the wind and rain have kept you on the sidelines for the last few days. But who?s complaining? The weather was so perfect and the fishing so good for the last couple of weeks that I was getting worn out. Day after day with big catches of dolphin, wahoo, tuna, king mackerel, spanish mackerel, grouper, snapper and cobia. You name it, they were biting. In the Gulf Stream the action continues consistently good for dolphin and wahoo with occasional yellowfin tuna still being caught. Most of the dolphin are in the 10-20 pound range and the wahoo in the 20-40 pound range. Recently we?ve been mostly fishing the Stream to the south near the Winyah Scarp area and most of our better bites have been coming in the 180-220 foot range. We have found recently that ?popping? lure heads in blue/white over small ballyhoo have been the most effective. The waters are full of flying fish, and as such, this lure head and ballyhoo combination mimics a fleeing flying fish quite effectively. In addition, we?ve also had good luck with black and purple over larger ballyhoo for the wahoo and some of the large dolphin as many of the larger wahoo, tuna and dolphin consistently feed on small tunas, and this combination mimics the prey effectively as well. The action in the Stream has been consistent, but I look for it to start slowing down over the next couple of weeks as the dolphin and wahoo move inshore and scatter before migrating north. As such, further inshore in the 50-80 foot depth range, the dolphin are beginning to show up and offer near shore anglers a taste of what the Gulf Stream fishermen have been bragging about all Spring. In addition, one of the biggest stories over the past week has been the arrival of the king mackerel. King Mackerel in the 8-15 pound range bit good at the 390/390 over the last few days as well Yaupon Reef, the Horseshoe, Jungle and Atlantic Ledge. The kings will continue to move inshore to their normal haunts and provide for consistent action through July. This of course just in time for the annual Jolly Mon King Classic king mackerel tournament. This year?s tournament will be held from the Ocean Isle Fishing Center with registration on Friday, June 22nd and a Captain?s choice format allowing teams to choose to fish in the tournament on either Saturday, June 23rd or Sunday, June 24th. The team that catches the largest king mackerel will walk away with over $20,000 in cash. In addition, prizes will be paid to top finishing youth anglers, lady anglers, senior anglers, teams fishing in boats less than 23 feet and much much more. There are dozens of ways to win and it really pays to involve your family in your day of fishing. That?s pretty much a snapshot of the fishing that has been taking place from our area. The recent wind and rain will likely stir up the water for a few days, but the forecast is calling for more stable weather toward the end of the week, which should bring the fishing back on-line by the weekend. Stay tuned for more reports of great fishing.
- Capt. Brant McMullan
---
"Fishing School Opening" | Carolina Contender- 36' | 06/05/07
I've got a few fishing school openings left for the Summer. This coming weekend I've got 3 spots open for Grouper fishing class- June 9. I've also got openings for July 20 and July 27 live bait king mackerel classes. Call me at (910) 575-3474 to make a reservation.
- Capt. Brant McMullan
---
"STILL GETTIN' EM" | Stori Teller-24' | 06/03/07
Today I definitely put too much faith in the weatherman.The forecast for today was for us to have steady rain with 30 knot winds, so after cancelling the morning trip based on this forecast I awoke to partly cloudy skies and light southerly breezes.With this new outlook on the days weather we decided to leave the dock at twelve and just see what happened.Our first stop was some docks where we have been catching some nice redfish.After 20 or so minutes with no luck we changed our position along with our target.We now had our sites set on flounder.We started in the back of a creek behind Ocean Isle and decided to drift our mud minnows along with current back out of the creek.We drifted the whole length of the creek,which took about thirty minutes with no luck.Our next plan of attack was to anchor the boat on the edge of the deeper areas of the creek and fan cast the area and retrieve the baits slowly back to the boat.The theory was to give the fish more than one look at the baits since they were not acting very aggressive this new tactic began to pay off very quickly.Within five minutes I was sliding the net underneath our first flounder.WE continued this through three or four more stops before it was time to point us back toward home.WE ended up with enough flounder for dinner and a trout or two for good measure
- Capt. Stan Gurganus
---
"STILL GETTIN' EM" | Stori Teller-24' | 06/03/07
- Capt. Stan Gurganus
---
"I feel like a frog..." | Mac Marle'n- 32' | 06/03/07
The rain has finally let up here in Ocean Isle Beach but there may be more on the way. I'm finally starting to dry out from yesterday afternoon. I guess we need it here on land but the dolphin don't really seem to care one way or another. Fished with Capt. Scott yesterday at the 100/400 and we certainly had our share of bites. The rougher it got, the more the fish chewed. The only problem was that it go so bouncy we were losing them at the boat. Had one bull hooked up that was 40+ pounds that got off when the wind-on swivel hung inside a guide and ripped the guide out of the rod. Oh well. Capt. Shane and First Mate Macintosh did well down at the Winyah, they managed a larger class of fish than we did to the east. Had to end both trips early due to worsening conditions (when did it become a tropical storm!?!) but we got our share of dolphin. Wanted to share some pictures as well. Capt. Roger did well on the Carolina Contender on Thursday at the Winyah, and Capt. Drew Shytle out of Little River had this nice catch at the 100/400. Let's hope the fish get right back to biting when the wind dies down. It's mahi mania at Ocean Isle!
- Capt. Chris Burrows



---
"Hognose and more" | Show Time- 34' | 05/31/07
Drew Hager sent these pictures of his tuesday trip on the Showtime with Capt. Roger and myself. The dolphin fishing continues hot and heavy, but I sure would have liked to get the wahoo that ate our shotgun bait and took 300 yards of line. Also, Chris Edens caught this hog snapper on 10# test!!! The fish went 19 pounds. I won't tell you where he caught it, but I bet you can figure it out. According to Capt. Dick Blackmon out of Holden Beach, there are plenty of dolphin and amberjack in that area as well.
- Capt. Chris Burrows



---
"Same story" | Carolina Contender- 36' | 05/31/07
Sound like broken record, but weather continues stable and bite continues. Good catches of dolphin/wahoo with scattered tuna in stream. Lately best action at 100/400 and Scarf. Lot's of Blue Marlin being seen. Get tired of catching dolphin, slid off edge to 350 feet and pull large soft head Moldcrafts[big bait, big fish] or Islander/horse ballyhoo, [or fish live dolphin or blackfin King Mackerel style]. Now is the time of the year to catch the #1 glamor species that swims the sea. Weather looks good for stream thru Saturday so don't miss chance to particpate in the best bite of the year for the gulf stream. Inshore, Spanish are finally here in good numbers along beaches and around inlets and close in artificial reefs. More and more Cobia are showing. We have load of live eels arriving today which is guaranteed to generate a cobia bite. Best technique is to take a chum bag and run tight circles around articifial reef/buoys or wreck; stop the boat and free line a eel or pinfish or drop a cobia jig to bottom and jig up. Cobia will rise off bottom to your chum and try to climb into your boat.If nobody home, move on to next buoy or wreck. If you're slow trolling for Kings, drag chum or pogy oil dripper. Cobia are very sensitive to scent and will respond. Kings still best in 80-100 feet but will move in closer in good numbers in next couple weeks. Pogys are off Baldhead but we hope to have them available at OIFC soon. Hot update; just received report, Capt Lyndon on It Works reports Kings biting at 90/90.
- Rube McMullan
---
"Pointy-nosed fish everywhere" | Mac Marle'n- 32' | 05/30/07
Here is Billy Leonard's sail from the weekend. Also, Gene Norris caught one yesterday offshore of the 100/400. The billfish are out there and they're biting! Who wants to go pull Moldcrafts or four big Ilanders and a rigged Spanish on the flat line? Hang on!
- Capt. Chris Burrows

---
"Still biting" | Carolina Contender- 36' | 05/30/07
Quick report from Capt Chris; they're still biting. Showtime had good catch of Dolphin south yesterday. Lost several smoker wahoos. Capt Lyndon said good bite on Spanish along beach. Capt Brant caught a Cobia while Grey Trout fishing[grey trout biting on inshore reefs/wrecks].
- Rube McMullan
---
"Gulf Stream still hot!" | Carolina Contender- 36' | 05/29/07
Capt Roger on Showtime and Capt Shane on Carolina Contender had another good day at the stream yesterday with good catch of dolphin/wahoo/and few tuna. Game still on. Also quite a few Blue Marlin being seen as there are a lot of small blackfin tuna in the water which they are feeding on. If you get your fill of dolphin/wahoo and catch a small blackfin, have a "King Mackerel" type live bait rig made[ 10 feet of 130lb flourcarbon with 12/0 circle or 10/0 J hook] or use 130lb wire as your leader in case Mr. Wahoo gets huingrey]. Slow troll the blackfin and I almost guaranty you, if you are around blackfin, big blue is in the same neighborhood and will find the your bait. Other option is to pull plastic lures [approx 9mph]. I like soft lures like Moldcraft[Red Bailey or black/purple]. These lures look like Blackfin to the Marlin.If you ever had hopes of catching the #1 glamor species in the sea, now is the time. The weather looks like another entire week of calm seas and perfect fishing conditions.

On close in waters, Kings showed at Jungle/Atlantic ledge and other 80-90 feet water locations. Spanish have not been co-operating but I did see school of Spadefish on 3 mile reef yesterday. I don't know where the Cobia are, but they should show up any day.
- Rube McMullan
---
"Weekend Rundown" | Show Time- 34' | 05/28/07
The holiday weekend brought spectacular weather and even better fishing to the boats out of Ocean Isle. I'll let Capt. Rickey Beck tell the story himself: ----------------------------------------------------------- This beautiful Memorial Day weekend afforded me the chance to go boating and fishing with my family. Friday was spent letting my 18 month old grandaughter, Camdyn, get used to boating while her daddy and the rest of my family explored fishing holes. Saturday, my son Jeff, and I had the pleasure of fishing with Jeb Thomas, maker of JBT Custom Surf rods. We first fished the Jim Caudle Reef where we boated some flounder which ranged in the 16 to 17 inch range using a mud minnow on a white bucktail. While enroute to the reef we spotted some Spanish mackeral, and at the reef we has a kingfish follow one of our small catches to the boat before breaking off. Even though we were having fairly good luck at the Caudle Reef we decided to try a new hole at the Bonapart Creek. To our good fortune we boated somemore flounder, however some were "South Carolina legal" so they were released to fight another day. The bottom line is the inshore fishing is heating up. The weather is beautiful, the Spanish, King and Flounder are here, so come on down!! -Captain Rick ----------------------------------------------------------- On the offshore front, the Gulf Stream action continues. Steven and Axel Kjellberg, along with Buddy Harris sent these pictures of their catch from the Blackjack hole on Saturday. I got to fish the Dixie Chicken tournament with Capt. Drew Shytle, Stephen Hunter and Barry Gardner on Saturday, and while we got our Carolina Slam within an hour of setting lines out, we ended up fifth, behind (of course) Capt. Roger on the MacMarlen. We did pull baits in 600' of water offshore of the 100/400 and had a blue marlin in the spread. With the prevalence of billfish this early in the season, I'm tempted to go and pull Moldcrafts or large Ilander/ballyhoo combinations in that deep water. Maybe a spanish or two... Closer to the beach, the kings made a showing at the Jungle, the 390/390, and the Atlantic Ledge. Jamie Blue, also of the OIFC released a nice sail at the Jungle and said there were more out there. Looks like summer is here... Going offshore tomorrow with Capt. Roger. We'll let you know how it plays out.
- Capt. Chris Burrows


---
"Gulf Stream action back in gear" | Carolina Contender- 36' | 05/27/07
We were afraid yesterdays scattered bite in gulf stream signaled end of super hot action but today Capt Roger on Carolina Contender and Capt Brant on Showtime dispelled that concern as they crushed them at Scarf. Big catch of Dolphin/Wahoo/few Tuna. Roger had a aolost 50lb wahoo.

Inside Kings bite early at Jungle and Atlantic Ledge.
- Rube McMullan
---
"Update" | Carolina Contender- 36' | 05/27/07
Fished Gulf Stream yesterday on Pharr Fishing Team and had decent catch of Dolphin[8 fifteen-thirty pounders] however the bite was nothing like it had been.Fished the Black Jack and I think bite was scattered with some boats doing ok and others not so great. Capt Roger on MacMarlen did pretty good at the 100/400 with 9 Dolphin and 1 Wahoo, and won the Lady Angler division at the Dixie Chicken. We had a Blue Marlin stalking us [he tailed us for an hour] but couldn't get him to eat.

Big news is the King Mackerel bite went off big time at the Jungle and Atlantic Ledge. Lots of fish on dead cigars. Also scattered Cobia showing. Closer in Capt Lyndon on "It Works" had a 17lb King at the 90/90 so fish definitely moving in closer. Weather looks PERFECT all next week!
- Rube McMullan
---
"Inshore Update" | Stori Teller-24' | 05/23/07
Hi folks, sorry its been a while since my last report, I've been busy chasing fish from the backwater to the bluewater lately and have been a little slack on my reports. It is certain that summer is on its way, as the temps are becoming progessively warmer and the fish are moving into their typical late spring/early summer patterns. The water temps have risen into the mid - 70s recently and has really cranked up the flounder bite. Tubbs Inlet and the Cherry Grove/Hog Inlet area have benn producing good numbers of fish, including some nice fish in the 4 - 6 pound range. Mud minnows on a carolina rig have been the ticket to catching the flounder. The trout bite has slowed a little with the warmer water, as the fish become more focused on spawning rather than feeding, but there are still some to be caught. Finally, the redfish should begin making their move out of the creeks and toward the inlets, so watch for the redfishing to be the next fishing to really pick up. The weather looks great for this weekend, so get on the water and catchem'up!
- Capt. Kyle Hughes
---
"Mr. Sparkle" | Mac Marle'n- 32' | 05/23/07
Loading the player...
Had a great day fishing with Capt. Scott Hewitt on Monday on the MacMarlen. We fished the 100/400 area with a crew of Tom Rybski, Bill Weber, Mike Casale, Greg Gutman, and Dwight Tillis, who caught his first sailfish, a lit-up 66-incher. We did well on the dolphin, and caught a wahoo to go along with the sail. The hot bait was a Blue Water Candy 1 oz. "bling" head in a color called cotton candy. Capt. Roger and I named it Mr. Sparkle and I think that name will stick. I have been fishing Mr. Sparkle with a medium ballyhoo behind it for two weeks and we have absolutely slaughtered the dolphin and wahoos on it. I just ordered a few dozen more and don't expect them to last long. You can't beat a lure that catches everything that swims. Weather looks outstanding for the weekend, the south wind should really have those Gulf Stream fish chewing. Let's go do and it all again!
- Capt. Chris Burrows



---
"Red Tide at Ocean Isle?" | Carolina Contender- 36' | 05/22/07
A team of scientist from the Dept of Agriculture, Aquaculture Divsion desended upon the Ocean Isle Fishing Center yesterday evening as a result of receving a report of potential red tide in the waters at the Fishing Center. Upon close examination, it was determined the cause of the "red tide" was not a algae bloom but was in fact the result of Capt Roger/Capt Shane/and Capt Scott catching and cleaning so many fish from yesterdays Gulf Stream trips on the MacMarlen/Showtime/Carolina Contender. It was a blood bath at the cleaning table as many Mahi/Tuna/Wahoo fell victim to the filet knives of the Captains and their Mates, leaving the canal water a deep blue water red color. In answer to the question asked following the slaughter at the Far Out Shoot Out......They're still there! The water is absolutely full of the top of the line gamefish we hunt for and for anyone sitting back inland, you are making a major league fishing mistake. The weather today is flat and looks real good for the weekend. All the Captains are saying the same thing...they've never seen the gulf stream fishing any better than this year. Come on down..we need help!
- Rube McMullan